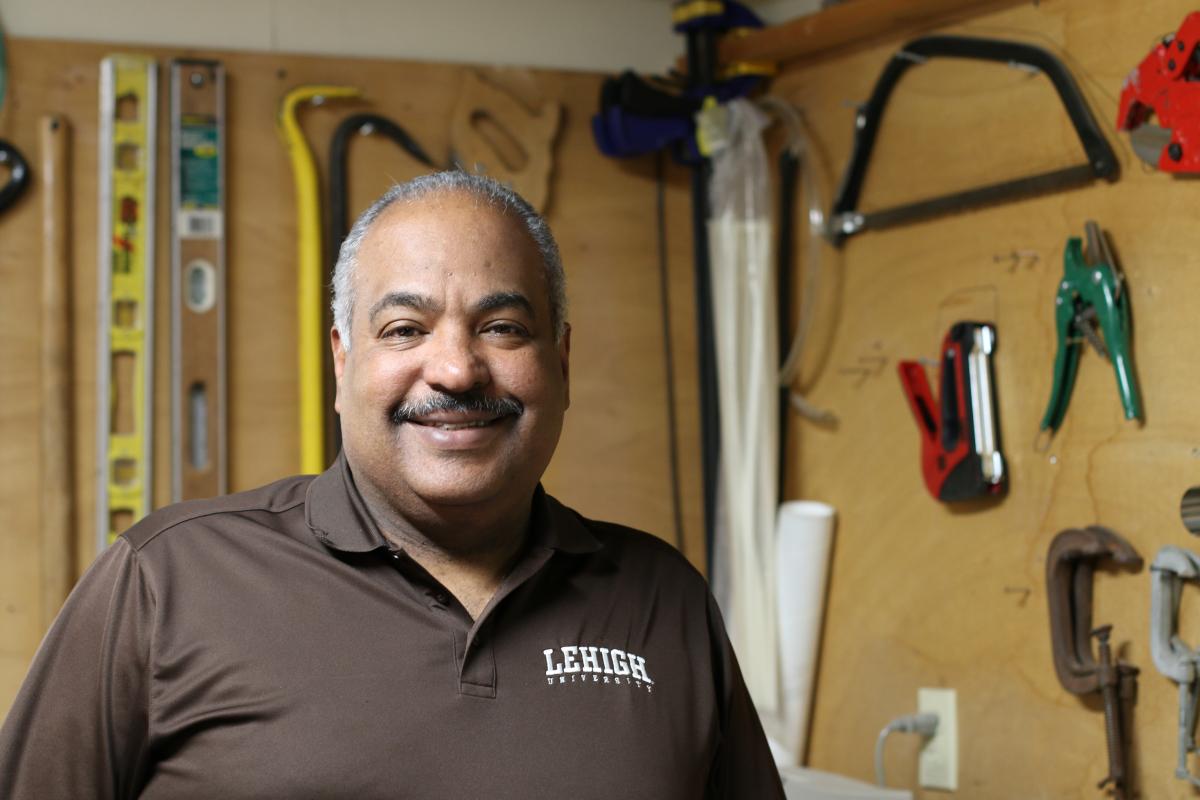 "It was a howling like she'd never heard."
As Hurricane Maria headed toward landfall on September 20, 2017, near his parents' hometown of Patillas, Puerto Rico, Assistant Director of Facilities Services Fred Colón was on the phone with his elderly mother from his home in Bethlehem. He was begging her to evacuate with his disabled father. She was refusing to leave their coastal home of nearly 35 years, which they had purchased after Fred's father retired from a 32-year career at Bethlehem Steel.
"I said, 'Mom please go to the evacuation center,' and she was saying 'No, no,'" Fred recalls. "But eventually my uncle, who lives near them, went to the house and said 'We have to go. Now.'"
It would be a week before the roads were safe enough for his parents to return to their property and assess the damage from the category four storm. With cell towers down across the island, it was even longer before Fred got news from his uncle that they were alright.
While Fred awaited word from his parents, Amy White, Associate Director of Media Relations, watched helplessly from Pennsylvania as massive wildfires fueled by hurricane force winds converged on her hometown of Santa Rosa, California, on October 8-9, 2017. Her childhood house where her mother still lived was directly in the crosshairs. As the blaze raged, Amy's mom was a 90-minute drive away from the house visiting Amy's sister, who was seven months pregnant. Mrs. White monitored the fast-moving news, struggling with the urge to drive home to collect important papers and precious family mementos.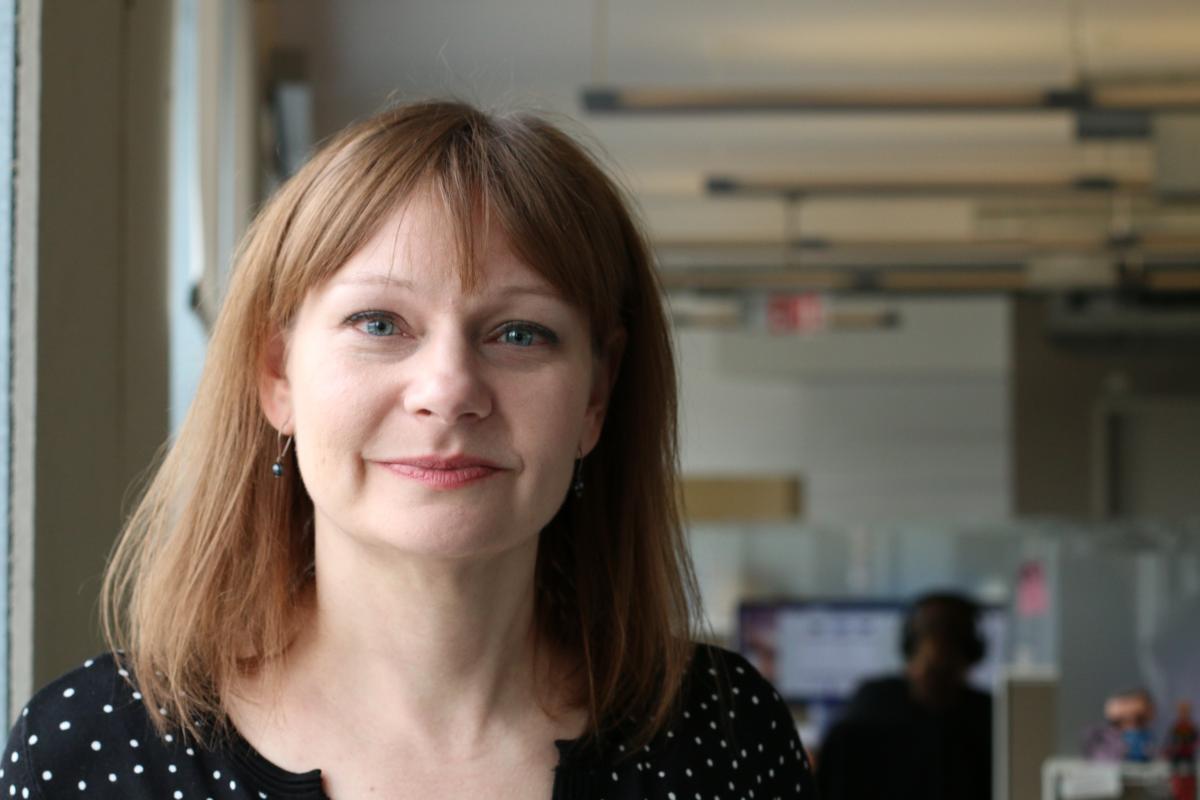 "The winds were 70 miles per hour, burning branches were falling across the road," Amy said. "We convinced her not to go back, and I'm so glad we did, because many of the people who died in the fire were senior citizens who couldn't get out in time."
Like the Colóns, the Whites were prevented from learning the fate of their home for days by inaccessible roadways. Finally, satellite imagery confirmed their worst fears. "We saw a large square of ash where the house should have been," Amy said. "We knew it was gone."
More than 3,600 miles away, the Colón family was more fortunate. For the most part, Fred's parents' house held against the winds. The rising water didn't make it all the way to their front door. Their roof sustained damage, however, and the yard was full of debris, including countless uprooted and fallen trees. And, like everyone else on the island, they had lost power and running water.
Once Fred made contact with his mother, he knew he had to go help her. "My mom is 85 years old, she was struggling," he said. "It's hard especially when you have someone who is so sick, like my father, who is bedridden."
Fred paid a visit to Toni Lee Febbo, Director of HR Services, to see if there were any provisions for people in his situation to take leave other than their vacation time. Toni Lee remembered that Lehigh had provided paid administrative leave for employees in similar circumstances after Hurricane Katrina. She quickly moved to develop guidelines and gain approval for paid release time for staff who wanted to help loved ones or volunteer in communities dealing with the many natural disasters that seemed to occur one after another in fall of 2017.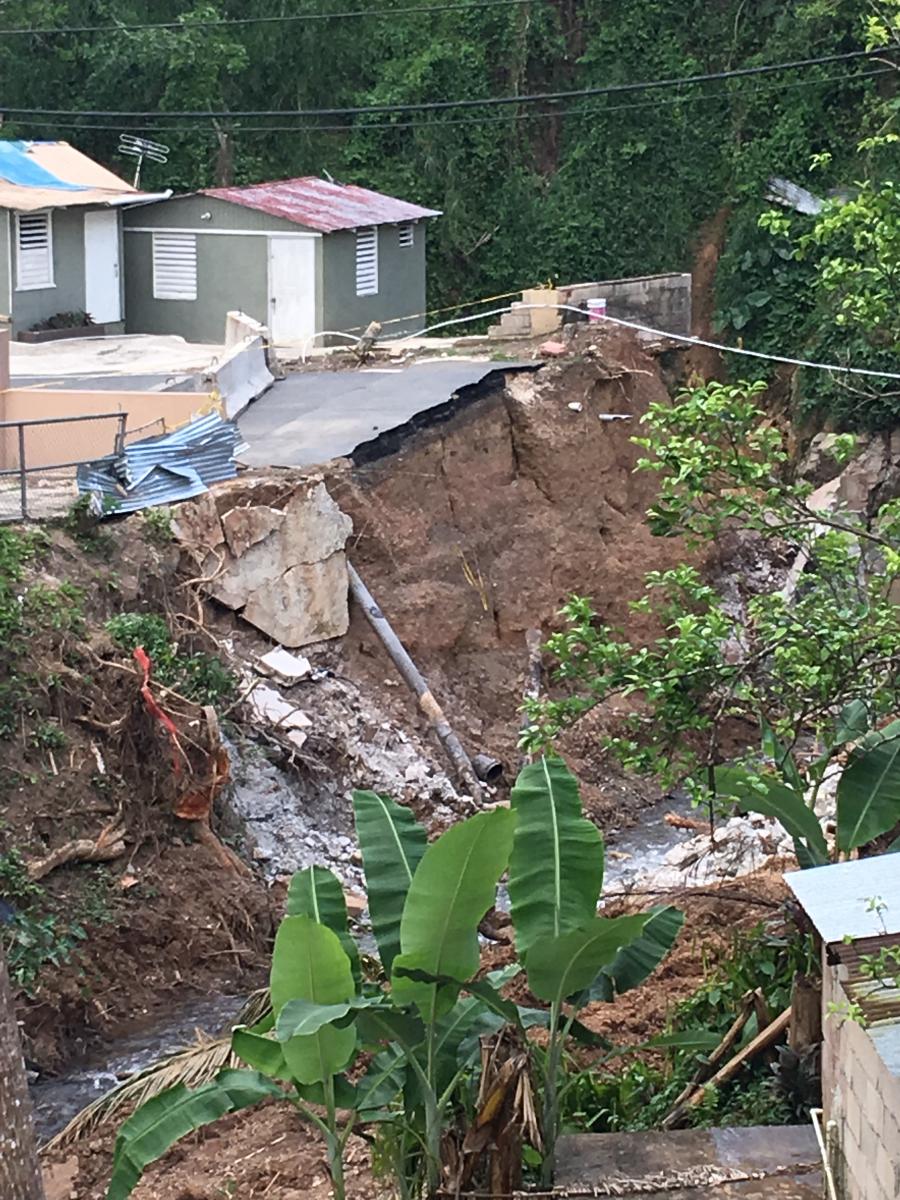 Thanks to Fred's inquiry, both he and Amy were able to be with their parents at a crucial time. Fred, along with his wife and brother, flew to San Juan in late November, carrying a 50-pound generator that would be adequate to power a refrigerator and his father's hospital bed. As they carefully drove south, following police instructions to avoid blocked roads, they observed the devastation especially in the inland mountain communities (photo right courtesy of Fred Colón).
Remembering The Old Ways
In Patillas, Fred found his mother adjusting to the lack of electricity. "When she was a little girl, they didn't have electricity," he said. "So in a way she was able to adapt. She remembered the old ways, it just kind of kicked in."
For Fred and his wife, it wasn't quite as easy. "Once the water came back on, we could shower, but there was no hot water," he said. "The air was warm, but once the sun set, that water was cold! And the mosquitos were everywhere, so we had to spray ourselves constantly with repellent."
Fred and his brother immediately got to work. They tackled the roof, dodging rainstorms to give it a new coating of sealant. "The yard was really a mess. All the trees were down," he said. "Mom wanted to clear it out as soon as possible, so we chopped up the trees and she hired a hauler to come collect the debris. We helped him load it all onto his truck."
Amy headed to California with memories of her childhood swirling in her mind. "While the loss of anyone's house is brutal, I do think the loss of our home was an architectural loss as well," she said. "It was already about 100 years old when my parents bought it in 1970, and had historic touches. It was unique and somewhat quirky. My late father built my room with his own two hands."
Beyond the age and character of the home, though, Amy's thoughts were focused on the experience of growing up in such a special place. "We were out in the country. We couldn't even see the houses of our closest neighbors, so we had a very rural childhood focused on our family unit of four. So much of our life was based around the house and our property."
While friends and loved ones had often asked her when she was going to downsize, Amy's 75-year old mother had no plans to move into a retirement community or a smaller home. Now she had lost absolutely everything. Especially heartbreaking was the loss of treasured family items like Amy's grandfather's photographs of his life in the Army during World War II which he captured with his Brownie camera.
"Mom was also really upset about losing his dog tags," Amy said. "It was weird that something could survive World War II but not this."
Mountains of Paperwork
Once in California, Amy's days were packed with endless phone calls and paperwork. Making phone calls on behalf of her hearing impaired mother was particularly important as she worked to rebuild her identity and life during those three weeks.
"She had to replace birth, marriage and death certificates, Social Security cards. We needed to change her address on everything since she moved in with my sister. We had to open bank accounts, close others," she said. "Then there was the insurance company."
Amy accompanied her mother to the FEMA center where they were able to access resources including legal aid and zoning information. "There are things you never think about," she said. "For instance, you have to map out your septic system and put up stakes so when FEMA comes to clean off your lot they don't fall in."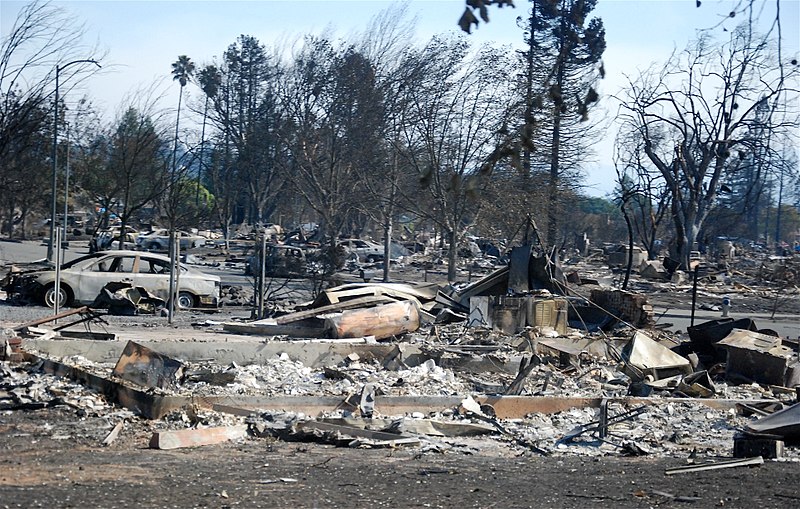 To make things even more challenging, the route between Amy's sister's house and Santa Rosa was still  blocked by large debris and the fire damage that wreaked havoc on the roads and rerouted traffic. Their drive sometimes took twice as long as it would normally. (photo of aftermath of Santa Rosa fire at right courtesy of Wikimedia Commons)
"We would drive for three hours, spend the day on the phone and going to appointments, dropping off paperwork at various offices, working to organize the debris from each room of the house in the hopes of finding anything," Amy said. "Then we would drive three hours back and just fall into bed completely exhausted."
Like Amy, Fred also faced mountains of paperwork to fill out to help his parents in Puerto Rico. "Down there, you can't do things online. You have to go down to the offices, you have to bring the paperwork."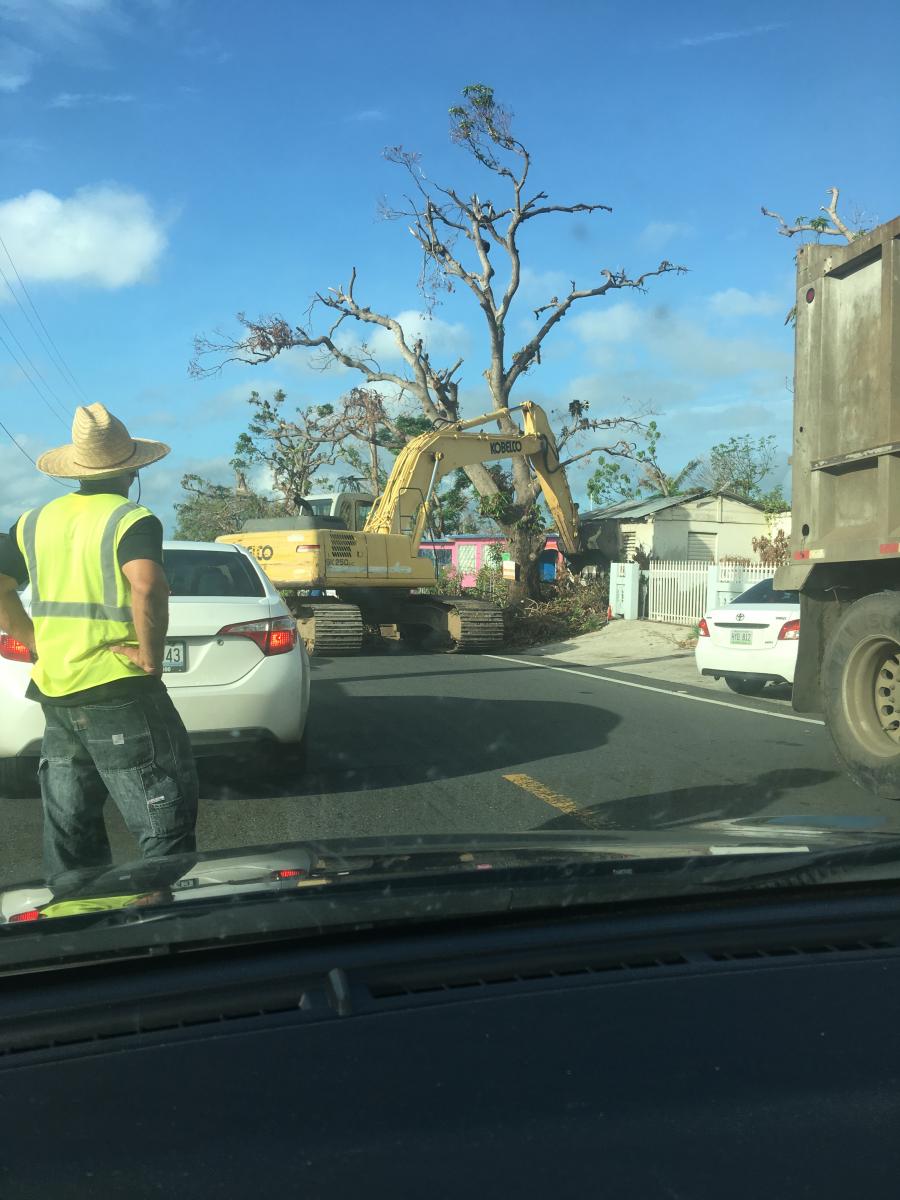 Even with the hard physical labor and bureaucracy, though, there were lighter moments. Fred and his brother headed into town to see about getting water and food for his parents one day and were gone for hours. (photo right courtesy of Fred Colón)
"When we got back, we got in the house and there was all this water and food already there. I said, 'Mom, what's all this?' and she told us that the neighbors had been worried about them so they had brought over supplies."
Fred and his brother got back in the car and redistributed the water and food that they had gathered to their neighbors. "Mom said, 'We have enough, let's share!'"
Slowly but surely, things are getting back to normal in Patillas. "The resorts and the restaurants are open," Fred said. "I was impressed to see trucks from PPL and other mainland power companies there working to rebuild the power lines. And my mom is happy. She smiles and jokes."
While power hadn't yet been restored to his parents' house, which is a bit outside of town, the city was fully wired by the time Fred returned to be with his parents while his father had surgery in late February. His parents finally got their power back in mid-March.
Memories Reclaimed From the Ashes
Back in Santa Rosa, Amy and her family focused on trying to salvage whatever they could from the fire. They donned Haz-Mat suits and sifted through the ash looking for the smallest of treasures. "I had learned that things that might survive a fire of this magnitude included small porcelain and metal objects.  I looked in the area that would have been my room and I found several items from my dollhouse, which was hand built by my Grandpa and Dad, with linens handmade by my Grandma and Mom," she said (photos below courtesy of Amy White). They also found the metal frame of her grandfather's Brownie camera.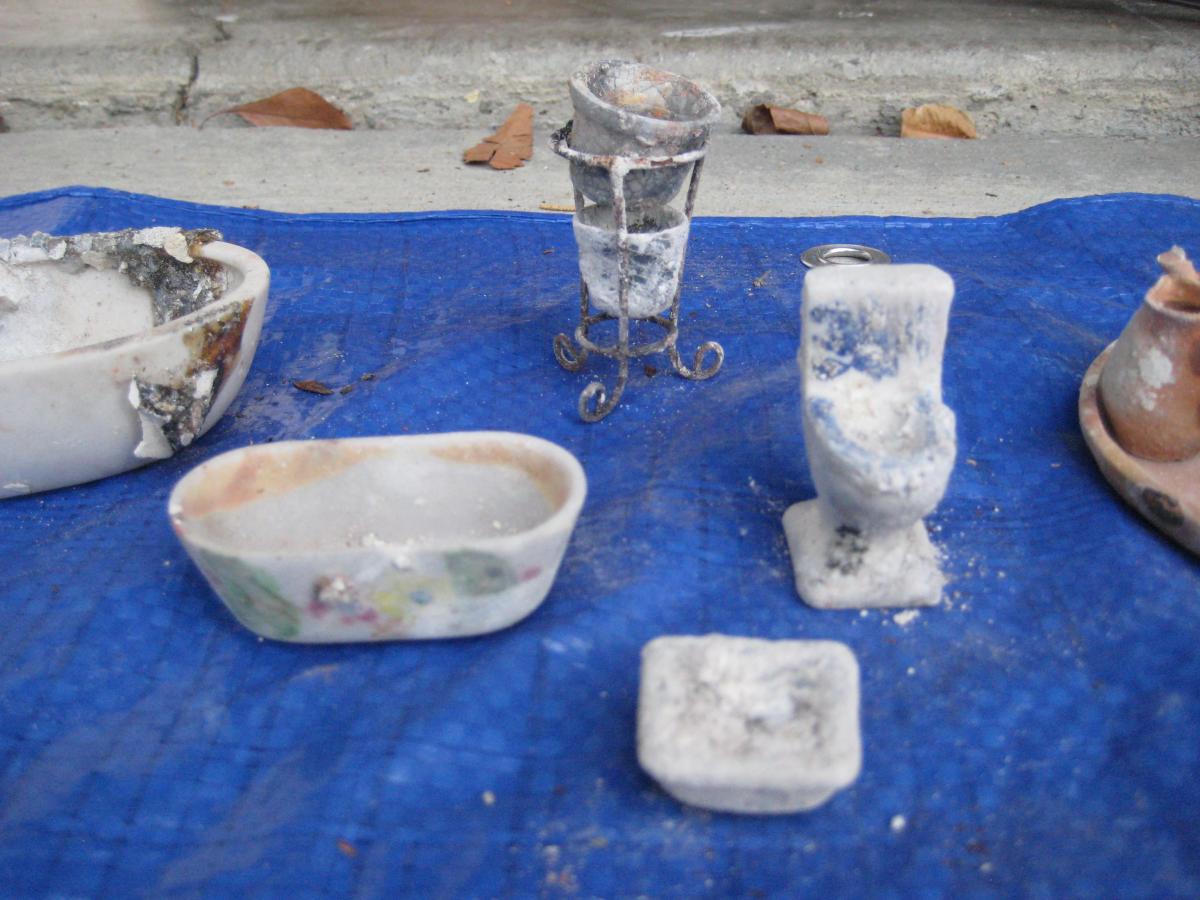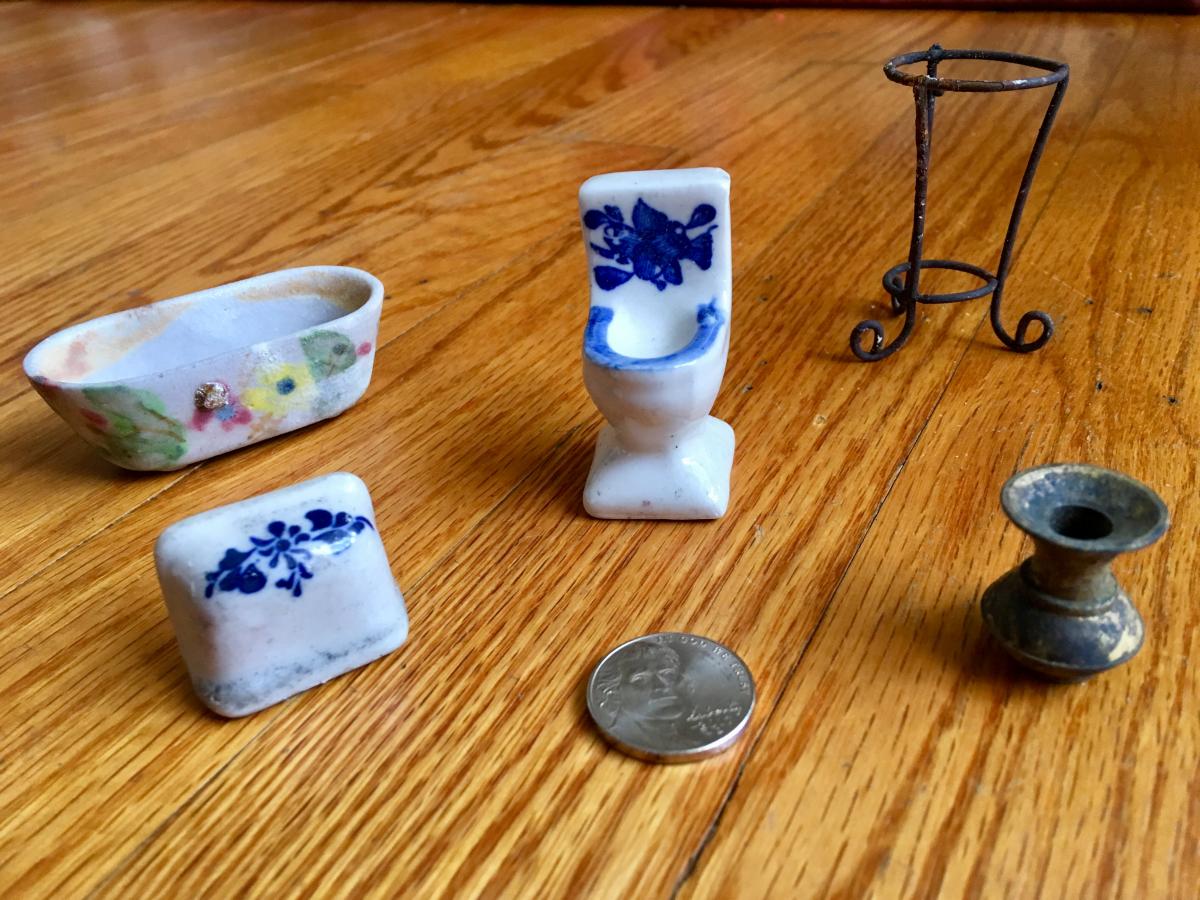 In November, Amy returned to Pennsylvania after three weeks in California. "When I headed out there, I thought leaving my husband, children, and work behind for three weeks seemed extreme, but it went by in a flash," she said.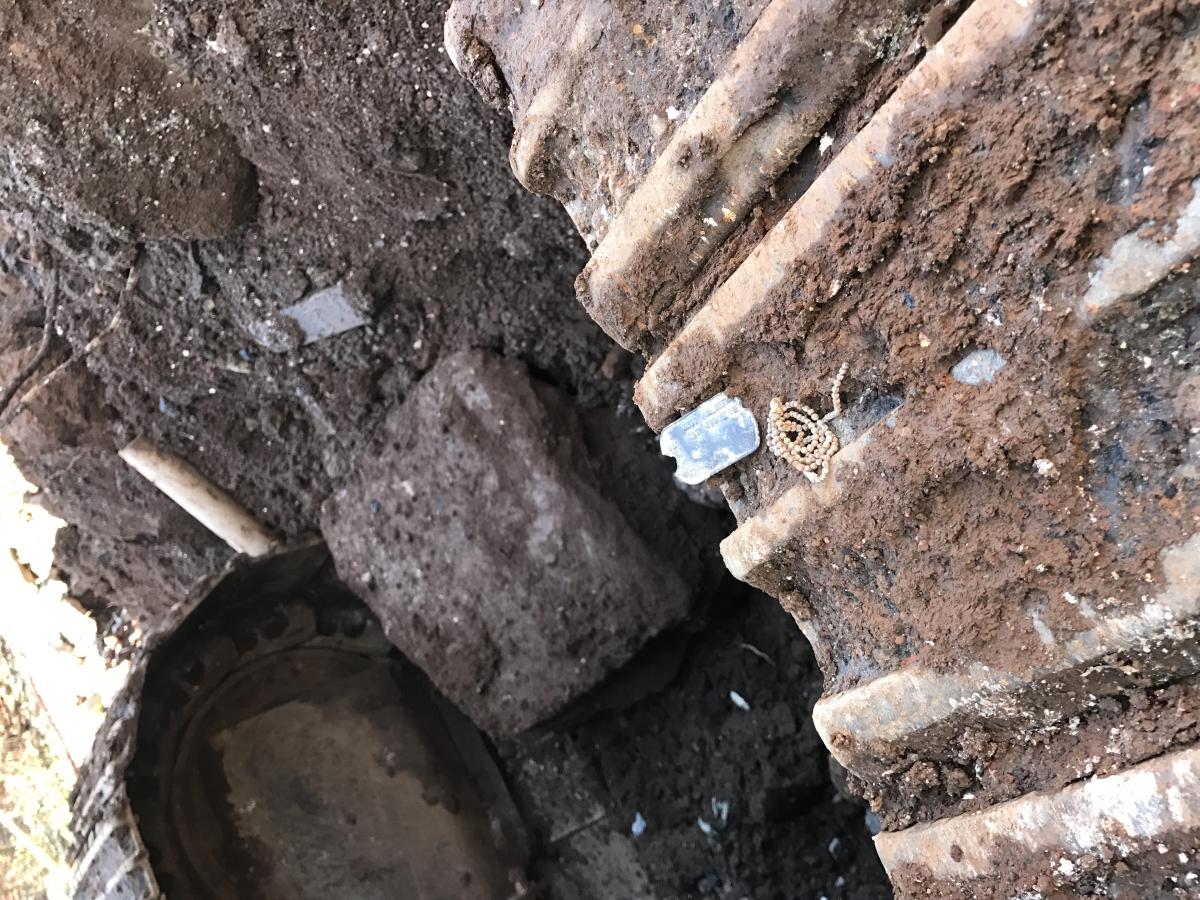 In January and February of this year, FEMA contractors came to the property to clear it of the remaining debris. They were there for several days, hauling out the wreckage and digging down to bare dirt. On the last day, an object caught in one of the backhoes they were using to clear the site.
"A crew member saw it and called out to my mom, 'Do you know someone named John?'" Amy said. "When she got closer she could see what the object was: my Grandpa John's dog tags. I still don't know how they survived both the fire and the heavy equipment scraping the lot down multiple times."
In both California and Puerto Rico, countless trees were lost along with many lives and thousands of homes. Fred's family lost lemon, breadfruit and avocado trees. Amy's family also lost a special avocado tree.
"This was an amazing tree -- over 100 years old and 80 to 100 feet tall," Amy recounted. "It towered over our house. As kids, my sister and I climbed it and swung from a swing on it. On my parents' first visit to the house, an avocado from the tree fell at my mother's feet. She turned to my dad and said, 'This is the house I want!'"
Amy learned that a wood artist in the region, Michael Palace, was creating objects from trees that had burned in the wildfires. He calls them Phoenix Bowls. She invited him to the property where he gathered the remains of their avocado tree. From those branches, he produced hand-turned bowls for Amy, her sister, and her mother.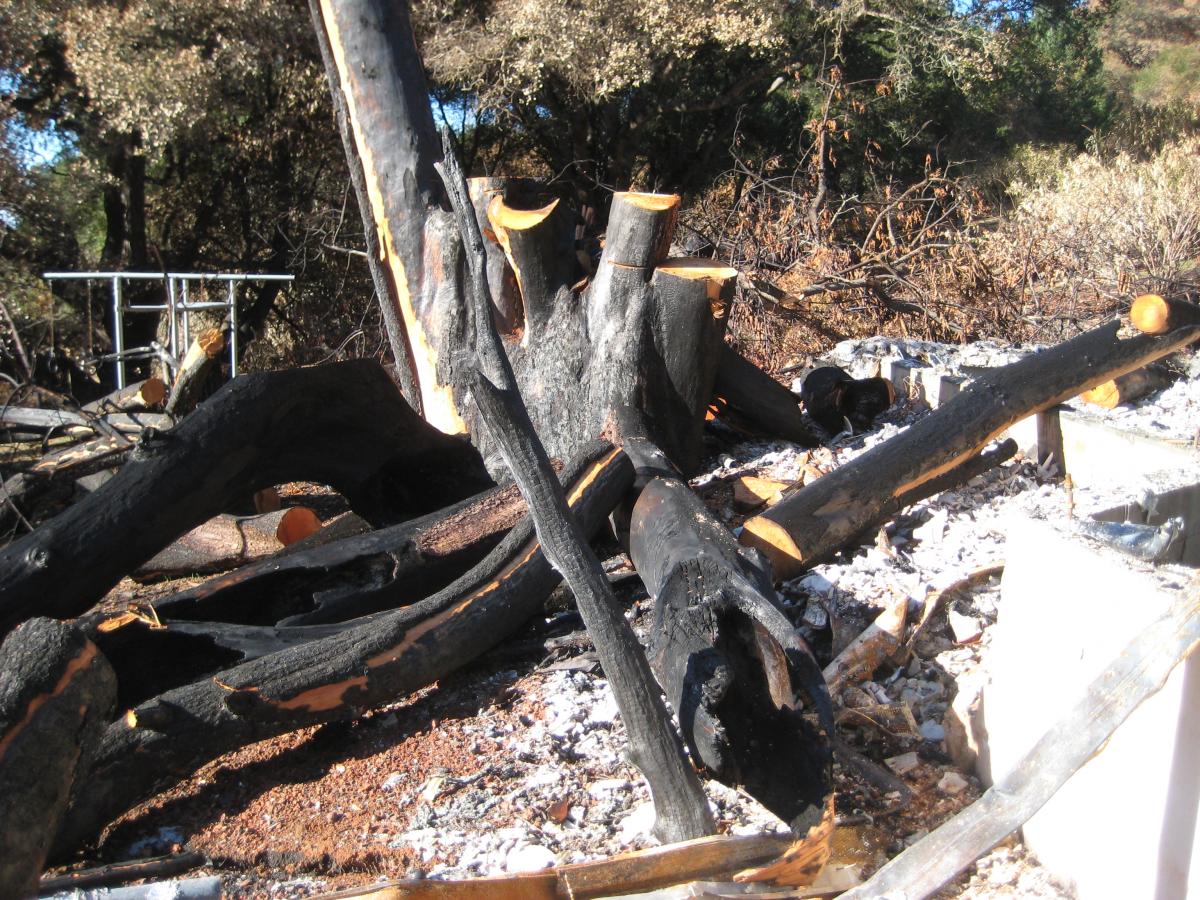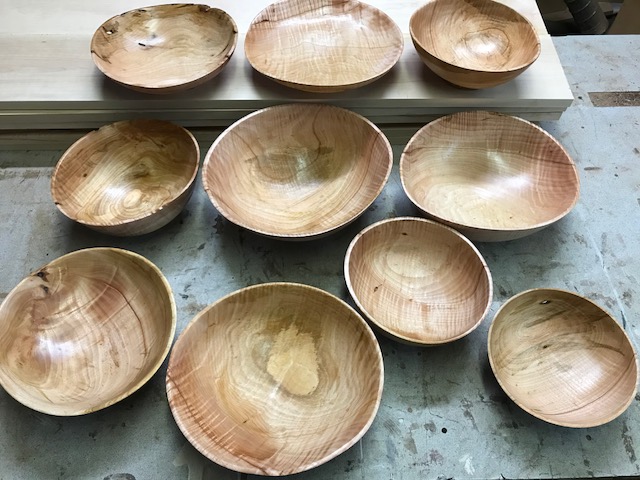 Peace of Mind and Lehigh Family Support
In the months since returning to work, Amy and Fred have had time to reflect on their experiences.
"I am so thankful that Lehigh had this benefit available because it allowed me to be with my mom during this very traumatic time," Amy said. "My co-workers and supervisor in Communications and Public Affairs also were very supportive. They and co-workers from my previous position at Lehigh got together to give me a gift card to help with travel expenses and shared their thoughts of support."
While Fred wishes his parents lived closer, he accepts that his mother is happy in Puerto Rico. He and his brother still need to return to re-seal the roof and help with other house projects, but having the opportunity to take an extended period of time off to be with his family during the immediate aftermath of the hurricane gave him peace of mind. "The leave benefit was great," he said. "I was glad it was available when I needed it and that others could use it, too."