Monday, September 14, 2015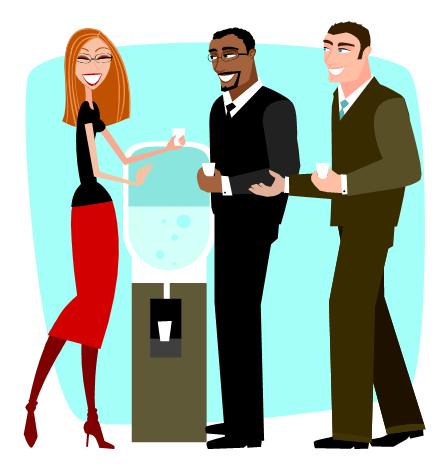 Maria: Harry, is there an office rule about how many workplace learning programs we can attend in a certain period of time?
Harry: I've never needed to establish one. This office has always been reasonable with requests.
Maria: I've signed up for HealthScan Plus and Crucial Conversations, but I'm also interested in one of the TIAA-CREF programs and Career Power Lunch.
Harry: I don't believe it will be a problem, Maria, but let's look at the schedule. Tom wants to attend a program or two as well.
Maria: Okay, I will do that. There's a lot going on in October, like its Workplace Learning month at Lehigh.
Harry: Hmmm, now there's an idea
Back To School For Everyone
The students have returned to campus and classes have begun. Lehigh is an environment of learning, living, and working, and faculty and staff have learning opportunities too. Follow the links below to learn more and register for our workplace learning programs.
To register for workplace learning programs, click here.
Harassment and Discrimination Prevention 
September 21, 9:00 to 10:30 a.m.
(all sessions are Wednesdays, 9:00 to 11:00 a.m.)
            FML, ADA, Evaluations, Wage and Hour              October 21
            Sexual and Other Harassment, Violence             December 9
(all sessions are Thursdays, 11:30 a.m. to 1:00 p.m.)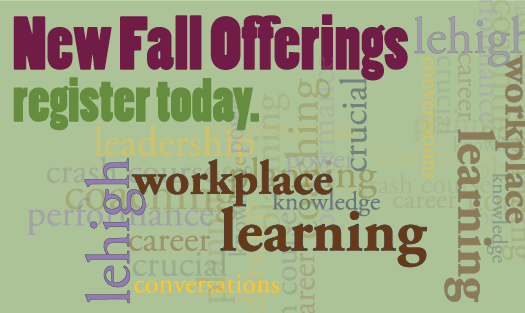 Values, September 17
Perspective, 

October 22

Possibilities, November 19
Plan, December 10
Resume Writing, January 21
Interviewing, February 18
Networking, March 24
LinkedIn, April 21
Lehigh's Salary System, May 19
Reward/Recognition,  June 16
(a three part program, registration is for all three sessions)
            October 13 and 20      8:00 a.m. to noon
            October 27                  8:00 a.m. to 2:00 p.m.
TIAA CREF Retirement Workshops
Paying Yourself: Income Options in Retirement    October 20, 3:30 to 5:00 p.m.
Get a Head Start: A Step by Step Overview of Your Plan  October 21,  8:30 to 10:00 a.m.
Wellness
Healthscan     September 16, 17, 18, 21, 22 and 23
Healthscan is a personal, preventive health screening that may determine if you have current or potential health problems. Tests include checks for
· Diabetes
· Heart disease
· Gout
· Liver and kidney disease
· Complete Blood Count (CBC)
· HDL (good) and LDL (bad) cholesterol level
Health Scan PLUS includes additional biometric assessments as part of the BE WELL wellness program.
Test results are strictly confidential. Only you receive your results. The program this year will be conducted by Quest Diagnostics. Lehigh employees are eligible for one free screening per year as part of their benefits program. Retirees as well as employee spouses/partners can also participate in the screening at full cost (currently $55). Registration Forms are being sent via campus mail.
In addition to what is available on campus, Northampton Community College's Center for Business and Industry offers a variety of programs and is conveniently located at the Fowler Center on Third Street. To see a list of the programs they are offering this spring, click here. 
If you have questions or want more information about Workplace Learning opportunities, contact Linda Lefever at x85195 or via email at lip3@lehigh.edu.
Links/Resources
HR Programs by Category
· Wellness
Other Learning Resources
· Integrated Behavioral Health
· New Horizons
· Environmental Health and Safety
· Center for Innovation in Teaching and Learning
· Library and Technology Services Seminars
· Northampton Community College\'s Center for Business and Industry
The Workplace Learning Team
Linda Lefever, lip3@lehigh.edu, x85195
Judy Zavalydriga, jaz308@lehigh.edu, x83897
Ryan Burns, krb415@lehigh.edu, x83698