We've all dealt with a lot of disruption and change since March 2020. Now, as we begin to resume full on-campus operations at Lehigh, we're adjusting once again. It's a little bit like we've been on our own separate space stations for a year and now it's time to come home. It's understandable if your legs are a little wobbly!
If you're looking for a bit of extra support in your re-entry process, Career Enrichment at Lehigh (CE@L) is here to help. This summer, CE@L will offer online workshops geared toward improving communications, building equity and inclusion, and leading in our new flexplace work environment. 
Interested in attending one or more of these programs? Click on the title to register.
Could a conversation (or avoiding one) be keeping you from getting the results you need? Whatever the issue - from poor productivity or declining quality, to lack of teamwork or strained relationships - it's likely that you are experiencing the effects of a poorly held crucial conversation.
Learn how to create conditions where people speak with complete candor (no matter the topic) and with complete respect (no matter the person). Gain skills that enable spirited dialog and reduce deference and defiance. Begin stepping up to tough issues and sharing opinions, feelings and information safely and freely. Learn how to promote the best ideas, save time with fewer meetings, have less disagreement, and build more alignment with better decisions.
This course takes place over five sessions and attending all sessions is required.
The Summer 2021 schedule is as follows:
Session 1: Friday 7/23 - 9:30AM - 11:30AM
Session 2: Tuesday, 7/27 - 9:30AM - 11:30AM
Session 3: Thursday, 7/29 - 9:30AM - 11:30AM
Session 4: Tuesday, 8/3 - 9:30AM - 11:30AM
Session 5: Thursday, 8/5 - 9:30AM - 11:30AM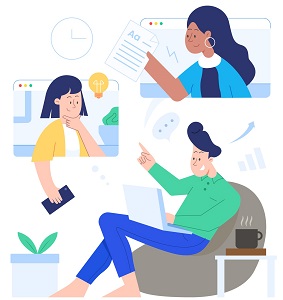 This new workshop focuses on best practices for leading and engaging employees in the Lehigh flexplace environment. We'll discuss the Lehigh Staff Flexplace Policy, ways to promote flexibility, and how to manage requests and unique situations. You'll also have the opportunity to network with colleagues at Lehigh to discuss challenges and learn more about what strategies have worked well for them.
Additional resources for leading a flexplace team are also available on the HR website.
In this two session program, you will view and discuss eleven video insights presented by Steve Robbins, Ph.D.
In the various video clips, Steve will discuss stereotypes and unintentional intolerance. Steve also discusses how human nature and our brains don't always help us be inclusive, and what we can do to prevent this.
Inclusion Insights is part of our Cornerstones of Community track and is an expectation of all staff.
In order to fulfill Cornerstones of Community requirements, Parts 1 and 2 of the virtual version of this course must both be completed. 
Illustration source credits: 
Flexplace Workers by Vecteezy
Astronaut Vectors by Vecteezy
Nature Vectors by Vecteezy