Summer is here and many of us are taking some well-deserved time off. But you shouldn't take time off of tracking your Be Well challenges.
We're just a couple of months away from the end of the Be Well 2018-2019 year, so it's important that you keep going and log all of your points. You've still got plenty of time to level up and get a great reward, from a $20 monthly wellness credit to a $50 Amazon gift card you can use to gear up for the beach.
Pile Up the Points
There are a few Be Well challenges available right now that can give you a real boost in points. Here's a sampling: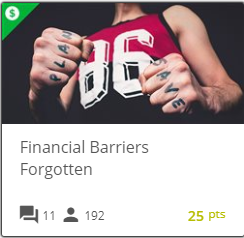 Earn 300 points each by completing the six-week paths presented by Aduro. Topics include Health and Fitness; Money and Prosperity; Growth and Development; and Contribution and Sustainability.
Educate yourself about online security and rake up 100 points by taking the Securing the Human online training.
Break down your financial barriers and net 25 points by signing on to Financial Barriers Forgotten.
There are many more challenges available. Check them all out on the Be Well website or app. 
Even though it's nearly July, it's still not too late to get started. Contact Mary Jo McNulty in Human Resources to get on board.