Thursday, December 20, 2018
By Mary Jo McNulty, HR Associate, Wellness and Recognition
The new year of Be Well kicked off on October 16, 2018. With that came new challenges as well as some repeat challenges that will probably look familiar. Within a matter of three weeks, several employees reached Level 2 – 2000 points. While it's not impossible, it led me to wonder if participants are recording the completion of a challenge correctly. I thought it might be a good idea to review the steps. They are different for long-term and one-time challenges.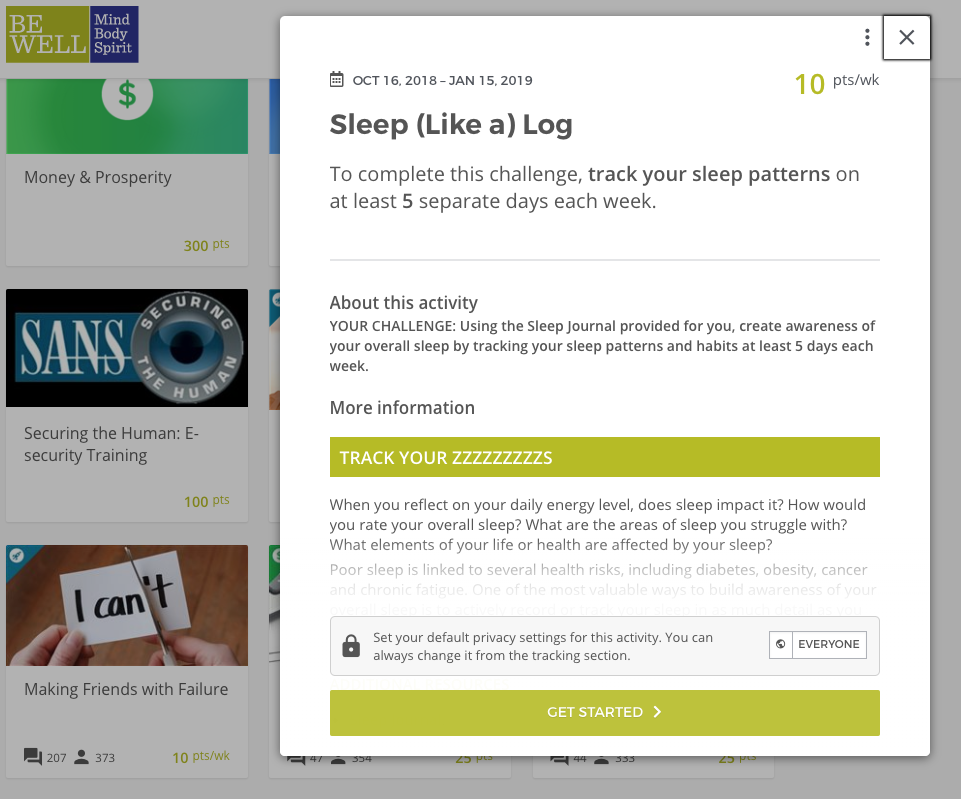 For long-term challenges, there are two steps:
Sign up for the challenge by clicking on the challenge and clicking the "Get Started" button.
Log activity in the "track progress" section of the challenge. Each week you meet the goal of the challenge, Be Well rewards you points
What might be confusing to some is how to log one-time challenges.  Often times in those situations, there is only one step – logging your activity in the "track progress" section or hitting a "complete" button.
For example, we promoted the November 28th campus blood drive as a challenge activity. It appears that some participants may have indicated that they had completed the challenge when, in fact, they had only registered to give blood. The challenge is not complete until the donation is given. It's possible that you might need to cancel an appointment or even get turned away when trying to donate blood. The goal of Be Well is to award points when they are earned.
Remember, the Be Well Program is on the honor system. The challenges are good for the time period listed. You should only indicate you've completed a challenge if you completed the challenge in the time frame listed. You have a two week window to log your activity, but you shouldn't log something you did prior to that nor something you intend to do in the future.  
If you have any questions, feel free to contact Mary Jo McNulty at mjd4@lehigh.edu or extension 83894.