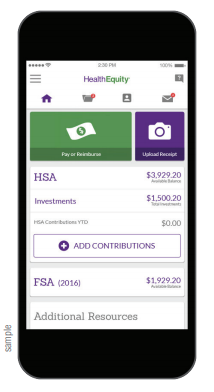 If you're in the high deductible healthcare plan (HDHP), you already have a health savings account (HSA). But you might not realize that Health Equity, the company that manages your account, has a mobile app.
The app is available in the Google Play Store and App Store. Once you've downloaded and opened it, you'll find a login screen.  The app then walks you through the process of connecting your HSA with the app. After your account is synced to the app, you'll see your overview screen.
One User's Perspective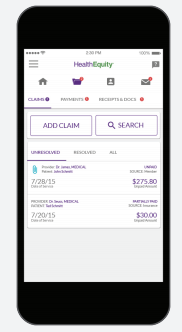 We wanted feedback from an employee who uses the app, so we reached out to Lauren Furrer, director of undergraduate recruitment marketing, to find out more what she thinks.
Lauren says she uses the app to check her HSA balance and to submit claims. She especially likes the simplicity of submitting claims. "You can use your phone's camera to upload receipts," she said. "It's very quick and easy."
In addition to easy claims submissions, Lauren says the app also makes receiving reimbursements seamless. "The app offers a direct deposit feature," she noted. "You can connect your HSA directly with your checking account and be reimbursed quickly."
Lauren didn't have any suggestions for ways in which the app could be improved. In fact, she gives it her full endorsement. "It's an almost effortless way to manage your HSA," she said.