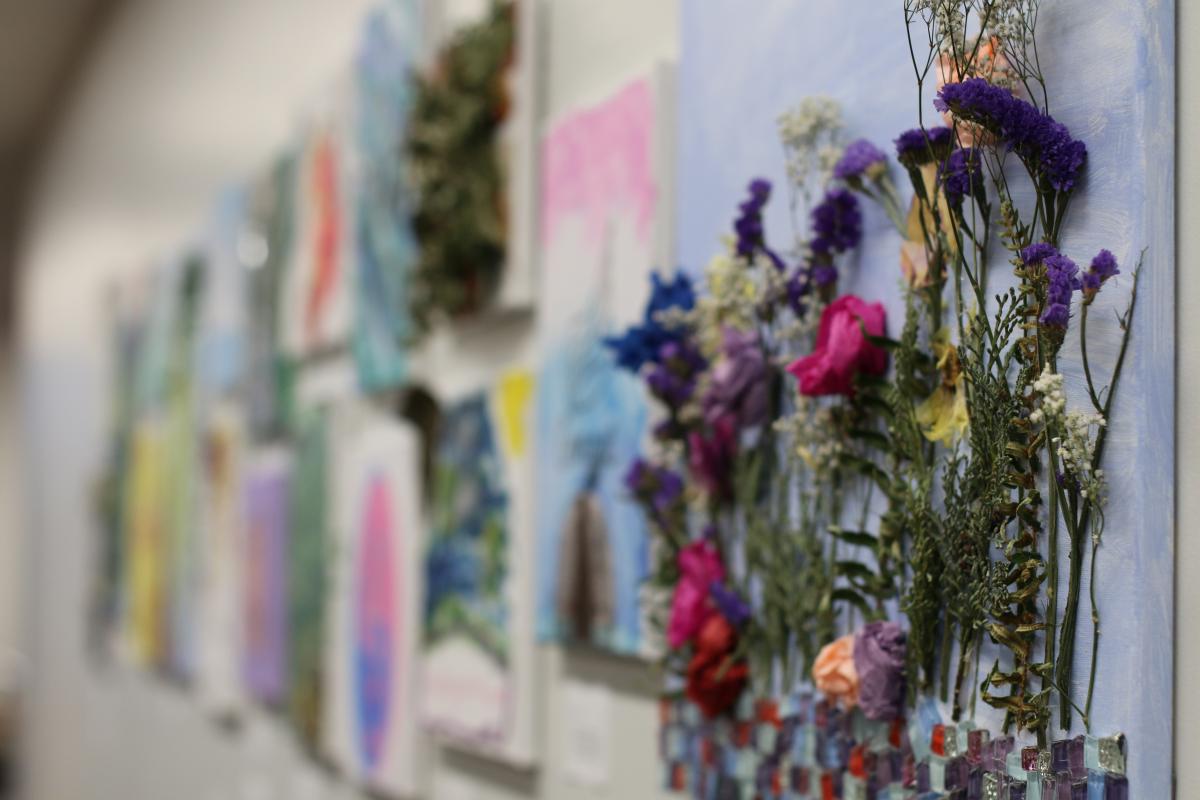 Two Lehigh seniors who volunteer in the Center for Gender Equity (formerly The Women's Center), Emily Ryan and Madison Williams, recently organized a program that provided opportunities to explore and reflect on identities and healing through art. "Be Your Own" consisted of four creation spaces during which students, faculty and staff were invited to express themselves through art, even if they don't identify as artists.
This year's "Be Your Own" themes were mental health and self care; gender violence; and sexuality and sexual identity. Employees who participated included:
Lydia Benjamin
Scott Burden
Chelsea Fullerton
Christa Neu
Sara Machiniak
Donald Outing
George White
The Spot caught up with several Lehigh employees at the exhibition reception to view their work and ask them about why they decided to participate. The following are excerpts of conversations and artists' statements from employees.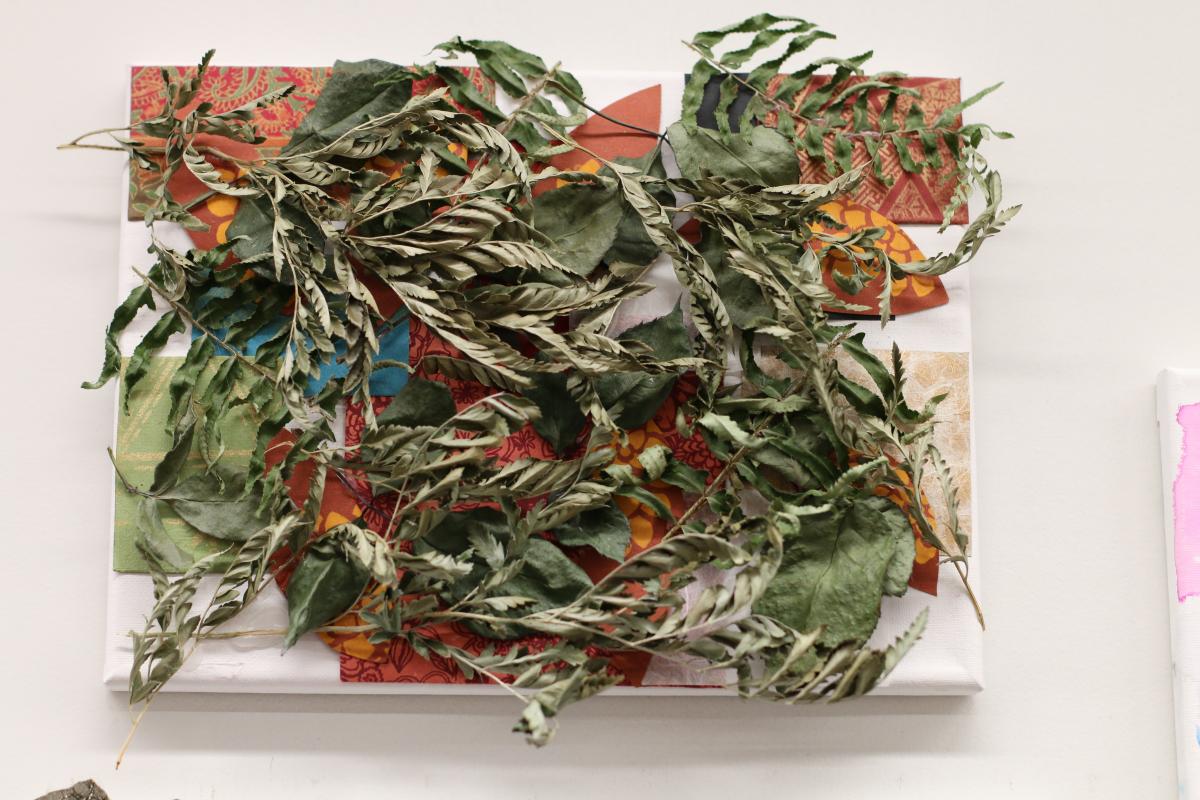 Chelsea Elizabeth Gilbert, Director, The Pride Center
"Behind The Messiness"
A reflection on anxiety, beauty and growth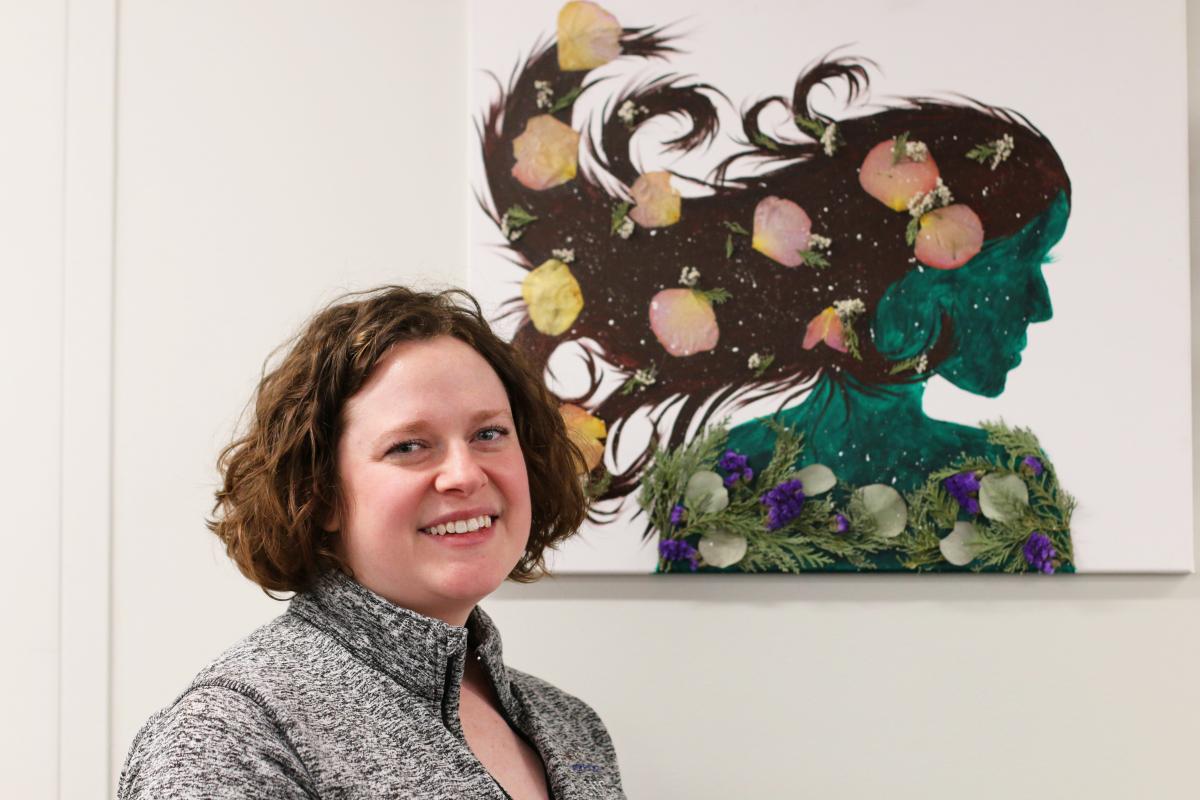 Sara Machiniak, Associate Director, Center for Gender Equity: My piece is called the Ides of March, referring to the assassination of Julius Caesar, which was a turning point for the Roman Empire. That date, March 15, is a significant date that also marks a turning point in my own life. I was trying to express in my piece that it was possible to heal from surviving a traumatic experience and embrace myself as a whole, new being.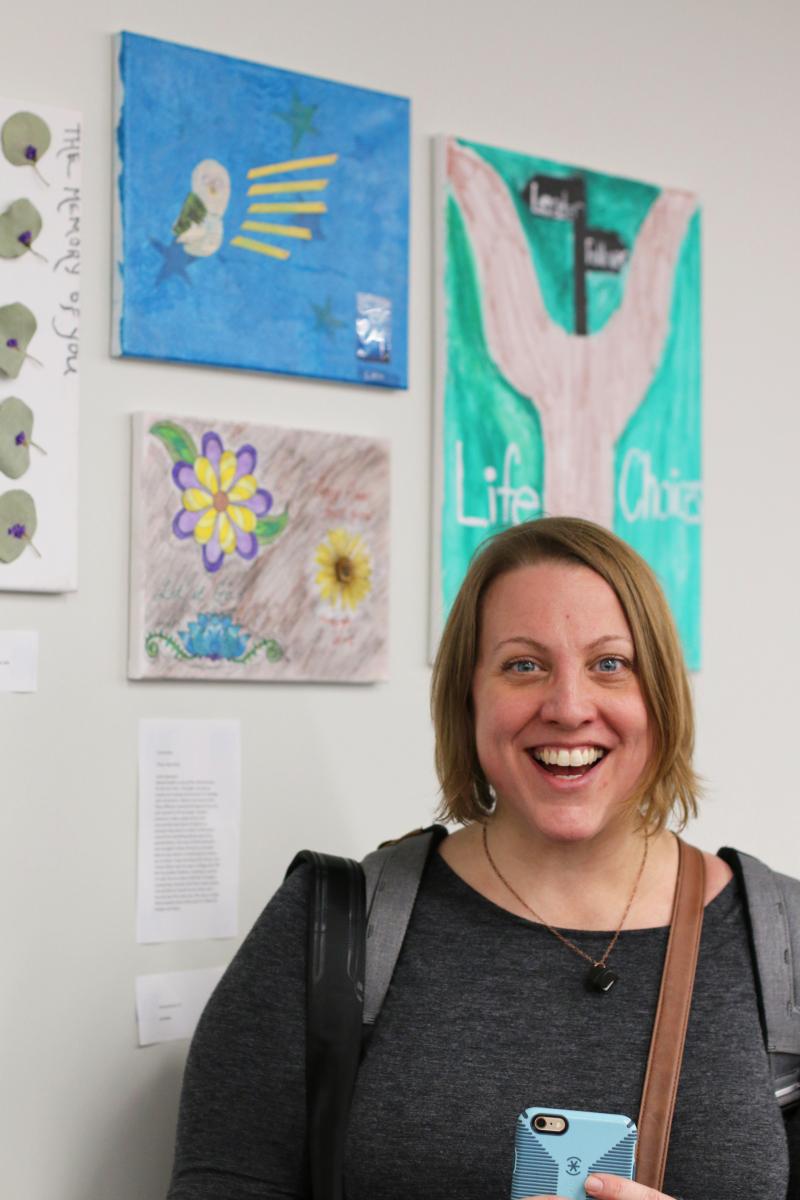 Christa Neu, Staff Photographer, Communications and Public Affairs: (from her Artist's Statement) Initially I wanted to make a piece of art that represented pieces of advice from matriarchal figures from my past, but in the end it turned into something about one of my grandmothers. One way to find calmness and strength in times of worry is to look back at your stories, look back where you've been. . . Collage also felt like the perfect medium, creating a system of order from so many small bits of paper, moving them around until they made sense. I love the way this came out, the way a small little complete story came out of a flood of feelings and ideas.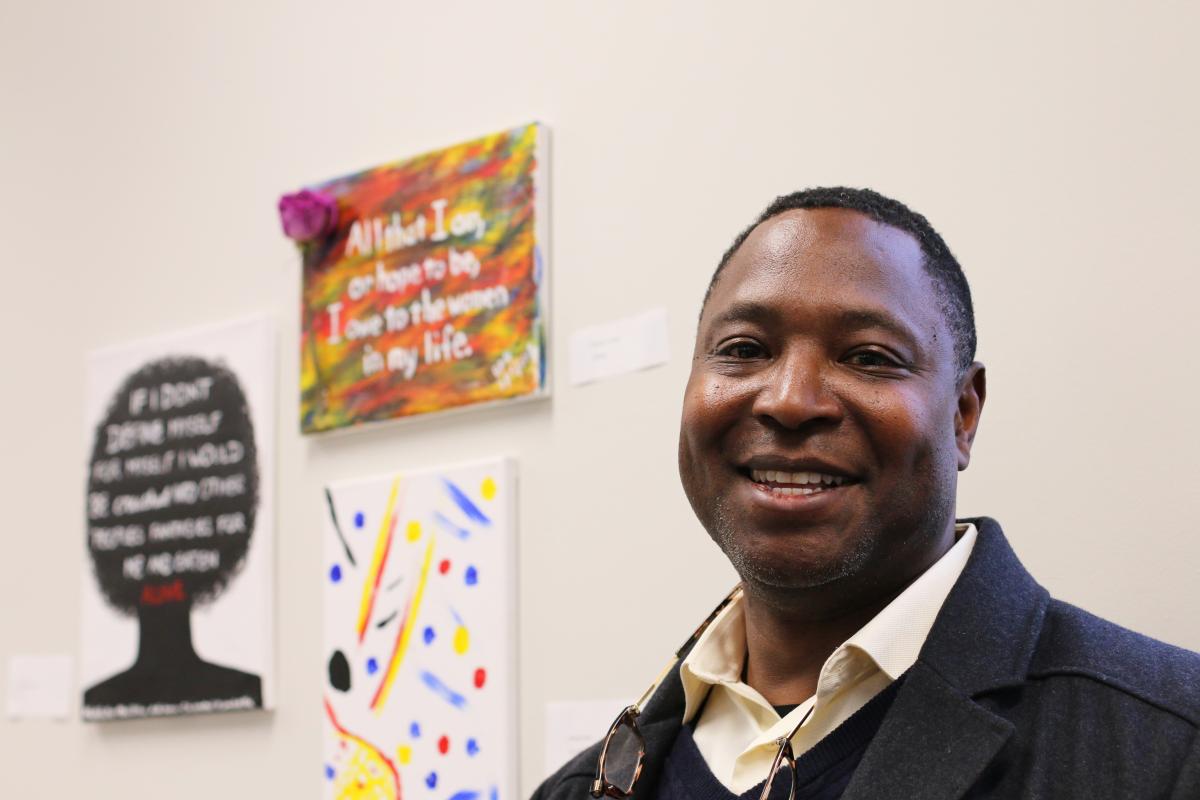 Donald Outing, Vice President and Provost for Equity and Community: [Donald's piece reads, "All that I am, or hope to be, I owe to the women in my life."]  I don't think of myself as an artist, I'm an applied mathematician with the soul of an engineer. I love to work on projects like building decks where you have to solve a puzzle with a set of constraints. So, creating a painting on a blank canvas with no rules was a bit intimidating for me.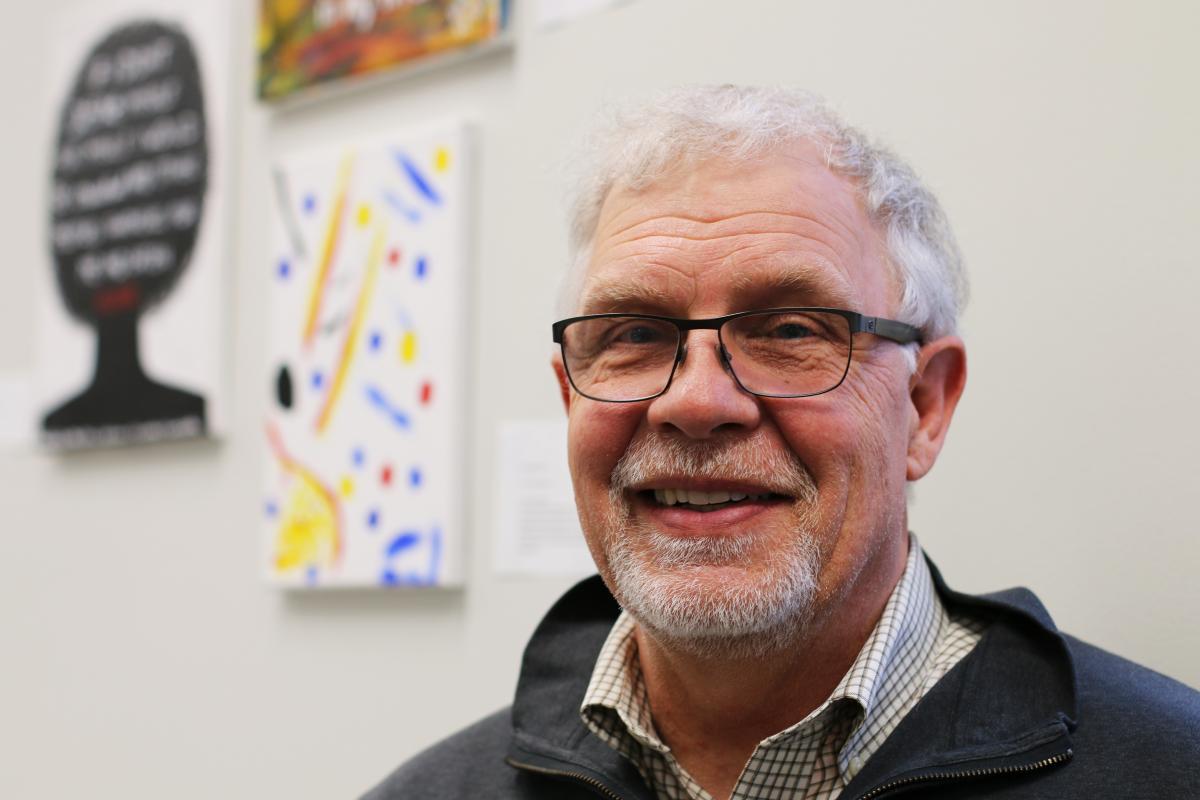 George White, Managing Director, Student Access and Success: I didn't really know where to start but then I thought about how I learned once that black contains all colors and so I wanted to make a painting where many colors were emerging from a black spot to portray how beauty can come out of darkness. It is not always a clear pathway, but exploration of the colors of our lives can lead to joyful experiences.