Could a tiny trash bin in your office save the planet?
Maybe not, but it is one small idea from the Sustainable Office Program that could help you cut down on your contributions to the waste stream. And that is good for the environment.
That's the thinking behind the Office of Sustainability's program to green our Lehigh offices. The Sustainable Office Program was created in the spring of 2015 to encourage employees at Lehigh to be more thoughtful in how they address day-to-day behaviors such as regularly turning off lights when they leave their office, reducing waste, and recycling.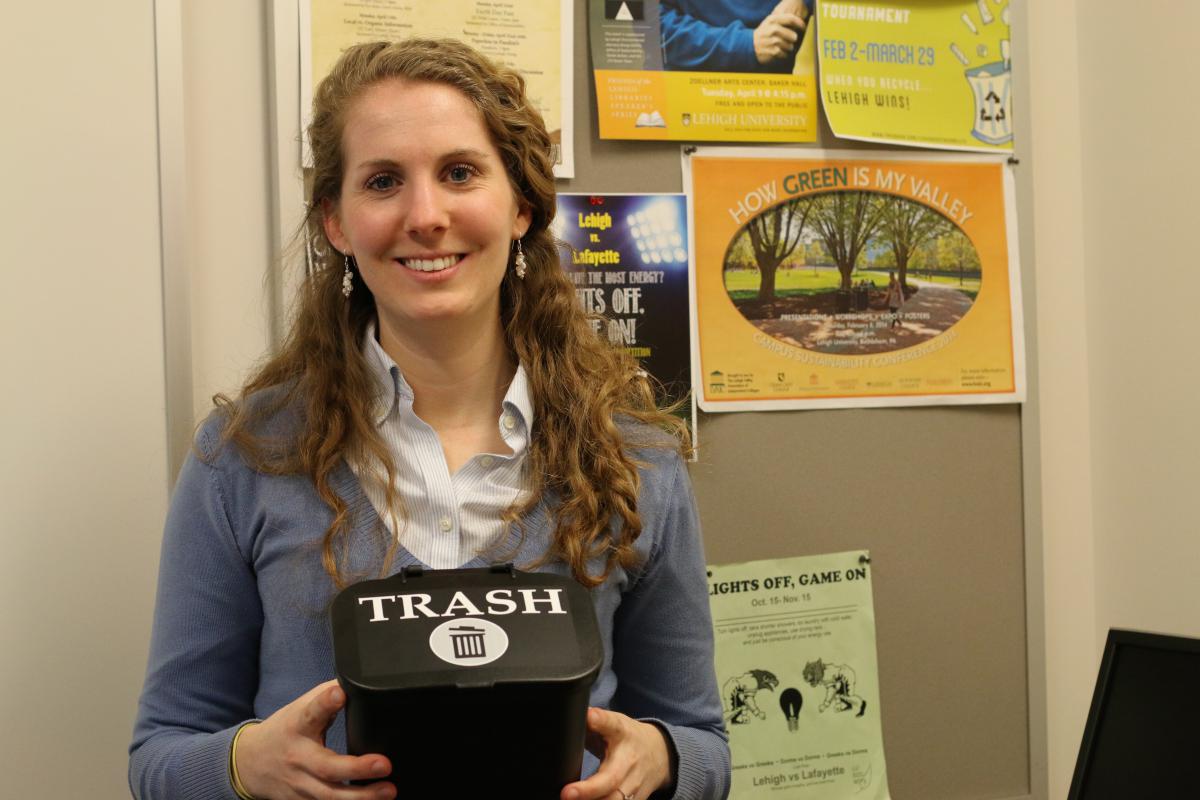 Katharine Targett, Sustainability Program Manager in the Office of Sustainability, oversees the Sustainable Office Program as part of her work to raise awareness and change behaviors on campus. With a master's degree in environmental science and policy and a resume that includes the Port Authority of New York and New Jersey, Katharine's work at Lehigh is really all about people.
"We try to get at the root of how people do things," she explained. "For example, around recycling. At home, a lot of people have to do it because it's required by their municipality. We need to help get people into a routine here at work, where we have single stream recycling, by showing that it's not really that much more effort."
Recycling is one of more than a hundred actions that an office can take to become a certified Sustainable Office at Lehigh. Once an office registers for the Sustainable Office Program, they meet with a member of the Sustainable Office team to further discuss the program, fill out a baseline survey, and work on a checklist of actions. These actions range from relatively simple things such as having a plant in your office or no longer purchasing Styrofoam products to more challenging steps, including setting a quantitative goal for waste reduction and developing a strategy to achieve it or prioritizing shared transportation like carpooling to meetings.
Since the program launched, six offices have received certification; four are gold certified, one is silver certified, and one is bronze certified.  To obtain gold certification offices must complete 90 items on the checklist, while silver and bronze are 60 and 30 respectively.  An additional six offices are in the process of certification. No office has yet attained the coveted platinum designation by completing 120 items on the checklist. Katharine challenges everyone to consider going for the ultimate certification.
Going For The Gold
One of the first offices to reach gold certification is Athletics Business Services. Jason Gall, Associate Director of the office and a member of the Lehigh Environmental Advisory Group, volunteered to pilot the program.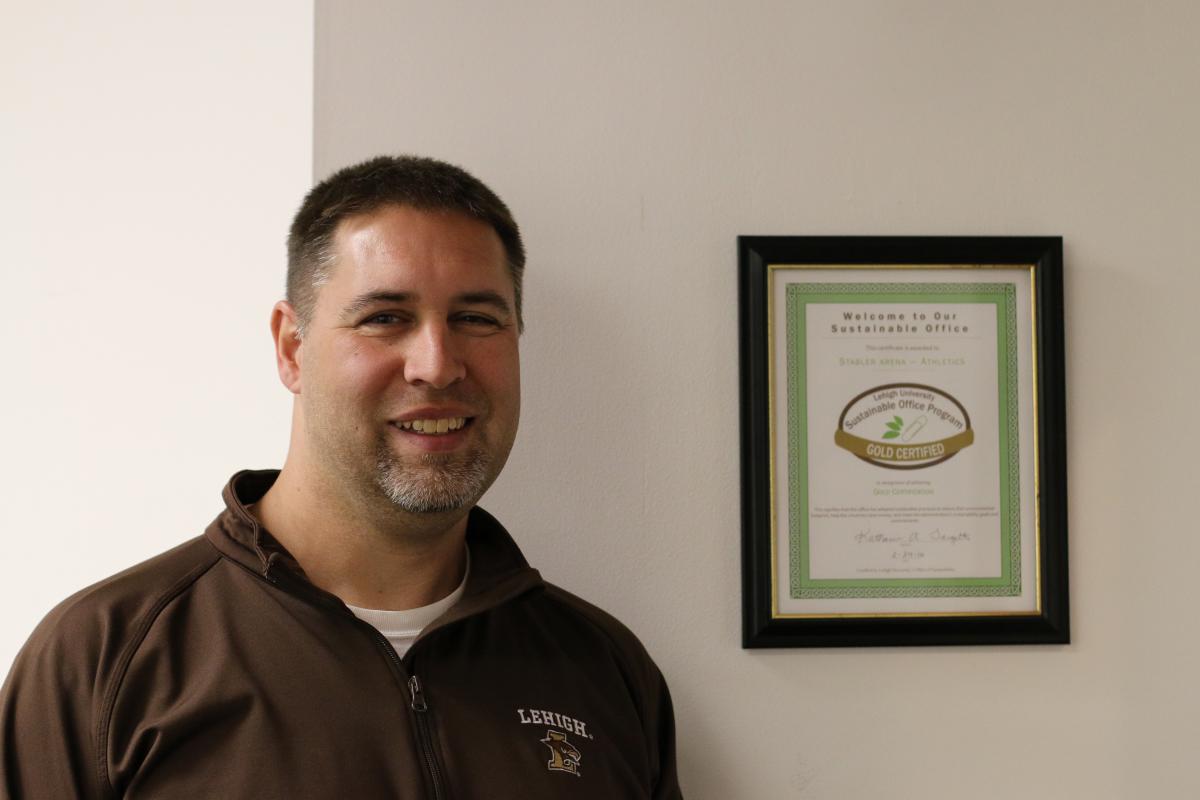 "With ten people in our office, we thought we would be a good test case for the idea," he said. "When I was walking around the office completing our baseline survey, my colleagues were looking at me like 'what are you doing?' but then they started following me around and eventually everyone joined in to help complete the checklist of actions."
Without much more effort than they were already doing, Jason found their office would reach silver level certification. After seeing other offices achieve silver, the department's competitive spirit kicked in and they went for the gold.
As he escorts a visitor around the office, he points out a "Sustainability Corner" featuring information about the environment and upcoming events. Signage now dots the walls of the Athletics Business Services Offices in Stabler reminding people to turn off the lights and turn down the thermostat. There are bins to collect old batteries so they can be brought to one of Lehigh's many battery recycling drop off locations. And you won't find disposable cups or mugs in their kitchen.
Jason and his colleagues have achieved Katharine's goal of behavior change. "Everyone has converted over to bringing their lunches in reusable containers," Jason observed, "Just by putting up signs, we've changed people's thinking."
Having transformed their office's practices and behaviors around energy and waste, Jason and his colleagues are committed to broadening their efforts.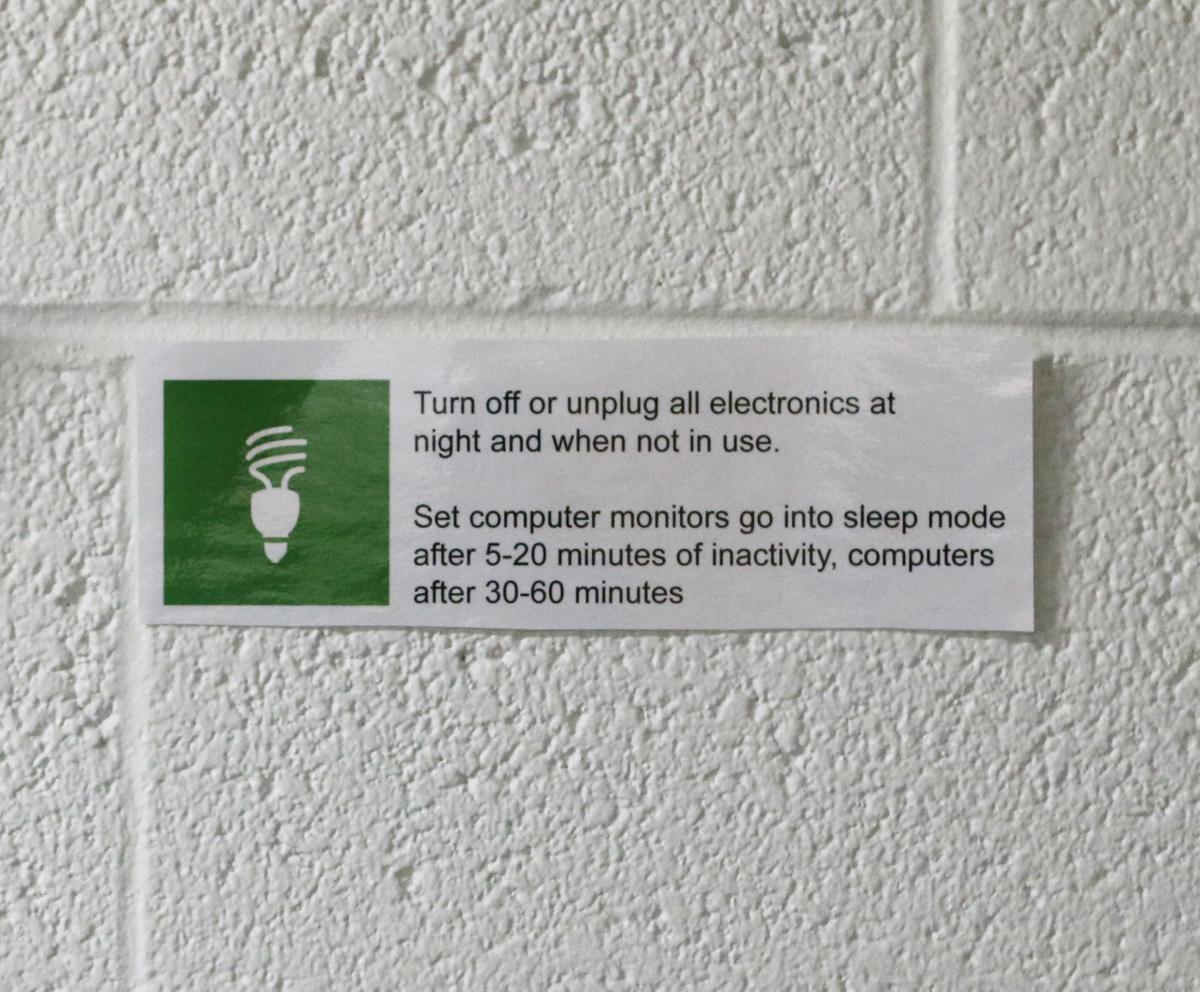 "I've really embraced it and started thinking about what we should be doing in Athletics. We get a lot of people at our sports and other events and we could be reaching them with a message about sustainability," he said. "And we want to branch out in terms of making our facilities more sustainable. What can we do at Taylor Gym? What can we do at Cundey Varsity House? How can we work with our field maintenance vendor, Brickman, to make sure they are using smart watering practices? There are a lot of things that we put our eyes on that we didn't just a year ago."
Jason says there's no down side to joining the Sustainable Office Initiative. The time commitment isn't a burden, and Katharine is available to help any office through the process.  "I think the thing that took the longest was figuring out how many computers we have," he said. "A lot of the actions are things you're already doing. Why not take that extra step to say you're a certified office?"
The Real Impact
Back to those tiny trash cans. They're actually called "mini bins" and Katharine says they can make a bigger impact than you think. It's all about changing behavior. "By providing people with a smaller bin for their trash, people produce less waste, both in their office on a day-to-day basis and overall because they're more aware of it since there is less room," she said.
Putting aside a few batteries. Turning off lights. How much of a difference can an office realistically make? You'd be surprised.
"All of these actions add up," Katharine notes. "Per person, you might not think it's a lot, but when you get hundreds of people doing these things, it has a big impact both here at Lehigh and beyond. If it becomes learned behavior at work, you will also take those behaviors home, and that makes a difference in our community and for the planet."
For More Information