Thursday, August 23, 2018
Every year, intrepid Lehigh staff juggle the responsibilities of career, family, and coursework to complete advanced degrees through the university's tuition benefit program. This May we welcomed four more employees to the distinguished list of Lehigh alumni. Here are their stories.
Having that '18G After My Name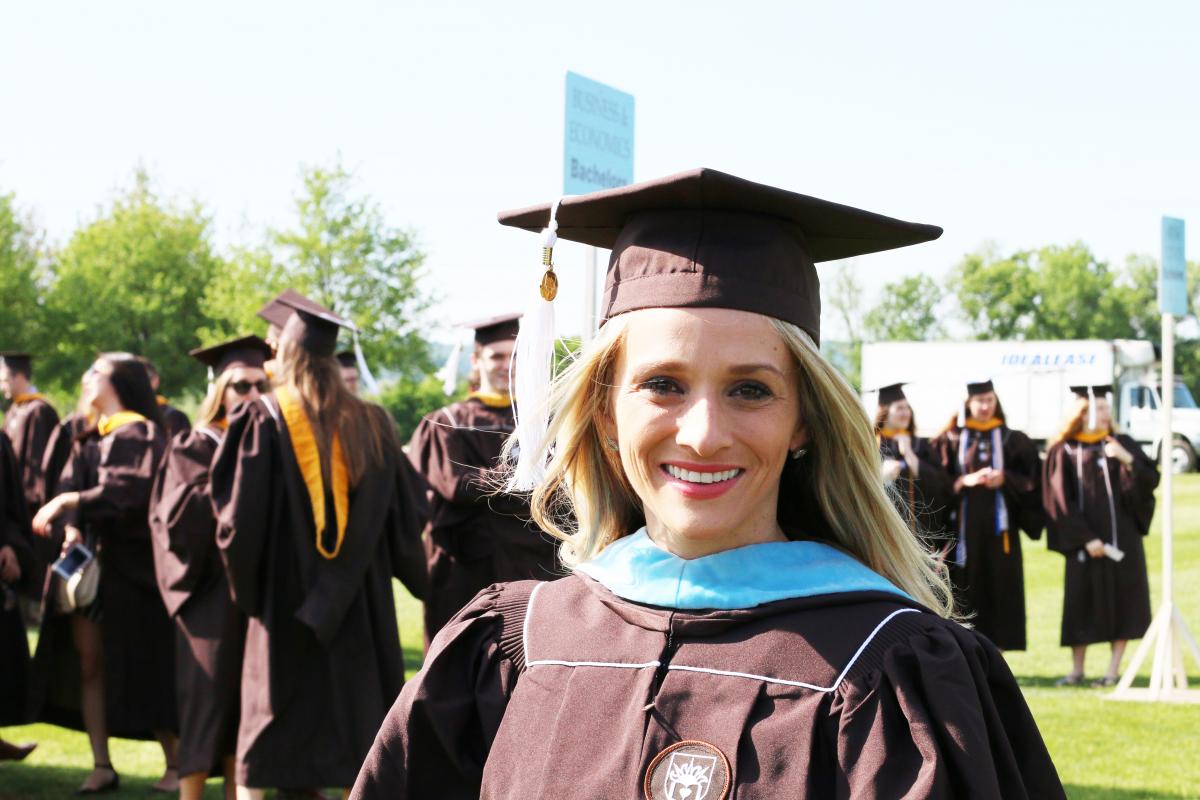 When Morgan Nelson arrived at Lehigh after accepting a job as a coordinator in the College of Business and Economics, she didn't have a college degree. Once she learned about Lehigh's employee tuition benefits, she made a commitment to herself to finish her bachelor's. "Not long after I started, I registered for courses at DeSales University through the LVAIC benefit and got to work completing a bachelor's degree in marketing."
As she excelled in her role in CBE and completed her bachelor's degree, Morgan's vision of her career started coming into focus. She participated in career enrichment programs and career coaching from Human Resources. She knew she wanted to make a life at Lehigh, even imagining her young children attending the university someday.  With the support of her supervisor, Morgan was able to expand her role. She discovered that she loved working with alumni and decided to aim for a career in alumni relations at Lehigh.
Morgan knew that it would require effort beyond her job to advance her career. "I recognized it might be hard to break through and have people see me in a role beyond my current position," she said. "I knew I needed to stand out, to go above and beyond."
Finishing her bachelor's degree was the first step; then she immediately started working on a master's degree in the fall of 2016. She chose the educational leadership program in the College of Education, which she felt best fit her career goals in higher education.
This spring, Morgan graduated with her master's degree. By then, she had already taken a major step, moving from CBE to her current position, Associate Director of Regional and Affinity Groups in Development and Alumni Relations, at the end of 2017. Now she works with and manages Lehigh alumni volunteers across the country from Denver, Colorado, to Westchester County, New York.
"I love it, it's going great. I was recently in Boston on a trip with President Simon. Meeting alumni and seeing how enthusiastic they are is tremendous," she said. "Keeping them engaged with Lehigh is part of our strategy. And now as an alumna, I feel like I can speak with them on that level as well. Having that '18G after my name has already been a benefit in my work."
It Makes You A Better Thinker
For Julia Oltman, furthering her education to pivot in her career is part of who she is. "The joke in my family is that I fundamentally change careers every 12 years," she said. "My undergraduate degree was in English, then I got my master's degree in sports psychology in the mid-nineties because my first career coming out of college was as a collegiate soccer coach at the University of New Hampshire, Ohio State and finally here at Lehigh in 1997."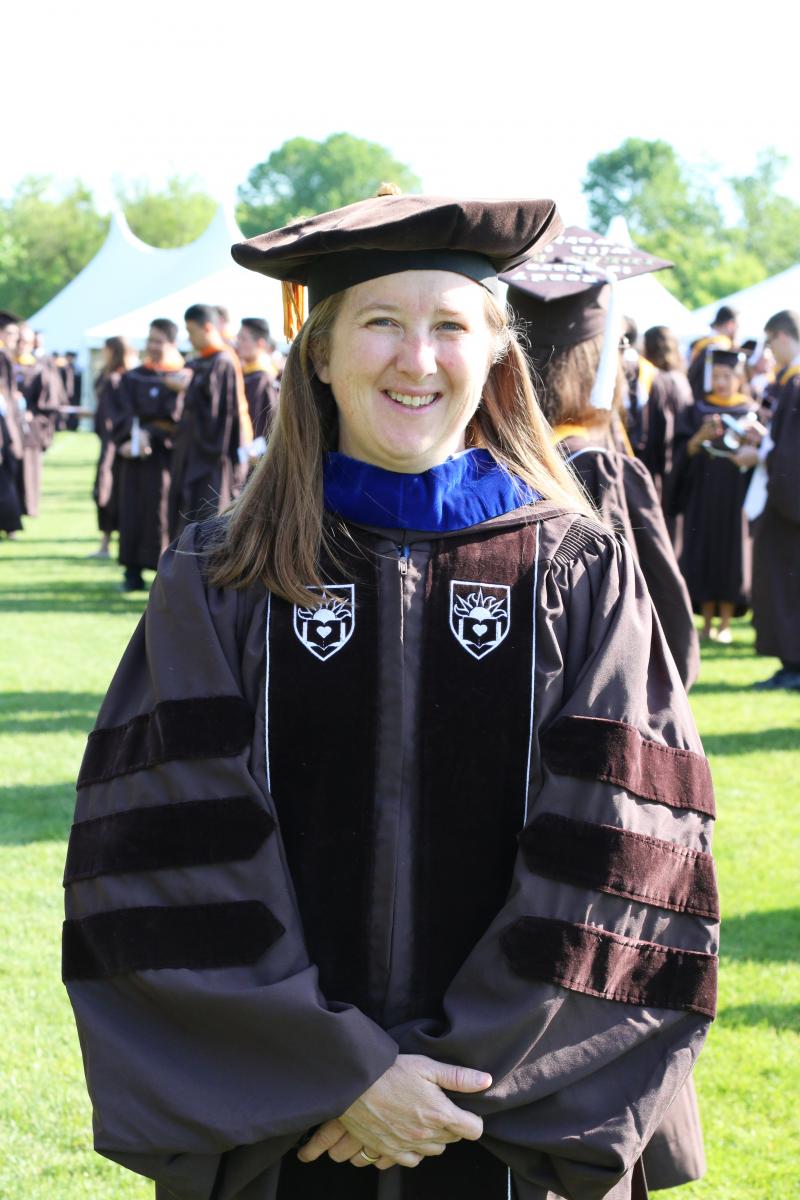 After five years of coaching soccer at Lehigh, Julia was looking for a way to transition into other areas of work in Athletics. Dean Joe Sterrett offered her a chance to direct the university's camps and clinics.
When Julia became director, camp and clinic registration was all done on paper. "I had always been very technologically oriented, so I made it a priority to get the camps and clinics into the world of online registration," she recalled. "That led to a recognition that my technology skills could be of service to the department. So then I held a hybrid position, still directing the camps and clinics and adding in the director of emerging technology piece. Eventually, technology overtook the whole job, which was great."
As director of technology, Julia oversees everything from systems management and database architecture to choosing the best iPhone and video editing solutions for Lehigh's football coaches. She and her student workers also troubleshoot technology problems within the division.
It wasn't long before Julia felt the itch for more formal education in her new field. But her journey had a surprising twist. "I went into it with the intention of getting a master's degree in teaching, learning, and technology," she explained. "But about three years into it, when I was two classes from finishing, my advisor took me out for coffee, and somehow I ended up in the Ph.D. program!"
Despite her concerns about research and writing at the Ph.D. level, Julia found a topic she was passionate about and took the leap.  "My youngest child had just finished second grade at Moravian Academy and so I saw the curriculum from a parents' perspective. I knew that I wanted to study gaming as a teaching tool, and I knew that I wanted to work within social studies or history because that aligned well with my interests," she said.
With the Moravian history of north Bethlehem all around them, Julia thought the school's second grade unit on colonial history could be a great case study for game-based learning. She proposed embedding a game into the curriculum at Moravian Academy. The school's administration and teachers agreed to allow her to pursue her research project in their classrooms. After considering multiple possibilities, Julia hit upon the idea of an augmented reality (AR) game that would overlay information and experiences onto the real world.
"Moravian Academy is literally in a historic district. Without even having to get on a bus or cross any major streets, through a game on their iPads, the students could visit 20 different historical sites and landmarks and talk to historical figures who lived 200 years ago," she said. "The teachers have been my partners. They essentially became co-designers as we tweaked the game together." Julia began testing the game with students four years ago. The data produced from the first two years of the project served as the basis of her dissertation.
Two years ago, Julia's game became even more relevant to the students. "In the fall of 2016, the kids were really excited about the game. They all said, 'This is just like Pokemon Go!'" In the end, her research found that students had deeper understanding and greater recall of the material from the curriculum that they was integrated into the game compared to material that was only presented through traditional instruction.
It took eight years, but Julia Oltman is now Julia Oltman, Ph.D. Using the Lehigh employee tuition benefit, she estimates that the cost of her degree was less than the cost of the cap and gown she rented for commencement.
As she embarked on the research and writing portion of her degree work, Julia realized she needed something to give. She had a frank discussion with Joe Sterrett and they agreed to temporarily reduce her hours at work, assigning help desk duties and other simpler tasks to her graduate assistant. This kind of accommodation is unusual, and, naturally needs to work for the employee's department.
"Personally, I couldn't have stayed at Lehigh for over 21 years if I wasn't encouraged, supported, and given the flexibility to grow professionally," Julia said. "But, I understand it's got to be a fit for both sides. If they don't need somebody in my role they aren't going to pay me just because they're nice. At the same time, Joe knows how committed I am to Athletics because of that support and flexibility."
Reflecting on how her master's to Ph.D. journey has impacted her work at Lehigh, Julia has no doubt it's been a net positive and something more employees should consider.
"I'm better at what I do now because I've been able to advance my education by trying and learning new things. Just the fact that the university makes tuition free for staff and faculty is a crazy great benefit that I don't know why more people don't use," she said. "Everyone should consider getting an advanced degree! Even if you don't 'need' it for your current or future job, it makes you a better thinker and that will make you better at whatever you do."
A Seat At The Table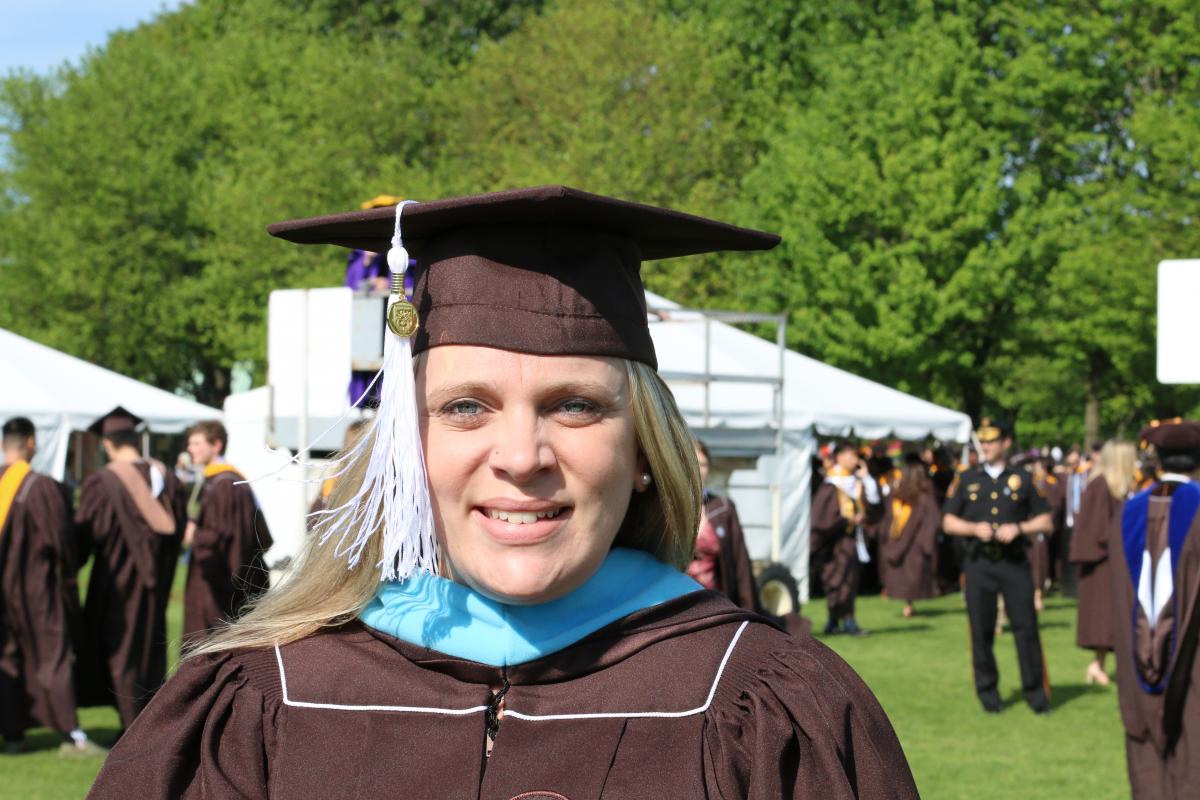 Alicia Creazzo has a unique job at Lehigh. In fact, it's not at Lehigh at all. As the program coordinator of the Community School Partnership, Alicia spends her days within the walls of Broughal Middle School. She works with Lehigh faculty and students who conduct research and provide programs like after school tutoring. She also makes sure students' basic needs are being met through services like the food and clothing assistance programs, and on-site physical and mental health services.
"Every day there are opportunities to build new programs with new partnerships, connect a family to resources on or off site," Alicia said. "It's those connections with the families and students that I really enjoy most about my job."
George White in the College of Education was Alicia's direct supervisor when she started her position at Lehigh. Since he was a professor, Alicia says they had conversations about whether she would like to get a graduate degree. She decided to take one class to test the waters. That class in data-based decision making provided Alicia with a new understanding of the Pennsylvania education system, including its various assessments.
Six years later, Alicia completed her master's degree in educational leadership. "I felt it was a really perfect fit for the work that I do," she said. "It was a long road. I did one class per semester, mostly, and during that time I got married and had two kids. So there was some down time as well when I was building my family."
Although she was already an accomplished and experienced administrator, Alicia says there were some surprising benefits to completing a master's degree. A course in diversity opened her eyes to differences in perspectives between her and the parents of her students, 91% of whom qualify for free or reduced price lunch. At the same time, she also could compare the Bethlehem Area School District's progress toward equity to that of other districts and see that they are making gains.
"The courses I've taken allowed me to step more deeply into my role and truly serve as a resource to our principal. The degree has given me more of a seat at the table and developed my strategic planning abilities," she said. "It has also given me confidence that I really know what I'm doing. I can apply what I've learned in my conversations with my school's leadership."
I Don't Like to Stagnate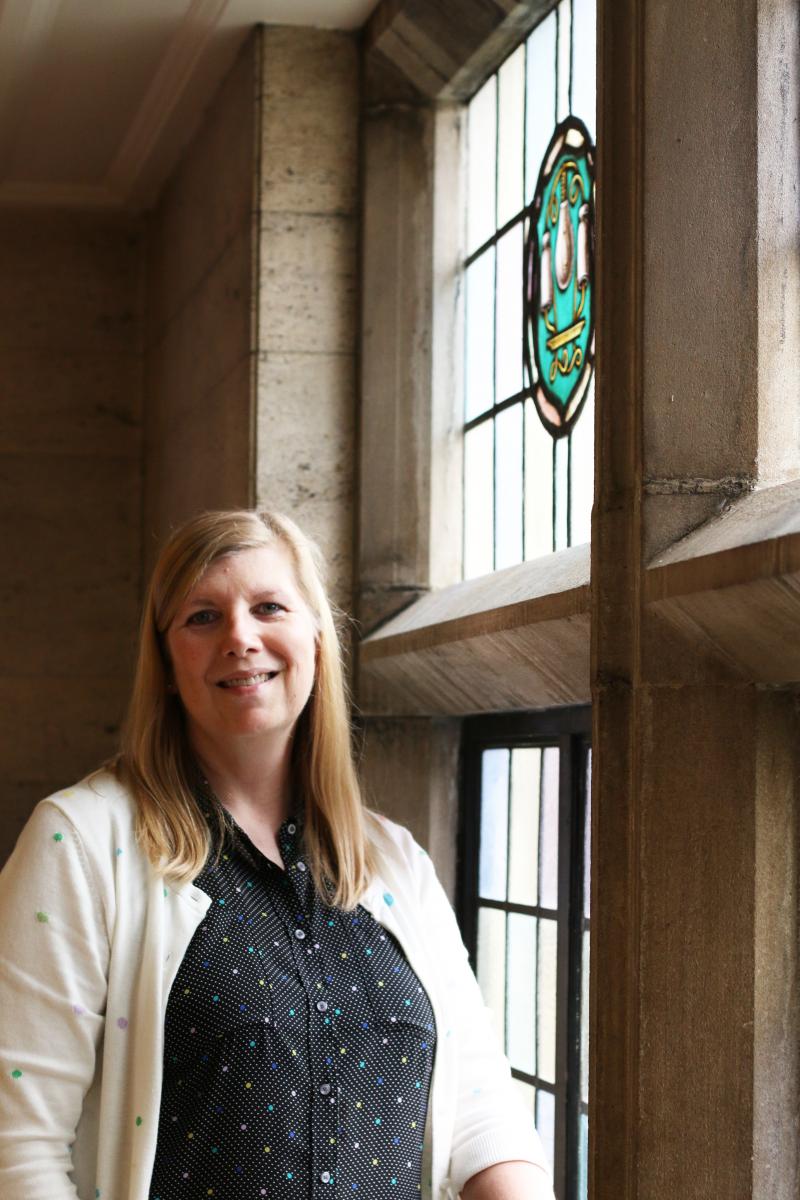 With a bachelor's degree in marketing and management from The Wharton School and a MS.Ed in higher education management, PC Rossin College of Engineering and Applied Science Director of Administration Stacey Lange did not necessarily need an MBA. But coasting isn't her style. As a PADI Scuba Divemaster and avid motorcyclist, she likes to take risks and push herself to the limit.
"I always look to grow and develop my skills. I don't like to stagnate," she said. "There is always something to learn."
Stacey started the Lehigh MBA program in 2015, ten years after her last business class. The core curriculum of the MBA program includes classes in human resources management, financial management, projections, and project management -- all subjects that aligned well with Stacey's role in the College of Engineering.
Group work is a key component in business school, and Stacey believes it provided her greater insights to working in teams at Lehigh. "I always wanted to find people with diverse skills in my groups and because we're such an international school, we also had cultural diversity in our groups," she said. "If you think about how we work at Lehigh, we are always working across disciplines and departments to build programs, it's the same kind of concept. So group projects are a classroom experience you can take to the real world quite quickly."
She pursued the general MBA and placed an emphasis on finance courses. The classes were challenging, but she pushed through group projects, papers and mountains of homework. She believes it was worth it.
"Through it all, as frustrating as tests are and the time commitment and sacrifice of missing out on things, in the long run the value that you feel in the learning and development outweighs all of that by a thousand percent," Stacey said. "The real life decisions we made in the classroom simulations were eye opening, and I appreciated hearing from other students who were in corporate settings and getting a different lens on the world. I walked away with so much and I feel more valuable."
Now that she's finished her degree, Stacey is looking forward to having time for all the plans that she put off, from visiting family in Saskatchewan to catching up with her best friends. She and her husband run a Dive club, and they are planning more trips and get-togethers. She's also going to take some time for self-reflection.
Could that self-reflection result in another degree? "I think my husband would probably not be happy with me if I started a PhD right now," Stacey laughed. "But I actually have a topic already picked out for a dissertation research project."
Want to know more? Follow this link for our graduates top tips for diving in and getting your degree.