Thursday, October 13, 2016
By Karen Salvemini, Equal Opportunity Compliance Coordinator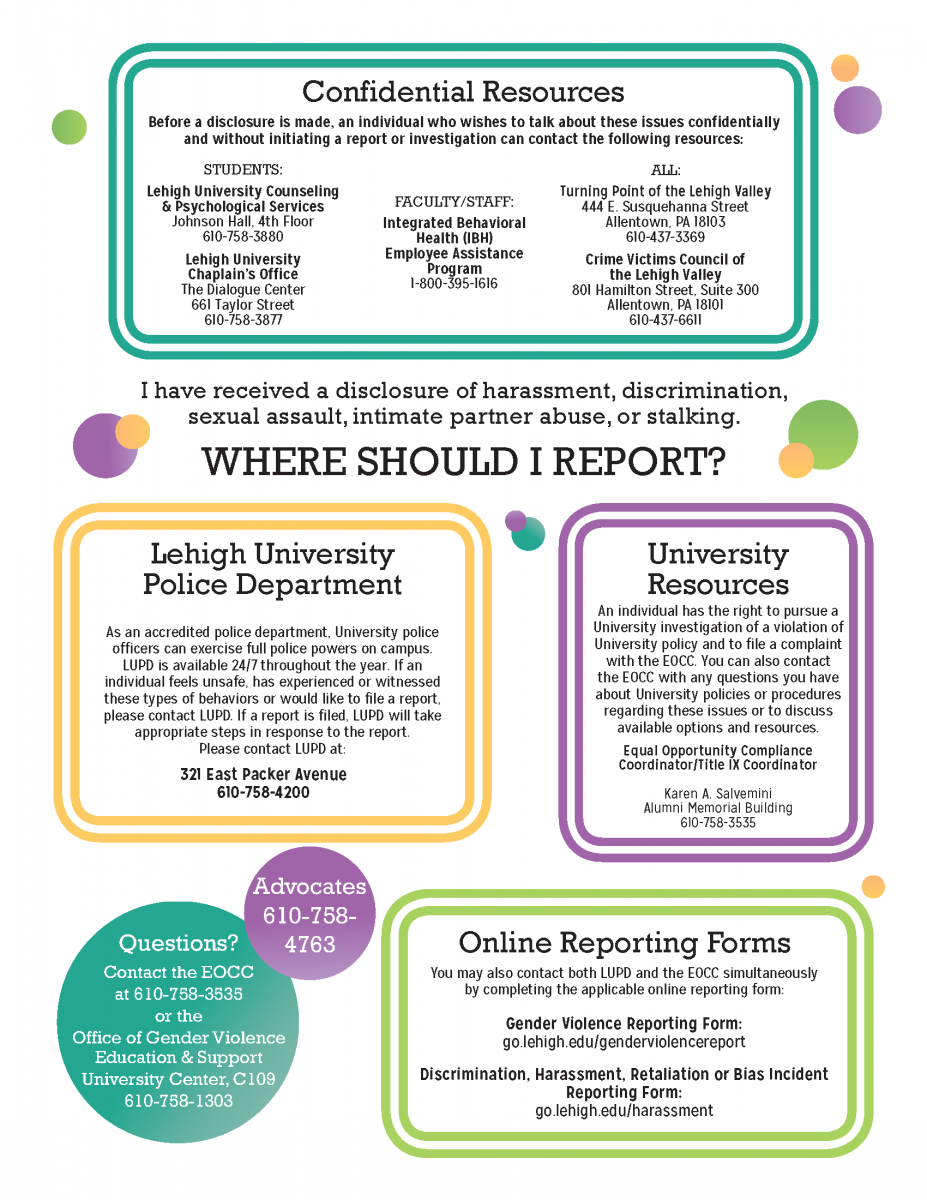 With the start of a new semester and new academic year, I would like to take this opportunity to remind all employees that Lehigh University is committed to providing an educational, working, co-curricular, social, and living environment for all students, staff, and faculty that is free from harassment, discrimination, retaliation, and gender violence.
As you have an opportunity, please take a moment to review the University's Policy on Harassment and Non-Discrimination, which can be found at lehigh.edu/go/harassmentpolicy. In an effort to remind the University community about the behavior that constitutes harassment, the completion of an online training program will again be required of all students, faculty, and staff. More information on the online training program will be provided in the near future.
As members of the Lehigh community, we all share a responsibility to contribute to a culture that is welcoming, inclusive, and safe for everyone. As a reminder, all faculty, staff, administrators, teaching assistants, research assistants, gryphons, and other University representatives must report incidents of harassment or discrimination (including incidents of gender violence) that are brought to their attention by students or that are reported to them or witnesses by them involving students.
In addition, any faculty or staff member serving in a supervisory capacity must report such incidents immediately that are brought to your attention by any member of the University community, including visitors. 
Reports of harassment, discrimination, retaliation, or gender violence should be made to the Lehigh University Police Department at 610-758-4200 or to the Equal Opportunity Compliance Coordinator, Karen A. Salvemini, at 610-758-3535. Reports can also be made by utilizing the appropriate online reporting forms, available at lehigh.edu/go/harassment and at lehigh.edu/go/genderviolencereport. Detailed reporting information, including links for the online reporting forms, is contained in the attached document. This poster is intended to be displayed in your office to serve as a resource for you, students, and colleagues and visitors who visit your office.
In the event that a student signals that they wish the conversation to remain confidential, please remind the student that you are a mandatory reporter and that there are confidential resources available to students on and off campus. The confidential resources for students, faculty, and staff can be downloaded here.
As always, thank you for your part in fostering a welcoming community here at Lehigh. Please feel free to contact me at any time if you have any questions or concerns.