Thursday, February 15, 2018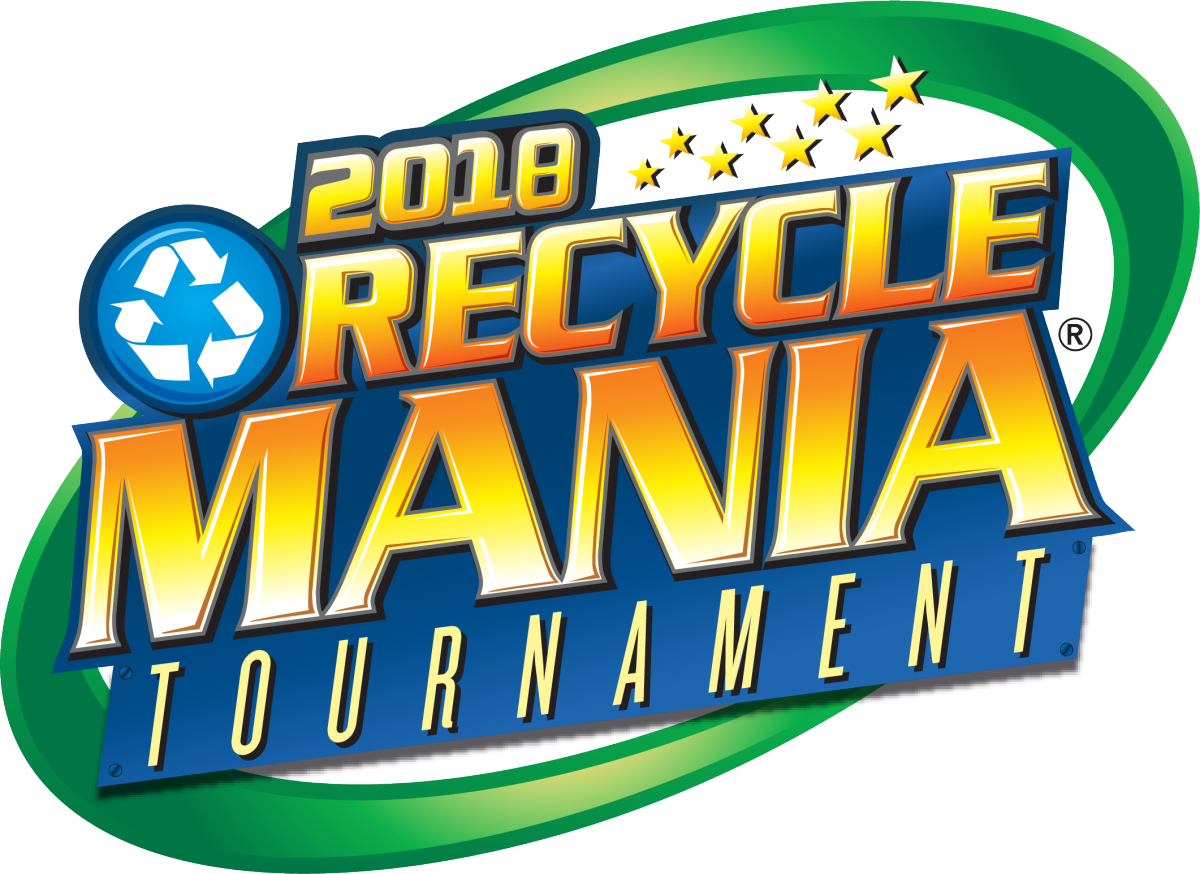 Are you confused by recycling guidelines at Lehigh? Do you want to join the effort to reduce the University's waste output by ten percent by 2020? RecycleMania is for you.
The 2018 national RecycleMania tournament is underway and runs through March 31. Katharine Targett, Manager of Lehigh's Sustainability Program, says it's good clean fun with a purpose. 
"This is a friendly competition between colleges and universities across the country to promote waste reduction and recycling on campuses," she said. "We have consistently done well in the past and we're hoping to continue to improve."
While it's technically a contest, RecycleMania is really about raising awareness about what is and isn't recyclable at Lehigh. "Recycling can be very challenging because every municipality does it differently," Katharine noted.  "So, it isn't easy for employees and students to know exactly what to recycle and where it goes on campus."
As part of the event, Lehigh's Eco-Reps, students who monitor and encourage sustainable behaviors, distribute signage to residence halls and offices to place on recycling bins that help clear up confusion. But recycling is just one part of the equation.
"We are working to raise our recycling rates, but RecycleMania is also about getting Lehigh community members to think about how they can reduce the amount of waste they generate," Katharine said. "We want people asking themselves 'Did I really need that paper coffee cup from the bookstore or can I buy a reusable mug?' It's about changing the mindset."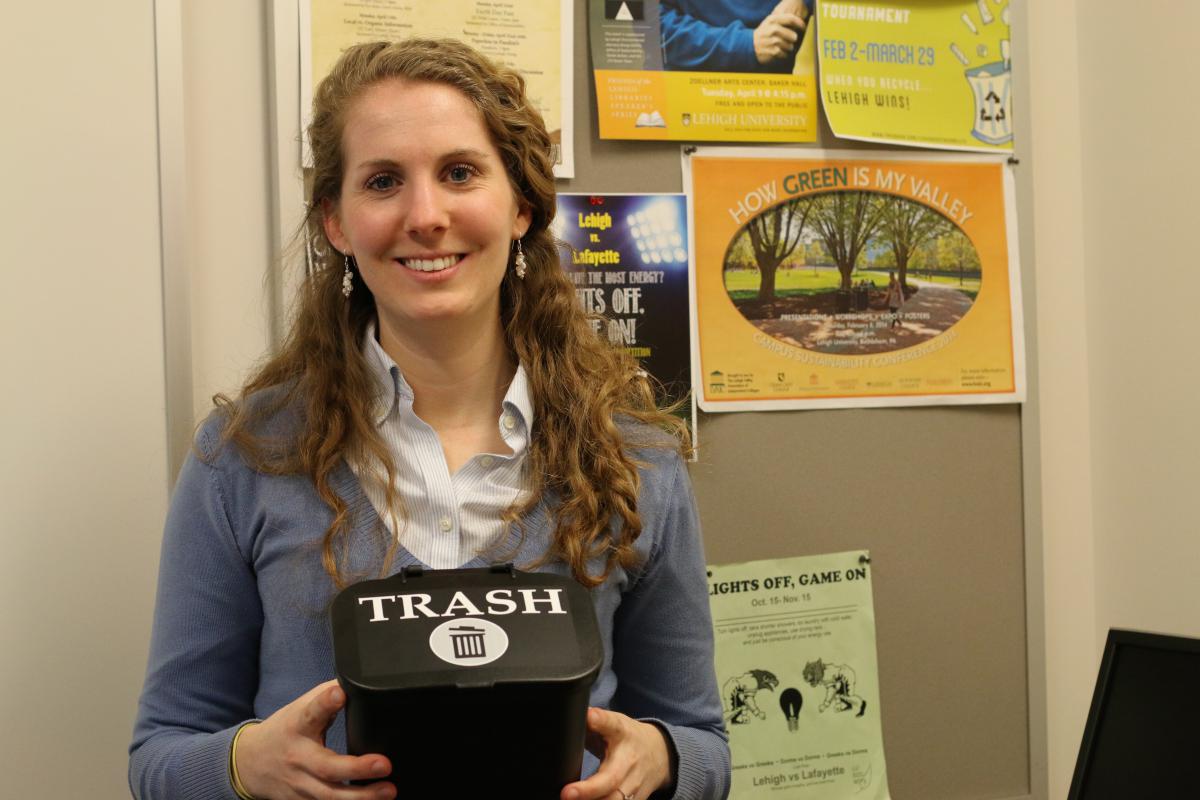 For each of the tournament's eight weeks, Lehigh's waste hauler provides the University's total trash and total recycling numbers to the Sustainability Office and they submit those to the RecycleMania organization. The results are scored on a per capita basis and also overall waste diversion. The winning schools will be recognized on RecycleMania's website as well as in a national press release, and will receive an award made out of recyclable materials.
In addition to hoping to rise in the ranks of participating colleges, Lehigh has also set its own goal of increasing our average waste diversion rate by at least five percent compared to our rate before the contest. As staff and faculty members, we can play a role in achieving this goal. Gary Falasca of Facilities Services recently shared a list of ways that you can involved during RecycleMania and beyond:
Recycle and reduce your waste generation as much as possible during this competition...and everyday
Use a reusable mug to avoid using single use coffee cups - Lehigh Dining Services is offering $0.99 brewed drip coffee (any size, hot or cold) when you use a reusable mug during Recyclemania
Swap out your desk-side 7 gallon trash bin for a mini bin. To kickstart a good recycling habit. Register here
Start recycling K-Cups in your office. Simply pick up a K-Cup recycling collection box at Purchasing Services (516 Brodhead) or at Lab Stores (6 East Packer Avenue Room 132). The boxes are pre-paid, and there is NO cost to Lehigh. Once box is filled, simply contact UPS to have the box picked up
Participate in the Used Athletic Shoe Drive from Feb 15 - Mar 1. Collection boxes will be set up at the following locations: Iacocca Hall, 2nd Floor; STEPS Concourse; Taylor Gym near Fitness Center; Stabler Arena near main entrance; Williams Hall Torcivia Greenhouse.
Sustainability: A Multi-Departmental Effort
Katharine appreciates that people across the university contribute to the effort of gathering data and thinking of ways to make Lehigh a more sustainable campus. "We recognize this goes above and beyond most people's regular duties here and that it takes time, so we value the relationships we have with employees and vendors like Sodexo. It's truly a multi-departmental effort."
While issues like climate change can seem overwhelming to us when we think of how much we can do as just one person, Katharine isn't discouraged.
"Even though each of our individual actions don't seem like much, when you add it up university-wide, it does have a large impact," she said. "Prospective students these days take into account whether a university is making progress in sustainability. As staff and faculty, we owe it not only to the environment but also to the school and the students we're attracting to show that Lehigh is taking the lead in and making progress toward our sustainability goals."
Lehigh Receives STARS Silver Rating for Sustainability Achievements
Lehigh has received a Sustainability Tracking, Assessment and Rating System (STARS) silver rating for the second consecutive year from the Association for the Advancement of Sustainability in Higher Education. The 2017 recognition was based on data from the 2015-2016 academic year. Read more about Lehigh's STARS rating here.