Tuesday, September 20, 2022
It's often said that mathematics is its own language. When you ask Professor of Practice in Computer Science Mark Erle about his area of specialization within computer science you may find yourself thinking that it's all Greek to you.
"My research was on implementing floating-point arithmetic in base ten, or decimal floating-point arithmetic. Specifically, this work involved developing the algorithms and then designing their hardware implementations," he explained recently. "At IBM, I was part of a team that architected the implementation of the first hardware unit on a microprocessor that performed decimal floating-point arithmetic."
Translation? Mark's research and work at IBM helped implement technology that helped vastly improve the performance and reduce the size of the equipment needed to conduct the amount of computing necessary to run our digital planet.
The Student Becomes The Professor
Mark came to Lehigh as a Ph.D. candidate, supported by his employer at the time, IBM. But before finishing his dissertation he was called back to work. Undeterred, he continued his graduate studies while working and ultimately earned his doctorate in 2009. 
After leaving IBM in 2013 and consulting in the region, he and his Lehigh Valley native wife settled down here. Soon, Mark began teaching at Lehigh.
"I draw a lot of energy from the students and from interacting with them, and I feel there's a lot of value in establishing relationships and getting to know a little bit about them and their interests," Mark said. "What I like the best about teaching versus working in industry is being able to work with young people and sharing some of my experience with them."
Mark teaches computer languages, including C, as well as a popular course on software engineering involving mobile application development. In his own way, Mark is a linguist. Perhaps it's not a surprise that he recently earned a certification in Teaching English to Speakers of Other Languages (TESOL) using his Lehigh employee tuition benefits.
The Professor Becomes The Student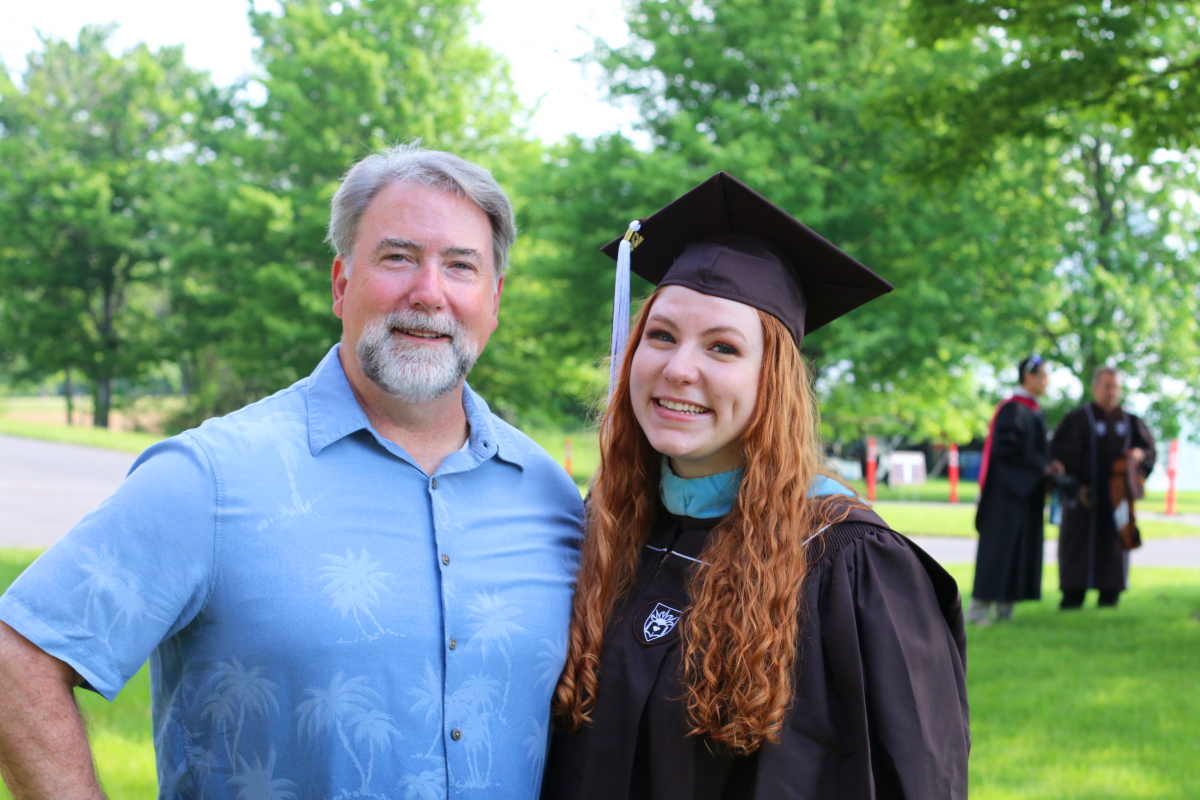 With students in his classes hailing from China, South Korea, Brazil, India and elsewhere, Mark thought it was important to gain the competencies he needed to communicate effectively. The four courses that comprise the TESOL certification program have already helped him bridge this skills gap in his education.
"I have become more careful in how I craft my sentences on exams and quizzes to try to make sure I'm presenting material in the most straightforward manner," he noted. "Colloquialisms, euphemisms, and other things they may not have exposure to in their English studies create nuances a non-native speaker may not be aware of."
Mark took the four courses over a year and a half period that included remote classes due to the pandemic. While he didn't get to meet most of the other students in his courses, he did have one special classmate.
"At the same time that I was pursuing the TESOL certificate, my daughter (with Mark in the photo above) was finishing her Master's degree in the College of Education, and we had two classes together," he said. "She was on Zoom up in her bedroom, and I was on Zoom down in the dining room."
Among the other rare advantages of the pandemic, Mark found what he considers a silver lining in the use of recording technology to deliver lectures. With his newly gained TESOL knowledge and the wider availability of tools and platforms, he has created a richer learning environment for his students, especially those for whom English is not their native language. 
"I record all of my lectures now, which gives students an opportunity to play them back. I also make sure to give a lot of additional resources for them to learn from such as online text and videos," he explained. "I think the recording part is particularly critical because they can rewatch things that perhaps didn't come across all that clearly at first." 
After graduation, Mark's daughter moved to Taiwan to teach English and music. He's excited to visit her. International travel is a passion he and his wife share. Earning his TESOL certification is part of their long term plans as they begin to think about what their retirement years might look like.
"At the moment it's a bit hard to see too far into the future, but we do hope to be able to spend extended periods of time in places like Portugal or France," he noted. 
For now, a family trip abroad this summer allowed Mark to enjoy a well-earned break after the added workload of earning his certification. By July he was back to teaching during the Lehigh summer session. And he doubts it will be long before he is back in the classroom as a student again. 
Mark thinks Lehigh staff and faculty should take advantage of the many educational benefits afforded to them. "We all are pretty much called to continue learning in the very dynamic world of technology," he said. "If you're not learning from others and pushing yourself in that regard, then I think you're limiting your opportunities."
If you're interested in taking Mark's advice and heeding the call of lifelong learning, check out Lehigh's employee educational benefits on the HR website.
In the next issue of The Spot we'll feature the story of another employee who invested in themselves through graduate study at Lehigh.