In the mailroom, an offhand remark from one colleague to another seems offensive to you. You turn it over and over in your mind. You ask yourself if you're reading too much into the remark. You wonder if the person who received the remark took it the same way. You think to yourself that you wouldn't even know what to say anyway.
And you let the moment pass. But later, you're still wondering if there was something you could have done.
Scenarios like this repeat themselves every day in workplaces. Lehigh is not immune to the realities of the larger culture in which the university operates. Acts of bias, whether intentional or not, cause harm to the recipient and weaken our culture of equity and inclusion.
In late February, hundreds of staff and faculty participated in an innovative experience developed and presented by Dr. Stephanie Goodwin, a renowned expert on bias awareness and intervention training, in collaboration with the University of New Hampshire PowerPlay's Bias Awareness and Intervention Training Lab.
The UNH PowerPlay Lab focuses on creating a fair and equitable workplace by building awareness of biases that form obstacles to an inclusive work environment. Their facilitated, interactive workshops allow participants to identify incidents of bias and then build the ability to address these issues in a positive and constructive way. PowerPlay collaborates closely with Dr. Goodwin on the development of their training experiences, which grew out of an NSF Conference presentation by the University of New Hampshire ADVANCE program.
PowerPlay: Bystander Intervention is part of Lehigh's Cornerstones of Community career enrichment program. The format of the half-day PowerPlay workshop includes an introductory presentation by Dr. Goodwin in which she shares research related to bias incidents and how the people who witness them (bystanders) react. Following the presentation, the actors from UNH join Dr. Goodwin and begin performing short scenes in which incidents of bias ranging from subtle to blatant occur.
After witnessing these brief moments of bias, workshop participants have the opportunity to experiment with different strategies from the perspective of a bystander by suggesting intervention tactics to the actors. The actors then replay the scene. In this way, participants get to play "director" and "experimenter" from the comfort of their chair. The UNH PowerPlay team of actor-improvisers also takes suggestions from the audience that may be unique to the institution's climate and culture.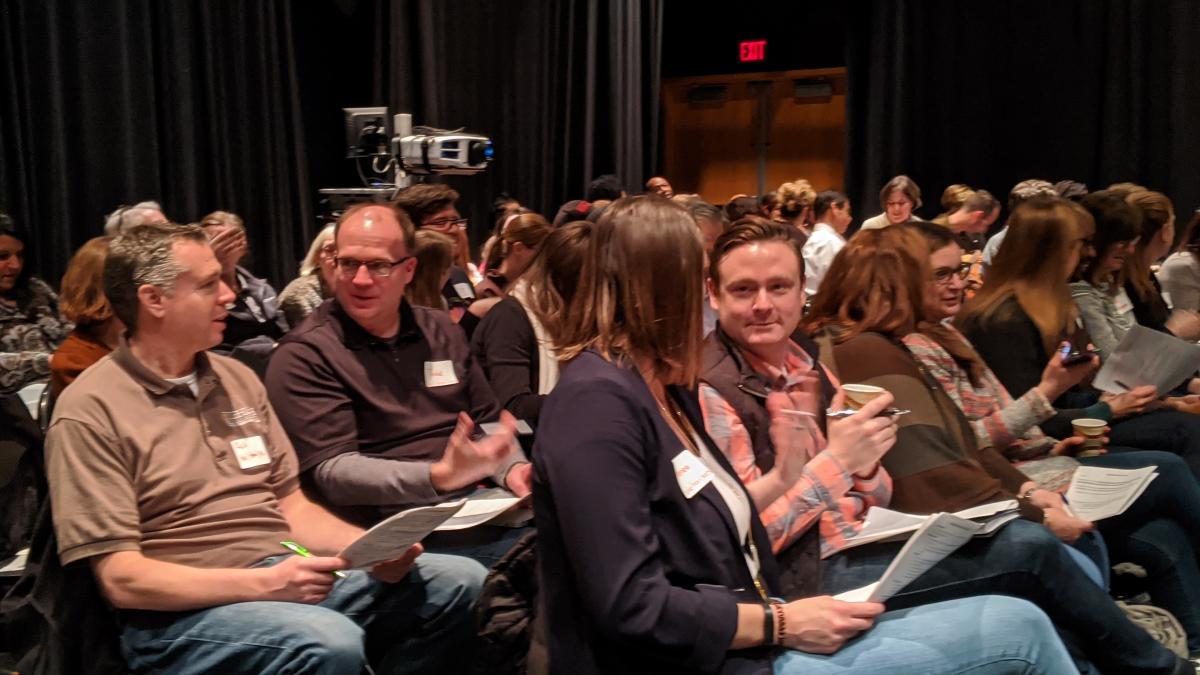 Cynthia Kane has been Lehigh's Assistant Vice President of the Office of Research and Sponsored Programs since 2018. Cynthia says that when she worked in industry, there was more focus on diversity and inclusion than she had experienced in previous higher education settings. "These concerns were at the forefront and part of our standards and norms in the corporate sector," she said. "We are seeing a greater emphasis now in the educational environment. I was especially impressed by Lehigh's Principles of Our Equitable Community when I joined the university." 
Cynthia attended Power Play and asked her staff to attend as well. "We don't always recognize bias in our environment, so I thought it was important that we all have a shared experience that we could refer to as a team," she said.
Sharon Wiles-Young, Director of Library Access Services, found the information Dr. Goodwin shared helpful in her role as a supervisor. "Learning about the theory behind what we were seeing in the scenarios gave it more context," she said. "It was important for me to think about the various power imbalances that can impact whether or how someone might intervene in a bias situation."
Sharon said it gave her a boost of confidence to learn ways to step into a situation that avoids direct accusation or confrontation. "It can be as simple as redirecting the conversation and then speaking with the target of the bias later to make sure they're okay and ask how you can help," she noted. "Or, you might ask someone making a biased comment to repeat themselves by saying something like 'I'm sorry, I must not have heard you right.'" 
Dr. Goodwin emphasizes that stepping in at the moment something is happening isn't always the right move, either for the target of the bias or for the bystander. Cynthia says learning more about deciding when to intervene will help her better coach her staff. 
"An employee might not want to take action in the moment, but I want them to know we can discuss it and consider ways to deal with an act of bias they've witnessed. It's not about who said it, it's the impact it has on the recipient," she said.
Cynthia added that seeing scenarios acted out made a strong impression. "It's the type of learning that really stays. As I watched the stories unfold, I asked myself 'Do I do this?'" she said. "I found it very powerful."
Sharon thinks workshops like PowerPlay can create real change at Lehigh. "Before we would sometimes not even acknowledge moments of bias were even taking place out of fear. We might just hope it would go away," she said. "Having these tools for disrupting bias by questioning what's going on gives the person making the comment a chance to explain themselves while hopefully not making things worse for the person receiving the comment or action."
Find More Cornerstones of Community Programs in the Learning Library.