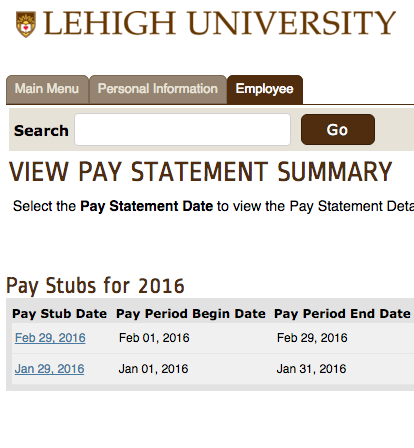 In support of the University sustainability initiative, the Payroll Office is pleased to announce that the direct deposit process is going paperless.  After the paperless option was introduced in the summer of 2013, the majority of employees enrolled.  However, if you haven't yet enrolled, please take a moment to review your online Payroll Statements by logging into Employee Self Service with your network user ID and password.  
Online payroll statements include everything you normally see on your printed paystub, plus additional year-to-date information.  In addition, current and historical online statements are available for you to access 24/7 in Employee Self Service.  The easy-to-read format gives you a clear snapshot of your pay and related payroll information.  At the bottom of the page, you will find a "printer friendly" button to use should you want to print any current or prior payroll statements. 
If after reviewing the payroll information available to you electronically, you decide that you don't want to participate in this green initiative, you can opt out by e-mailing Payroll directly at inpayrol@lehigh.edu and you will continue to receive a paper stub.  However, we hope that you'll enjoy the convenience and added information of electronic access and also help us go green to support Lehigh's sustainability efforts. 
If you do not opt out by April 30, you will be converted to paperless direct deposit effective for May 2016 pay.  Effective May 1, new hires enrolling in direct deposit  will be defaulted to paperless direct deposit unless they select to opt out on the Direct Deposit Authorization Agreement.  We greatly appreciate your support in this initiative. 
As always, if you have any questions concerning the payroll information, please feel free to contact the Payroll Office at extension 82900 or by email at inpayrol@lehigh.edu for assistance.