During the uncertain early months of the pandemic, Lehigh implemented cost-saving measures, including a freeze on hiring. This left Aubrie Sobieski, HR Associate for Talent Acquisition, with some space in her workday to imagine new ways of supporting managers engaged in searches.
"I started looking at this folder that we traditionally gave hiring managers during our kickoff meeting. It was filled with paper, so many documents," she said. "I asked 'Why are we doing this?'"
Hiring managers bear a large portion of the responsibility for conducting searches that are inclusive, legal and lead to the best possible outcome. The multiple tasks involved can be a bit overwhelming.  "It's a lot of information to retain at one time," Aubrie noted. 
Aubrie started redesigning some of her standard documents into infographics and uploading them to the PageUp Talent Management platform. Then she asked Learning and Development Specialist Tarah Cicero to team up and create something more ambitious - a suite of learning tools that would live on the web and be accessible to anyone at Lehigh. Their work culminated in an entirely new section of the Lehigh HR website: Training for Hiring Managers.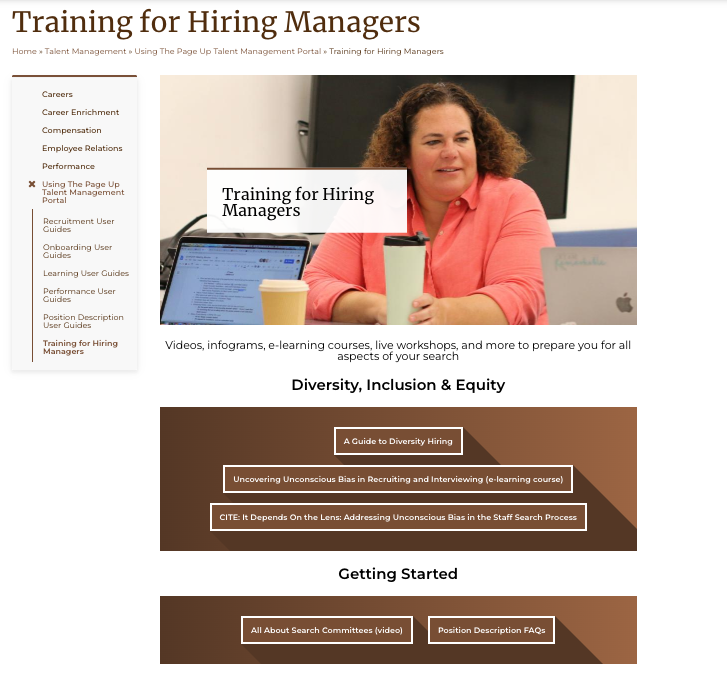 In addition to infographics, the new training suite features e-learning modules, videos, FAQs and workbooks covering the full range of tasks and issues related to the search process. "Offering learning opportunities in a number of formats helps address the variations in folks' preferences for learning," Tarah explained.
The timing couldn't be more perfect. Lehigh HR and hiring managers across the university are currently working on staff searches at a rate that far exceeds recent years. Like every employer in the current employment environment, the university is facing new and not-so-new challenges as we work to recruit the best candidates for a diverse array of roles. 
"I think it's important for hiring managers and search committee members to understand that when you are conducting a search you are acting as representatives of Lehigh," Aubrie noted. "Making sure you're paying attention to legality and compliance items is important." As more and more managers have searches going on, the most critical issues related to hiring can now be addressed more efficiently. 
For example, Lehigh HR recommends a behavioral-based approach to interviews. The hiring manager training suite includes an interview road map and tools to build behavioral-based questions. It also provides important information about what kinds of questions to stay away from in order to prevent forcing someone to divulge protected information.
Toward the end of the hiring process, every manager should conduct reference checks before making a verbal job offer. "References are an incredibly important piece of the hiring process because they allow you to get a real perspective from someone who already supervised the person," Aubrie said. "Again, it's important to know what you can and cannot ask when talking to a candidate's references. Our materials offer good information including best practices, who to contact, and what to do if you experience any hiccups in the process."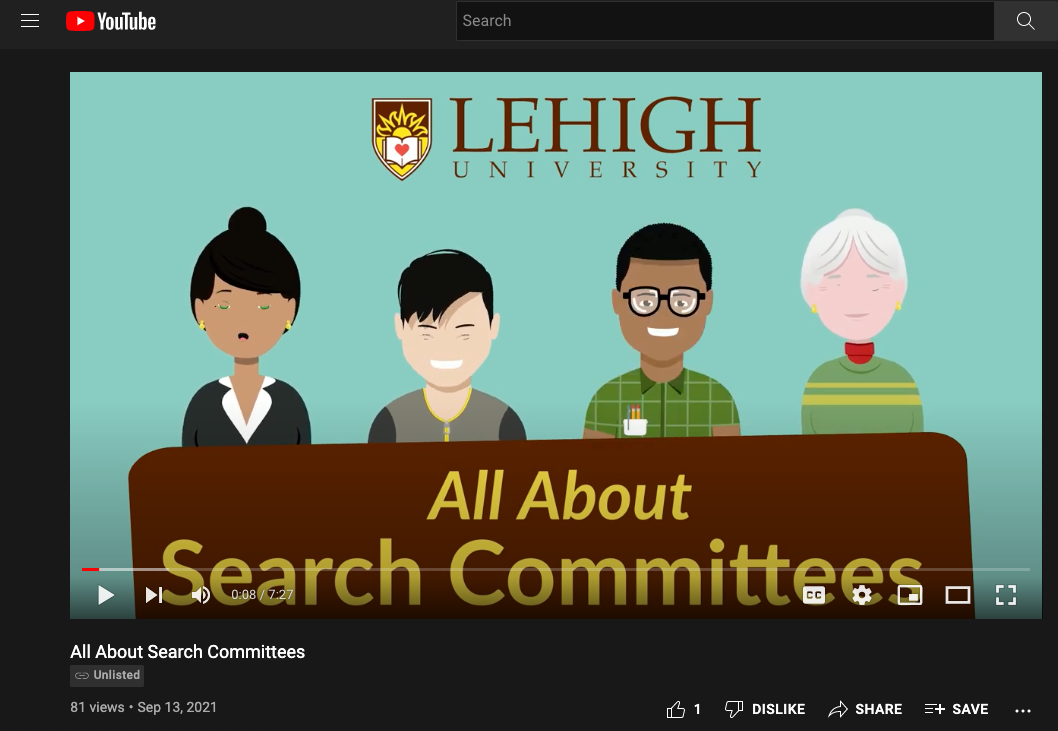 Creating the tools was a true partnership that combined Aubrie's talent acquisition expertise with Tarah's learning design experience and talents. Career Enrichment @ Lehigh interns Xeniya Volkova and Hope Sagnip contributed as well. The new suite of training also responds to the highly collaborative nature of Lehigh's hiring process. 
"These resources are all shareable, so the hiring manager who is responsible can read through them and share things they think are relevant or important with others involved in the search, such as committee members and others who might take part in group interviews," Aubrie said.  "And although there is a lot of material, it's not overwhelming. The e-learning video courses are short and digestible, infographics are a quick read, and the website is easy to navigate."