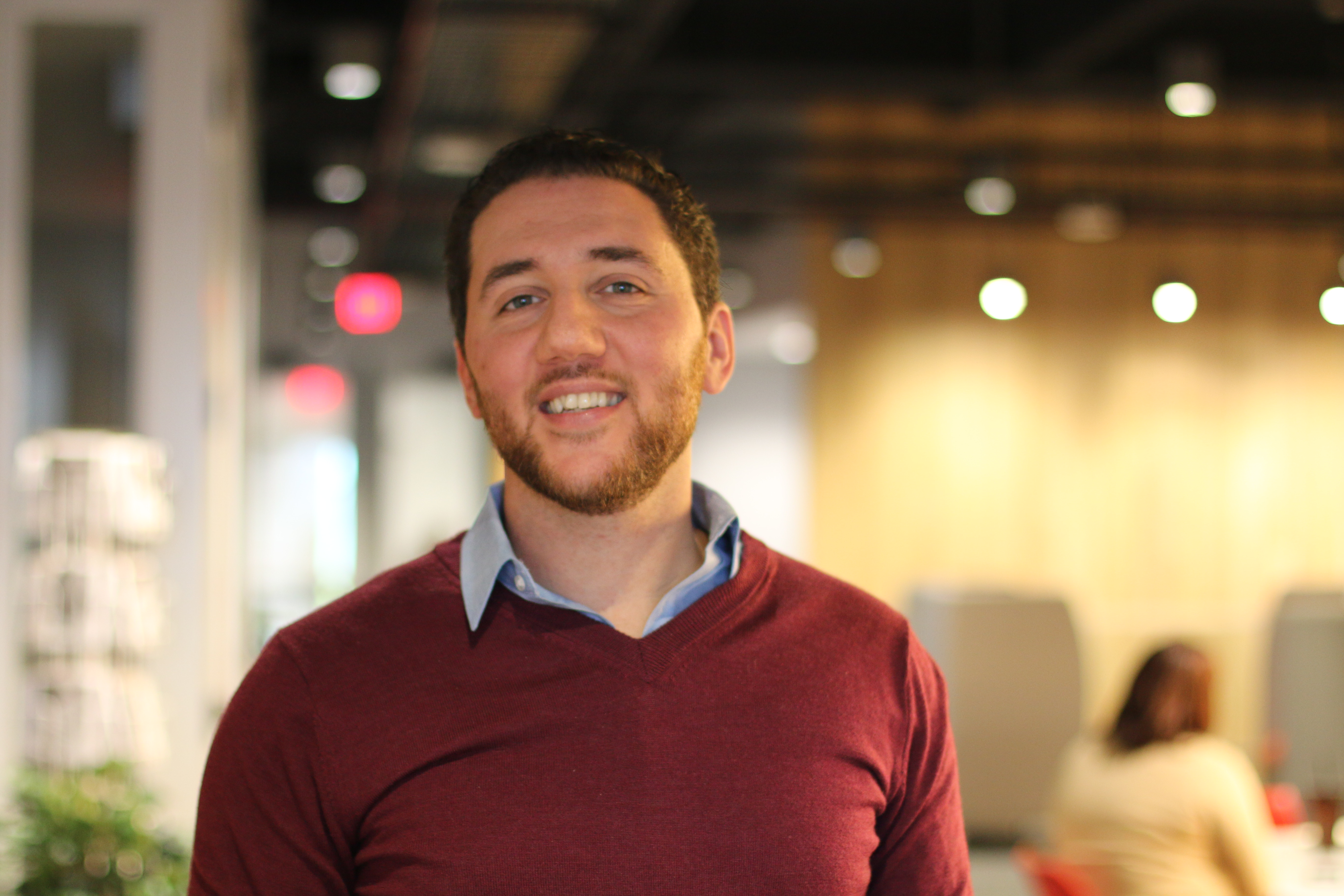 Elias Makhoul has a big heart. It runs in his family.
When his brother Thomas, passed away in 2018, Elias found out just how much of an impact he had on people throughout the east side of Allentown.
"His nickname was Thunder Tom. One of my friends gave him that nickname. He was always riding his bike, and we live on the east side of Allentown, so he's also known as the East Side Legend. He would go on his bike and just visit people's houses and go to the park and things like that. The amount of people that he knew and touched is just mind boggling. After he passed, I went through his iPad looking at pictures and there were so many people I didn't know."
As a person with developmental disabilities, Thomas was not able to attend college. Still, he was enthusiastically supportive of friends and family who did. So Elias and his family decided a fitting memorial to him was to establish a non-profit foundation, Thomas Makhoul Scholarship Fund, to support a deserving senior at his alma mater, William Allen High School.
"We wanted to do something to keep his legacy moving forward. And I felt like creating a scholarship for seniors at Allen, to help with college costs, was the best way to do that," Elias said.
Elias Makhoul has a new heart. That also runs in his family.
Elias' mother came from a family where many members died of heart failure at a young age. For her mother and other relatives in Syria at that time there was little that could be done.
As a young woman in the United States, however, Elias's mother learned that the condition that was passed down in her family had a name: Dilated cardiomyopathy (DCM).
DCM is a condition in which the heart's ability to pump blood is decreased because the heart's main pumping chamber, the left ventricle, is enlarged and weakened. In her early 30s, Mrs. Makhoul received a heart transplant. Nearly thirty years later, that gift of life continues to sustain her.
Because of their family history, Elias and his siblings have had regular visits since their teen years to local cardiologists, and since 2015 have been seen at the University of Pennsylvania. Elias and his sisters had defibrillators implanted as a precaution.
"We're so well versed in heart medicine, I'm surprised none of us became a cardiologist," he joked.
Elias has always kept a sense of humor about his situation, but his condition grew deadly serious in the past several years. He always maintained an active lifestyle, including vigorous exercise. He enjoyed keeping up his wellness routine through the Be Well program. "It's a great program for staff and faculty. It holds you accountable and makes sure you're doing things like getting your steps in, drinking enough water, being CPR trained," he said. "These things go by the wayside sometimes."
Despite all of his efforts, Elias started having episodes of dizziness and shortness of breath. Then came a bout of pneumonia, an infection, and a case of food poisoning. With each trip to Philadelphia to visit his specialists at the University of Pennsylvania Medical Center, it became clear that Elias's heart was losing strength.
Elias headed back to Penn Medicine in May 2019 for a series of medical interventions. But those procedures failed to reverse the decline. His heart was pumping at just 5 percent of its capacity.
His doctors decided Elias needed to be put on the heart transplant list. They told him his health was too fragile for him to return to Allentown to wait. He would need to stay in the hospital, and while awaiting a transplant, his heart would be given a boost with a pump. The pump required him to stay in bed, which was difficult for someone of his usual activity and energy.
"My morale plummeted as I thought about how I would be stuck in the hospital all summer," he recalled. "I was thinking it was going to be horrible. Who knows how long it will take to find a heart? I was worried about work and about my dog."
Throughout the experience, Elias documented his life on his Instagram account. He wanted to be open and transparent for others who might have a similar health condition. And it was a good way to stay in touch with everyone.
"I figured writing about it would not only help me but also educate everyone else on my condition. And I wanted to make people aware that we're all going through something, you know, regardless if it's a transplant, cancer, divorce, whatever it is," he said. "People are going to be there for you and help you and have your back. Don't be afraid to reach out and ask for help, or even talk about it"
When co-workers learned that Elias had to lie motionless in a hospital bed for weeks at a time, they trekked to Philadelphia to keep him company and bring him distractions to pass the time. Friends and family also gathered to support him.
"It's an hour and 15 minutes away so they really had to make an effort to come see me and I appreciate that," he said. "It was great to see people and feel normal."
Even those who couldn't make the trip found ways to show Elias they were thinking of him.
"I got endless cards. I would get boxes of cards and nice cheer baskets sent to the hospital," he recalled. "And friends sent me a Musikfest mug because it was my goal to be well enough to attend Musikfest. Inside the mug were little notes to cheer me up and dark chocolate and other stuff like that I like."
An Early Morning Call
Although he was prepared for a long stay while awaiting a heart, Elias got word that there was a donor heart just nine days after he was put on the list. He remembers being a bit grumpy because the nurse brought the phone in at 6:15 a.m. on May 23. He was drinking a protein shake and didn't want to be disturbed.
"The nurse said, 'You gotta put that drink down.' She gave me the phone and it was the transplant coordinator. She said they found the heart. It's a really strong heart," he said. "It's an emotional moment, but they need to tell you a lot of information about the heart's condition because you have the option of turning it down if you're not comfortable. Then she put the doctor on the phone. He told me that if I were his son, he would accept this heart for him."
Within two hours, Elias's parents and sisters were at Penn Medicine and he was heading into surgery. The surgeons made the final call on whether to use the heart. It was a go. Twelve hours later, Elias had his new heart.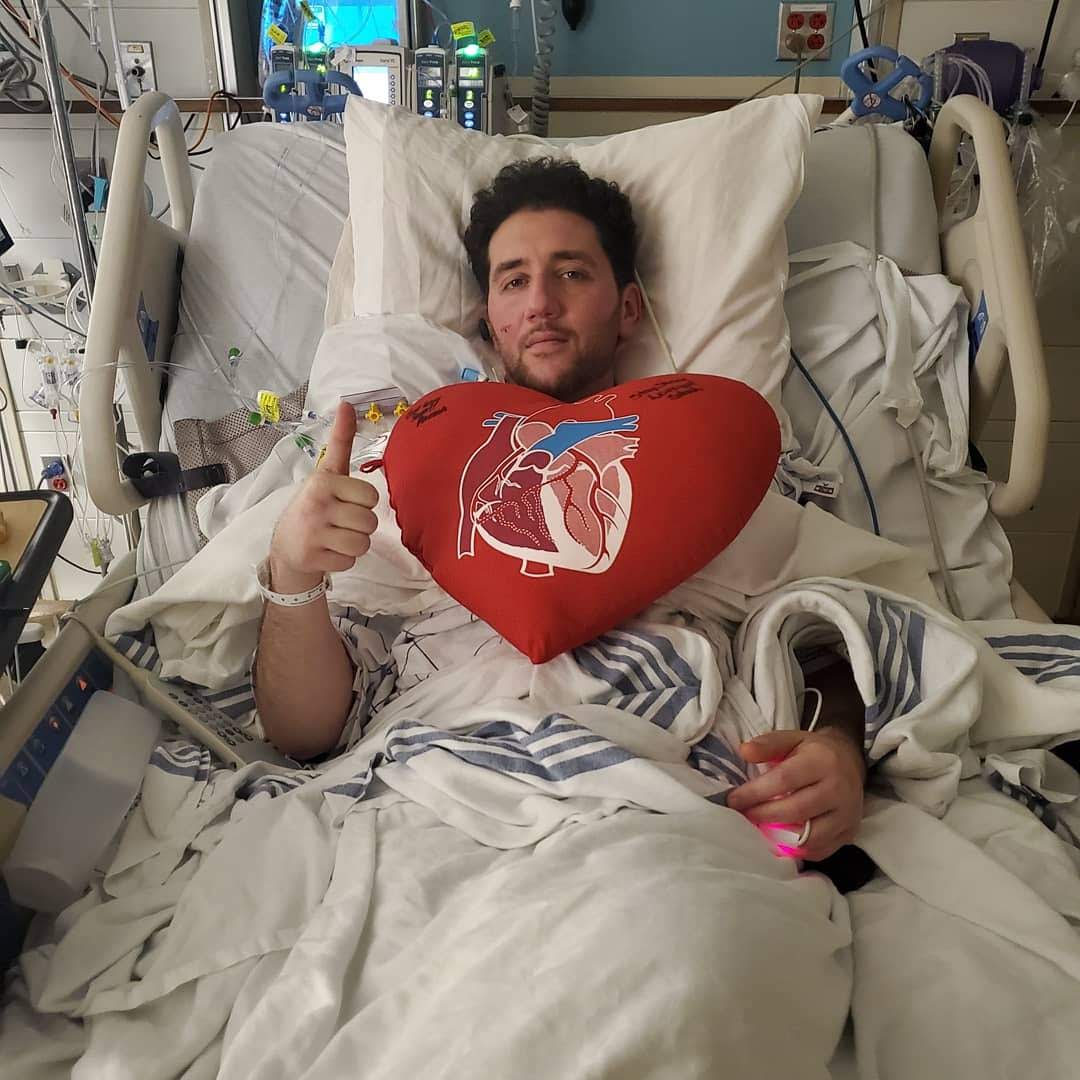 After two weeks of recovery, on June 4, Elias was released from the hospital and sent home to fully recuperate. Back in Allentown, he dove into physical therapy and cardiac rehabilitation. He also had to learn a new medication routine that includes more than a dozen pills in the morning and the evening. His medications help keep his body from rejecting the heart by suppressing his immune system among other things. He will take these pills for the rest of his life.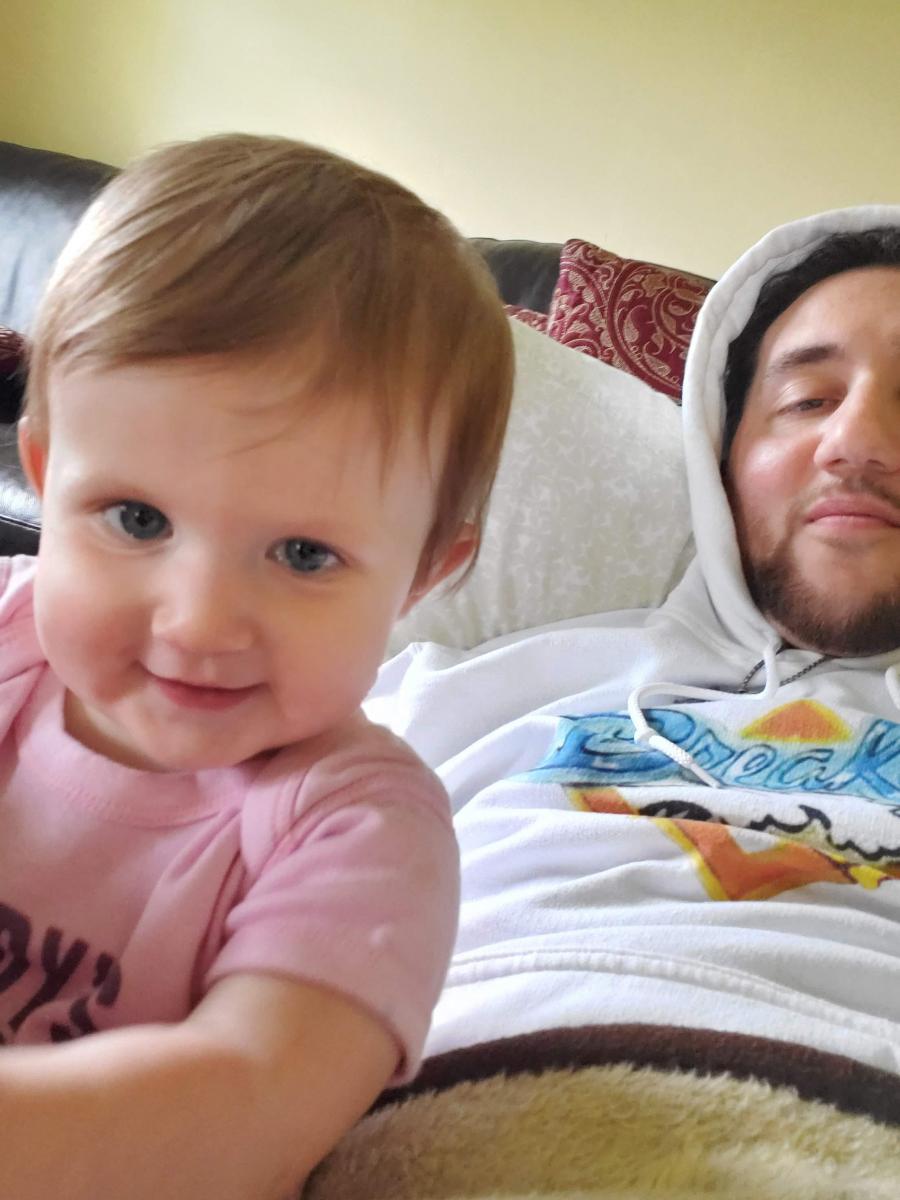 Elias wanted to return to work in September, but first he had another goal. "I wanted my niece Bowie to learn to walk by her first birthday," he said. "So while I was recuperating, I worked with her on her walking."
In mid-September, Bowie took her first steps and Elias walked back into his office at Third and New. He was excited to return to his work as Assistant Director of Information Systems in Development and Alumni Relations.
***
Nine months after his transplant, Elias has had time to reflect on the experience. "When I knew I had to have a transplant, I was a little worried and curious about how it might change me," he said. "If I had a different organ inside of me, am I going to have different thoughts?"
While he says he is still sarcastic, Elias admits he isn't quite the same person he was pre-transplant. "I felt like I just got this new heart and I have this new life. I have to make the most of it. If I have something to say, I will speak my mind. I am more extroverted," he said. "I don't know, maybe that is a trait I picked up from my donor heart – just being open and honest and talking to people and sharing life experiences."
It has been two years of fear, pain and joy for Elias. "My brother passed away, and my niece was born two months later. Then, less than a year later, I had my transplant," Elias reflected. "As a family we went from death to birth to me being reborn in a sense."
The family continues to raise funds for his brother's scholarship fund which awarded its first scholarship in 2019 with another planned for 2020.  Recently, Elias took his first strenuous hike since his transplant. He naturally documented the experience on his Instagram account. He wrote, in part:
What an amazing and peaceful experience. It was definitely a struggle at first and I needed to pace myself, but unless you push yourself, you will not know the limits that can be reached.