As we work to evolve the University's career development programs (also known as workplace learning), HR is also overhauling its program registration system. We'll be using the new Banner events management software module to better serve employees who want to enhance their Lehigh careers through professional development and other training opportunities.
Registration via the Banner self service events management starts May 1, 2016. At that time, links to register for Workplace Learning/Career Development programs will direct to this webpage.
When you arrive at this page, be sure to sign in via the link at the upper right of the page to streamline registration.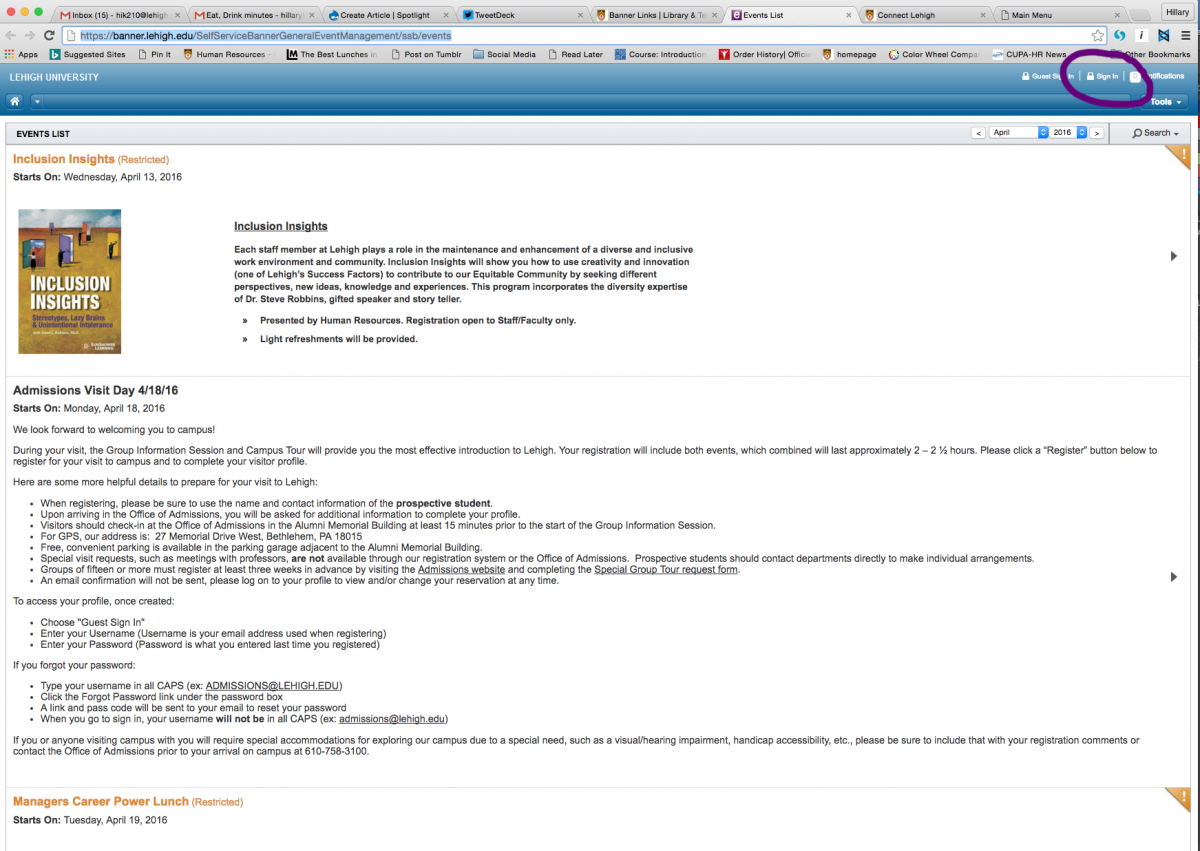 You will see Human Resources programs mixed in with other items like admissions tours, but HR programs will be highlighted with orange headlines and graphics, so they will be easy to spot. TIP: You can also use the Search function to look for HR programs by typing "Human Resources" into the search bar.
Scroll through to find the program you're interested in. For example, here's our upcoming Career Power Lunch for Managers: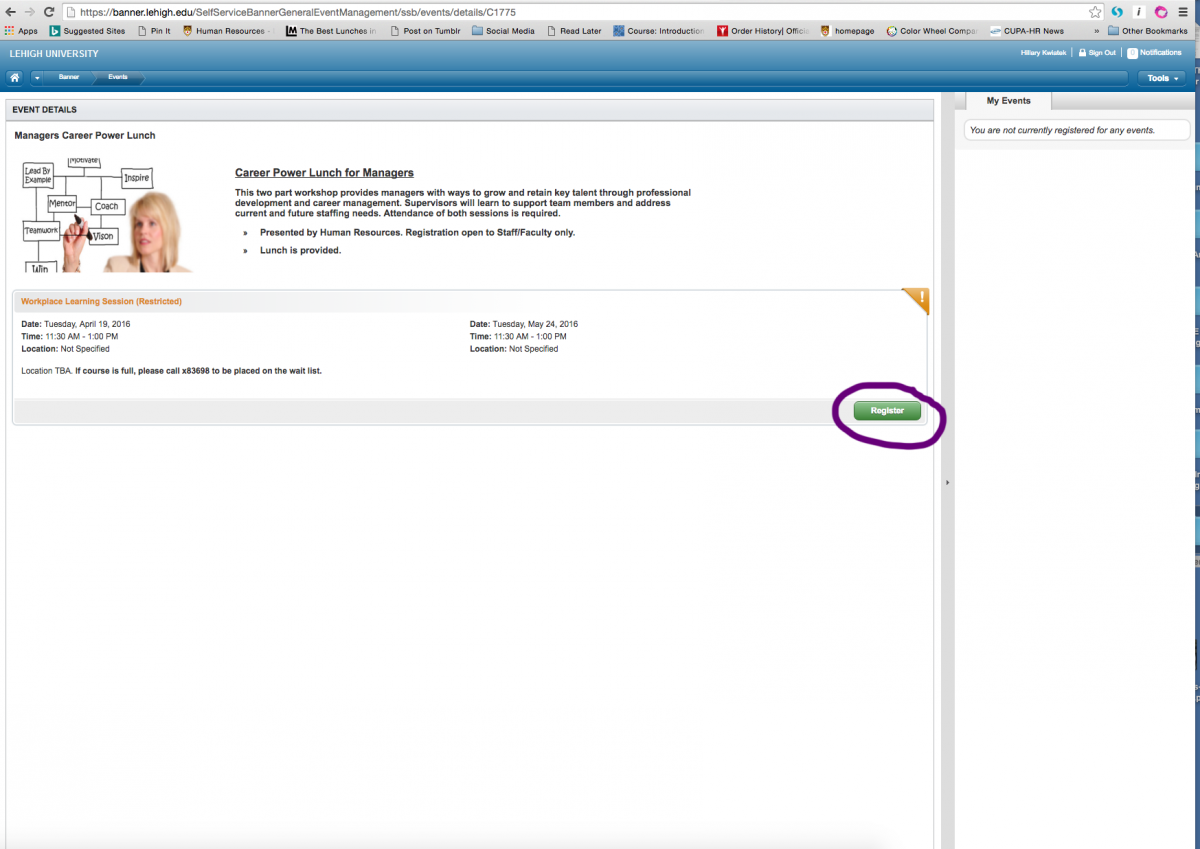 Click on the green "Register" button to be taken to the screen where you will complete any required information and then submit your registration. Once you've submitted your registration, you'll receive the message shown below in the upper right corner, and you'll see your program listed in the "My Events" column as well.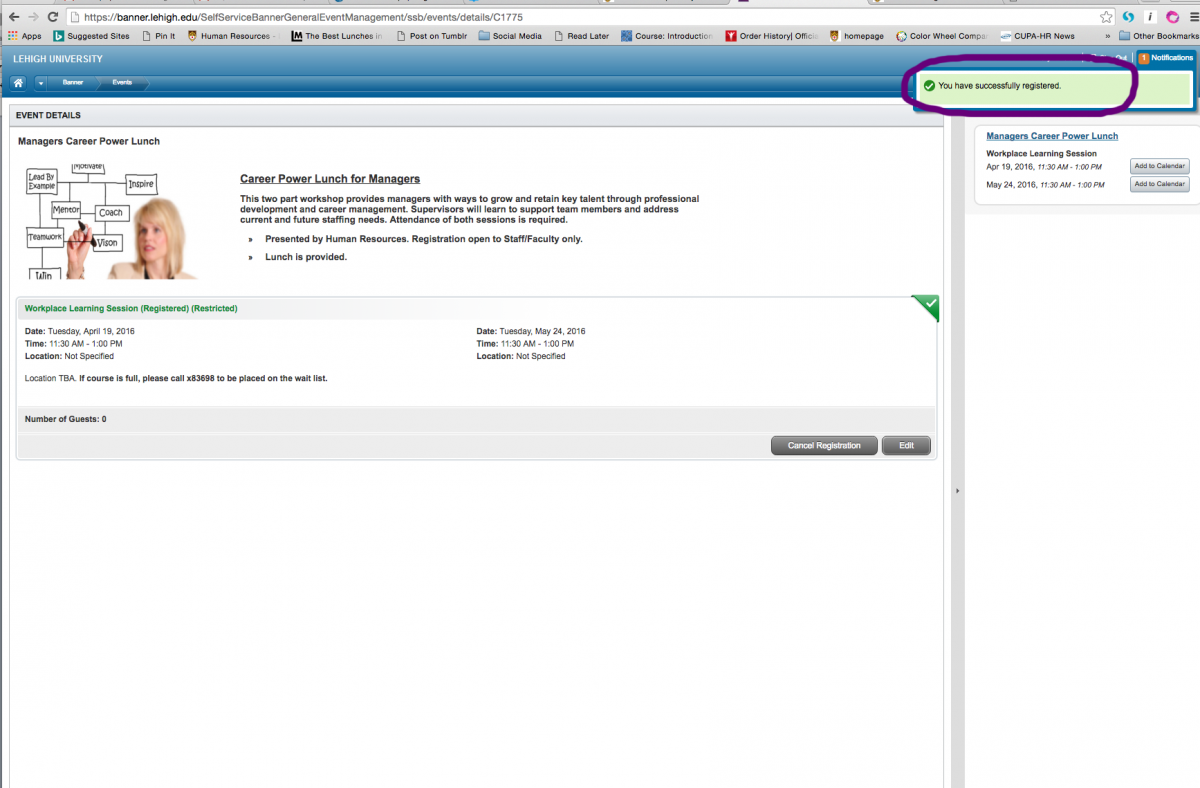 If you need to cancel your registration at any time, you can go back in and do so. You will likewise see a message indicating that your registration has successfully been canceled, and the class will no longer show up in the "My Events" column.
That's all there is to it. As always, you will receive an email closer to the date of your program that provides you with the location of the event.
One final note. Currently, the "Add to Calendar" function shown in the "My Events" calendar does not integrate with Google Calendar. You will need to manually enter the event into your Google Calendar in order to be sure that you've reserved the time in your schedule.
If you have any questions, don't hesitate to contact Ryan Burns, HR Assistant for Workplace Learning and Employee Relations. You can email him or call extension 83698.