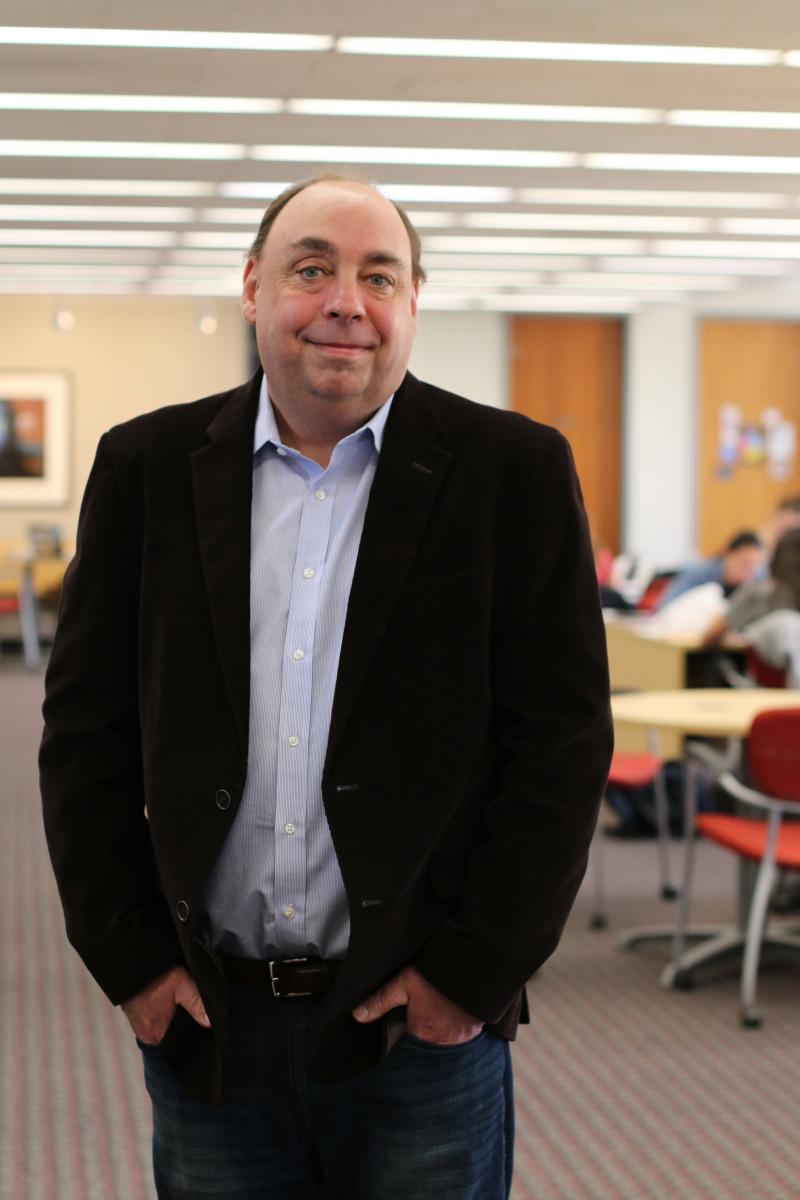 Jim Monek (photo right) leads the teams in Library and Technology Services that keep all of Lehigh's communications, systems, and data infrastructure running. Whether you need a new phone, wireless access to the internet or server space for massive amounts of information, Jim's team keeps your world humming.
But when it's time for vacation, Jim unplugs. Literally. "I go to Maine two weeks every year with my wife and golden retriever," Jim said. "We go out in the middle of nowhere. No cell service, no internet, no TV. Just outdoor activities, reading, and relaxing."
Despite the fact that Jim's whole professional world revolves around tech, being disconnected doesn't faze him. "I don't worry about my team when I'm gone," he said. "I don't lose sleep at night."
The trust Jim shows for his teams is part of his leadership style. Recently, he was nominated for the inaugural Lehigh Leadership Academy (LLA) to build on that style. Having already participated in the Pragmatic Leadership program at Lehigh, it was a natural decision to accept the nomination when he received it.
"I knew very little of what to expect going into the Leadership Academy, but I soon discovered the two are very different," Jim explained. "Pragmatic Leadership was about building coalitions, getting others on board with your agenda. Lehigh Leadership Academy is really about understanding yourself and your values and then developing and executing a vision based on that understanding."
Director of the Center for Community Engagement Sarah Stanlick (photo below) runs an office of staff, work study students and a community fellow. Her team connects student, faculty, staff and community partners together to do meaningful engaged research and service learning, what she calls the academic side of community engagement at Lehigh.
She also teaches two courses a semester in the department of sociology and anthropology. Spring Break is her chance to catch her breath and prepare for the traditionally busy April/May period. Still, when nominated for LLA, she accepted enthusiastically.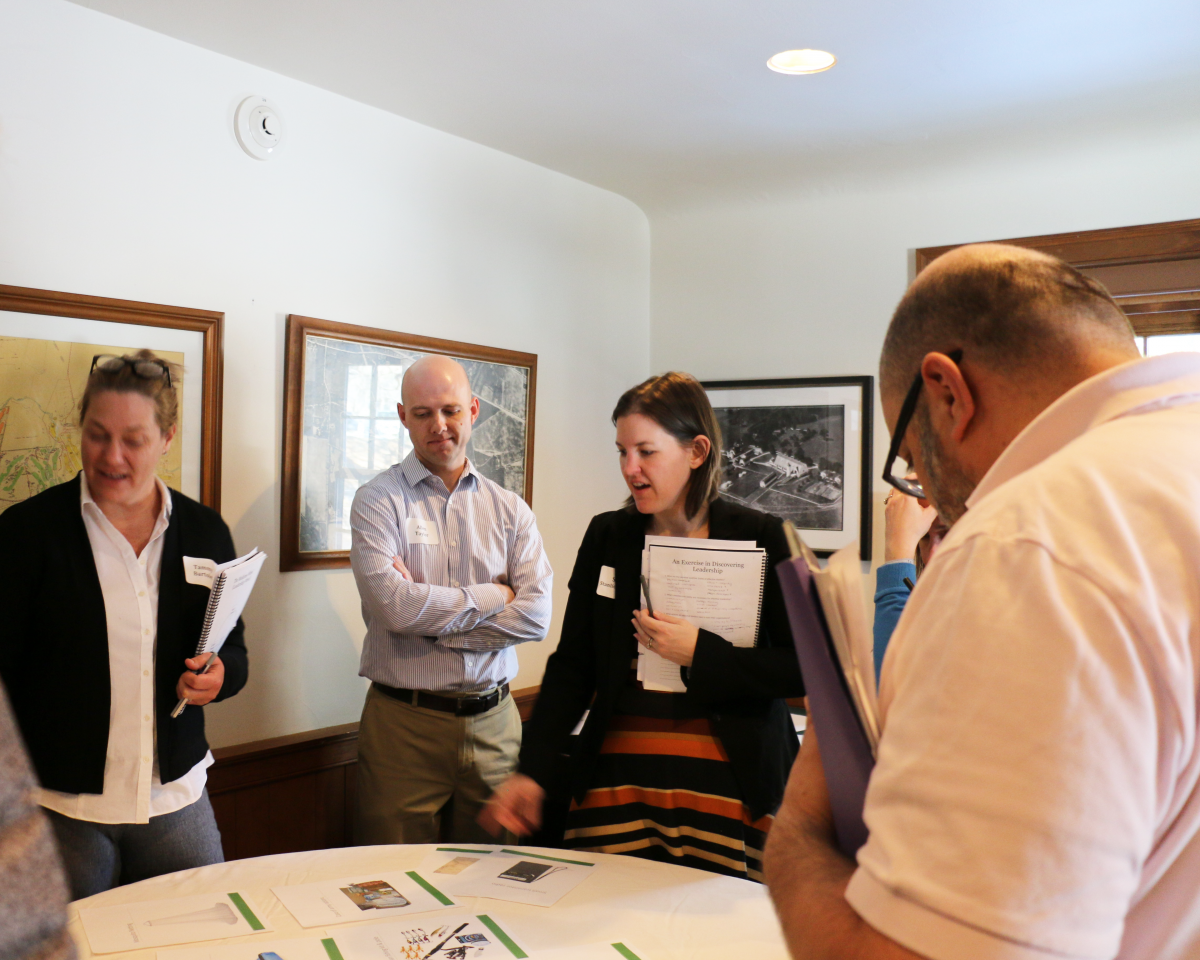 "I always put a little too much on my plate," Sarah said recently. "Still, I thought about it pretty deeply. I knew it would be a big investment of my time. At the same time I had to think of the investment in myself as a leader. It seemed like the perfect opportunity to do that. I knew I would be exhausted, but that ultimately it would be worth it."
In addition to LLA, Sarah recently completed the national HERS higher education leadership program for women and also submitted Lehigh's first-ever application for Carnegie classification for engagement.  She sees connections between the three experiences. "It's a really interesting confluence of self-study and system study," she explained. "I feel like it gave me a boost in a nice way that we're on the right track and there's still so much more to be done."
A Lehigh-centric Experience
Lehigh Leadership Academy is a program that has its roots at Cornell University twenty years ago. Lehigh associate vice president for Human Resources Chris Halladay (photo below)  further developed that existing program over the course of a decade of work at Cornell. When Chris decided to bring the concept of a leadership academy workshop to Lehigh, however, he knew the program would need to undergo significant re-development.
"I didn't want to deliver a Cornell workshop. This is Lehigh-centric," Chris said. "The HR team members (Tarah Cicero, Linda Lefever and Judy Zavalydriga) who would be co-facilitating our academy were sent to Cornell to experience their program. When they returned, we went through all of the content page by page. We kept things that were appropriate for Lehigh and pulled in models that are formed around Lehigh's values, models and systems."

Looking Inward
Lehigh Leadership Academy is built on the premise that good leadership emerges from authenticity. In order to be authentic, leaders need to be self-aware.
"When you lead, you only have one instrument with which to do so – yourself. You need to know that instrument as well as possible," said Chris. "So, for example, I can't lead unless I know what I'm leading from. I lead from my own foundation of values and I need to be very clear about what those are."
LLA uses a variety of tools to help participants look inward. Prior to the workshop, participants solicit feedback from colleagues including supervisors and peers via a "360" tool. They also took the Meyers Briggs (MBTI) instrument. During the week of the program, participants engage in exercises and activities in groups that are then reflected upon through discussion with group members.
Most of the participants will have probably attended trainings and workshops where they've experienced these kinds of exercises before. Breaking through potential cynicism or repetition is part of the work of the facilitators.
"Many have experienced really good training or even the same tools, but they've never experienced it with this group of co-leaders at Lehigh," Chris said. "So we encourage them to experience it with the people around them. Then it will actually be the first time, and they can grow and learn from the relationships they're building."
Sarah says their strategy worked for her. "I have a skepticism about anything that's too canned or by the book, but you have to plan something that's scaffolded in order for it to be meaningful and transformative," she said. "It had to be a bit prescribed and at the same time there was enough time and space to be our authentic selves and talk about things that matter to us professionally and personally. You couldn't help but bond with other people."
Looking Outward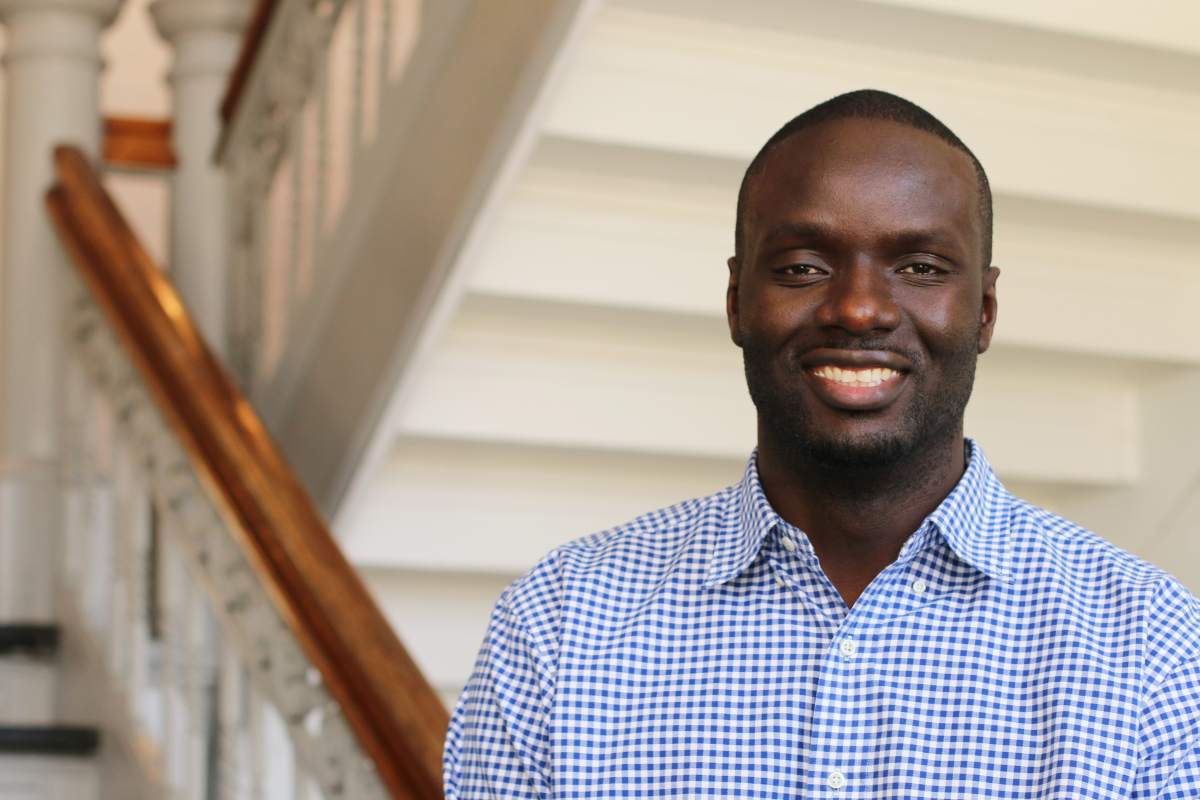 Samba Dieng (photo right) considers himself an "amiable leader." He has been director of the Office of International Students and Scholars at Lehigh for about two and a half years, overseeing everything related to immigration, integration and support for Lehigh's numerous students from around the globe.  But even an amiable leader faces challenges.
"The last two years have been the most stressful time we have ever seen as international educators. We've never seen anything like it with changing policies and other factors impacting our international students," he said. "And yet, I find a way to bring the best out of my staff, to smile, laugh and joke. That way we can work with international students to minimize their anxiety due to these changes."
Samba is comfortable with his approach to leadership, but he was looking forward to meeting and connecting with more colleagues across campus and learning from them. Having come to the US from Senegal as an undergraduate student 18 years ago, Samba knew most of the others in the group would have different perspectives to offer from his own. He recognizes that some of his leadership style is influenced by his upbringing in Africa.
"I wasn't surprised that my colleagues took different approaches to workplaces challenges, but it was refreshing to find there were examples where I could see myself doing the same thing," he said. "Lehigh feels a lot like family and I got to see that again through the Leadership Academy. Colleagues are extremely committed to their work and very loyal to students. It feels like home to me."
Samba, Sarah and Jim all agree that building a network of colleagues in diverse areas of Lehigh was as important as learning more about themselves during LLA. "I could have worked here for many more years and never crossed paths with this particular group of individuals," Samba noted. "Now I know that I can pick up the phone or send an email and say 'I need your help. How would you handle this?' There's nothing more valuable than having this human resource."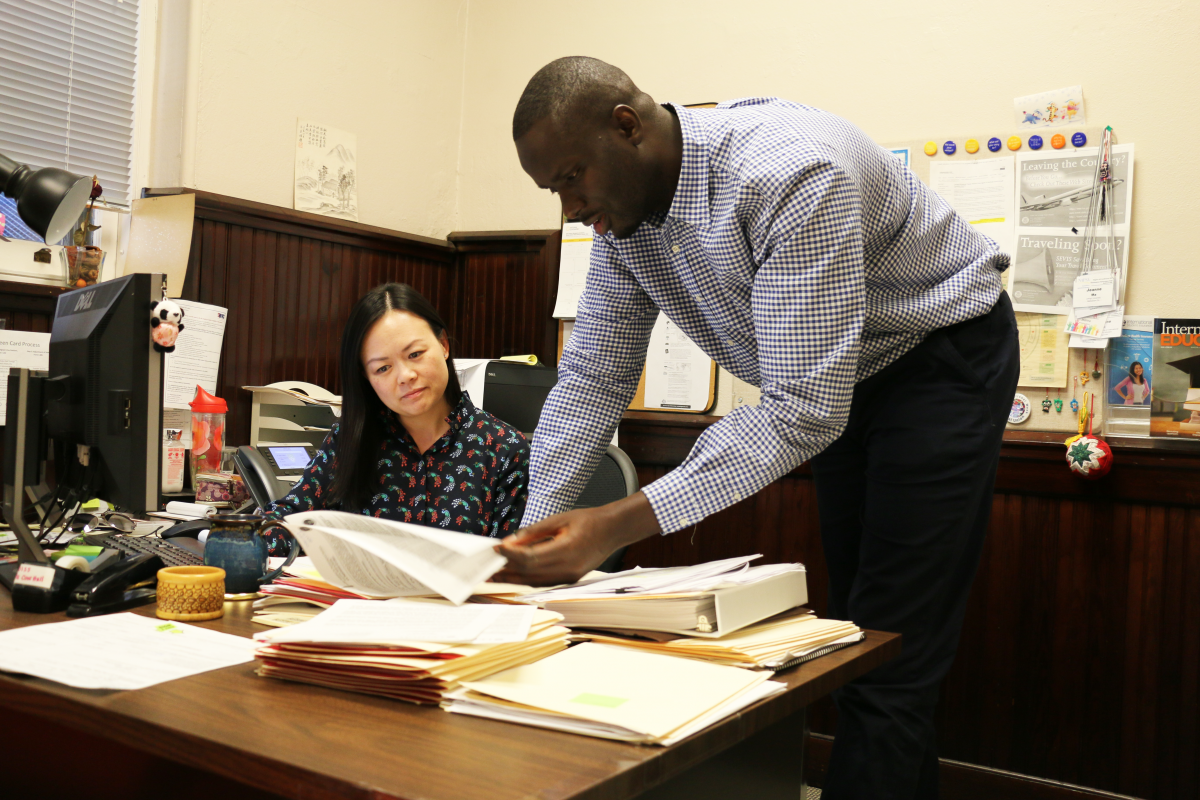 Sarah valued practicing offering difficult feedback, a sometimes necessary part of leadership. "There are things that happen where nobody wants to have the difficult discussion and then later it is so much worse and so much less humane because you avoided having the five minute conversation six months earlier," she said. "I'm trying to get better at insisting we proactively talk about the tough stuff rather than hide."
Jim believes LLA reframed his responsibilities to his team and the University. "Having moved from a group manager role to a director role, I need to be more focused on strategy and vision. LLA helped me shape that and now my teams will implement the strategy, they will make it happen."
Taking a full week away from their offices was a big commitment for participants. Sarah, Samba and Jim all remarked that they were exhausted at the end of each day. But all agreed it was well worth it.
"Every day seemed like it was better than the day before," said. Samba. "I could have stayed even longer because every day I learned something new."
Ambitious Change, Sophisticated Leadership
The Lehigh Leadership Academy and Pragmatic Leadership programs are two of four tracks that are intended to raise the bar for Lehigh's managers and leaders. All managers are encouraged to complete the first two: Essential Management and Foundations of Management. Candidates for LLA and Pragmatic are selected through nomination.
"Lehigh has high ambitions for growth – expansion of programs, building new buildings, refining our globalization and cross-disciplinary efforts. And we are increasing our sophistication around technology and systems that will give us better access to information," Chris noted. "The other part of that equation is a level of sophistication in leadership to make these things happen. We want to get our leaders to a level where they can take us through change on a scale that we've never seen before. Leadership development is a big part of that."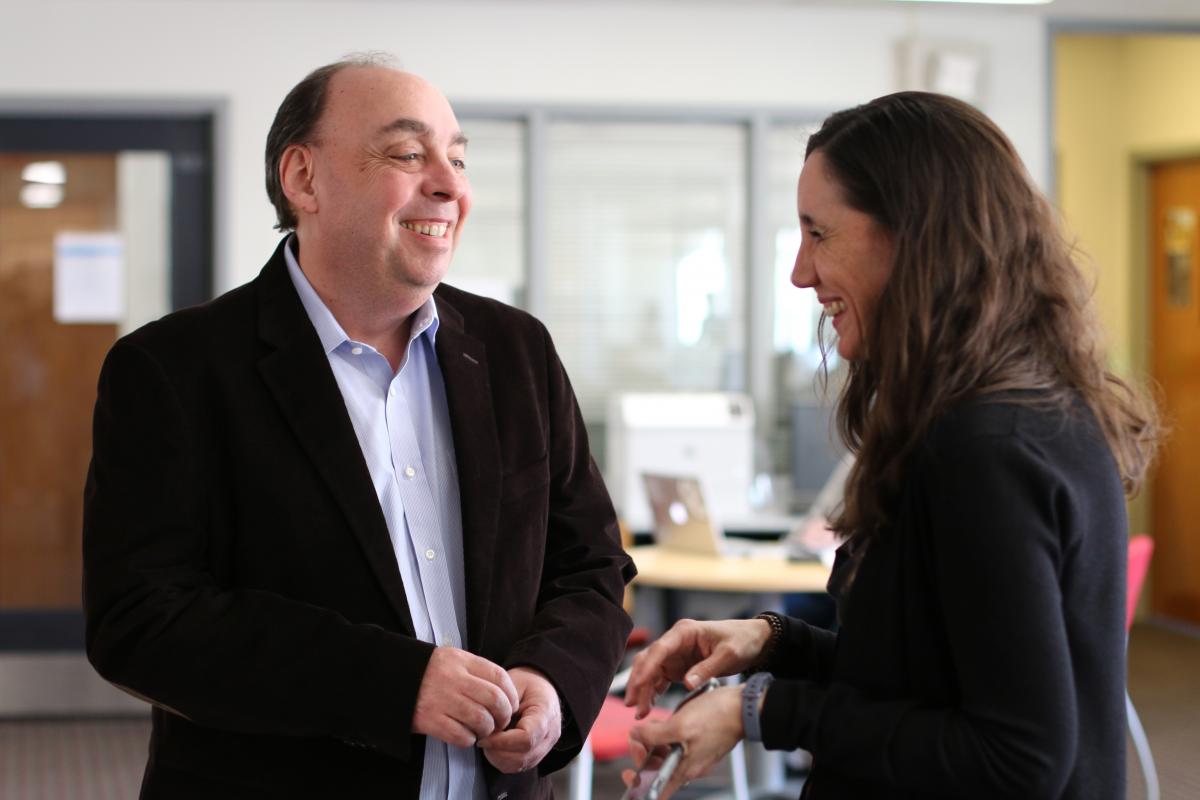 Jim sees that bigger picture as part of what makes being a leader in higher education so special.  "In the corporate world I came from, it was hard to see the impact of what I was doing," he said. "Here, you just have to walk outside and you get why you're here. It's the students. It's so clear why you're here, to support them. I feel like I'm contributing to society."