Monday, November 16, 2020
The Lehigh community grieves the passing of Carmen Correa, Coordinator in the Payroll Office, who served Lehigh for 37 years. We extend our condolences to Carmen's family, especially her brother, Rick Correa, lead maintenance technician in Facilities.
Carmen's supervisor Robbyn Seier gathered the following thoughts and remembrances from her colleagues for us to share in The Spot:
As one can imagine, the Payroll Office personnel were absolutely stunned to learn of the unexpected and untimely passing of Carmen Correa.  It was nearly three years ago to the date since the tragic loss of Darlene Barndt, the Assistant Payroll Manager.  Losing Carmen so soon was a deflating punch to the gut that left our hearts bruised.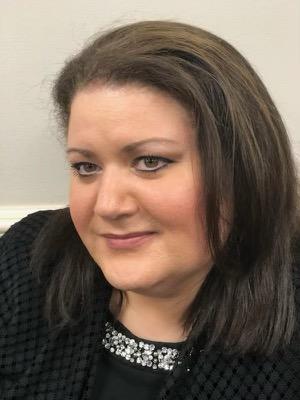 Carmen served the University with honor, dignity, trustworthiness and kindness.  Her dedication to her craft was admirable.  She would work tirelessly to ensure the students were paid timely and accurately, particularly during the beginning of the semester when volume was at its peak.  She took the work very personally, and wanted to do right by the University and the students.  She was very helpful and made you feel comfortable.  She was a great team player even during the most hectic times.
Any time her name was mentioned in a group setting or in department meetings, the response was always so positive.  "She's just so great.  She's just so helpful.  She's just a wonderful person.  She solved my problem.  She's the kindest person I've ever met."  These are many of the quotes we'd receive as feedback.  You knew she had a broad impact to the University because the employees told us what she meant to them individually.   
There are so many qualities we'll miss now that Carmen is no longer with us.  She was many things, and most of all, she was just a really bright light in our daily lives.  She was, by definition, a ray of sunshine.  Her smile put you at ease and gave you comfort.  She was so compassionate towards everyone in the office and University wide.  Quite often, she would generously offer to order lunch for the Controller's Office, even going as far as to inform us of the soup of the day. It was very endearing and always much appreciated.  She was also an excellent cook and her leftovers were a popular topic of conversation.  She was interested in organic and healing foods and supplements as well.
She was a saint.  She was strong in her faith and was eager to talk about her faith to anyone who was interested.  She loved to discuss cosmetics too, and we were all shocked to learn of her extravagant taste in brands and various products.  And, she loved baseball.  Her favorite team was the Mets.  Her greatest love though was her family.  It was her family that gave her strength, her purpose.  Her family meant the world to her and she was always there to offer support and love to those close to her.   
Carmen will be remembered by the Lehigh community for her patience, empathy, expertise and honorable work ethic.  She was truly a dedicated employee who went the extra mile to make sure her payrolls ran smoothly and without error.  She took great pride in what she accomplished.  And that smile…she'll forever be remembered for that one of a kind, light up a room smile.