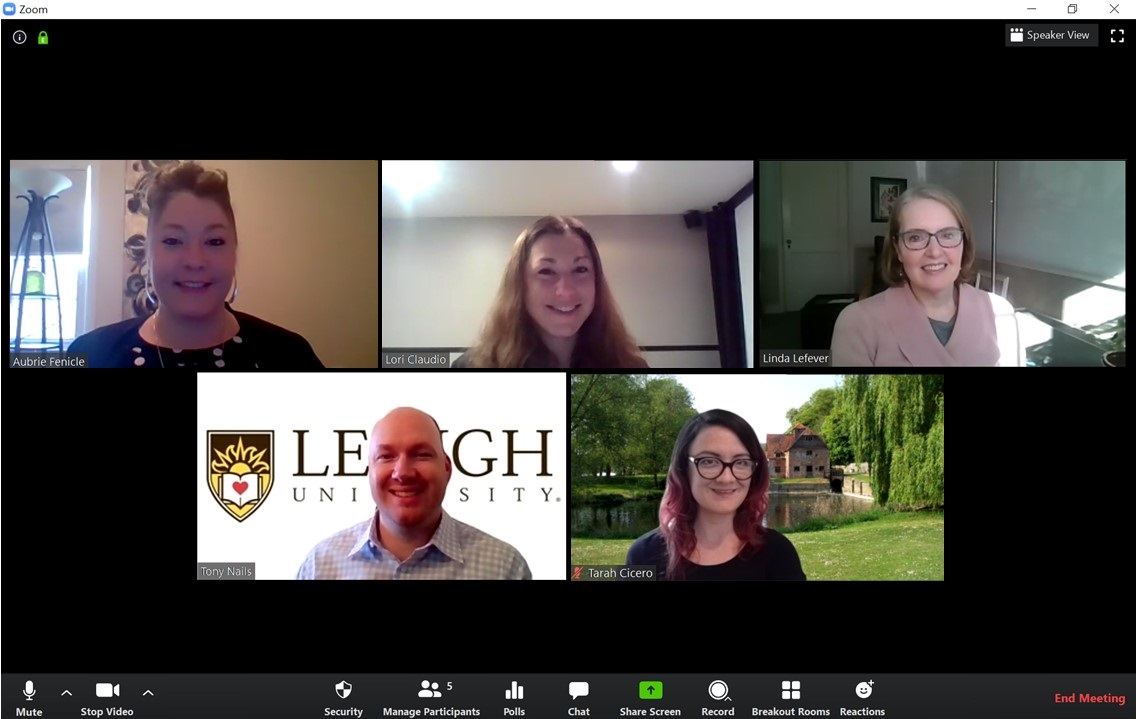 As we reported earlier this year, the Human Resources Office re-organized into three new teams in January. This month, we're taking a closer look at the new Talent Management Team (TMT), led by its Director, Lori Claudio.
The TMT is composed of HR staff members who had previously been parts of two separate groups - Talent Acquisition/Compensation and Workplace Learning, Employee Relations and Performance Management. In addition, while the office remains a team of sixteen, in the reorganization process, HR shifted resources to create a compensation analyst position that is part of the TMT.
The team brings together all aspects of what is called the talent management lifecycle. This holistic approach to human resources recognizes the connections that begin during the recruitment process - even before someone applies for a job. The talent lifecycle includes: 
Evaluating positions and salaries 
Attracting and hiring talent
Onboarding new employees
Career enrichment and development
Managing performance
Employee relations
"From the moment we build a position description with a hiring manager, we are setting the stage for a future employee," Lori said. "Did we make the right hiring decision? Have we given that person the tools they need in the onboarding process? Are we offering them enrichment opportunities to grow and thrive in their career? Is their supervisor supporting their performance?"
Now, all of those questions can be answered by one collaborative group of staff with diverse strengths and skills. 
TMT meets daily for a check-in via Zoom. This allows for a much freer flow of information and ideas between all of these areas. "It's not that we never worked across our teams in the past," Lori explained. "But the difference is that now that we're all in one group, collaboration is the first thought."
Coalescing Around A Common Mission
Lori says the team has quickly coalesced around their common mission. "The group got into the entire employee lifecycle right away, it took no time at all," she said. "Everyone was interested in each others' areas and their data. We're already talking about how everything relates and we're starting to collaborate on innovative projects."
Aubrie Sobieski, HR Associate for talent acquisition, had been thinking about how to make her limited time with hiring managers more effective. "Because everyone is so busy, I am usually only able to get about an hour with someone before we begin the recruitment process," she explained. "I felt like I was spending a lot of that time on process and procedural information and less on strategy and approach."
When Aubrie raised the issue at a recent TMT meeting, Tarah Cicero, Learning Design and Development Specialist, was quick to raise her hand. "Even before we began remote work in March, I had been developing online training programs for Lehigh employees," Tarah said. "I thought we could work together to create modules that hiring managers could use on their own time to learn the information." 
Aubrie and Tarah put their heads together (at a safe social distance via Zoom) and began developing the training modules. The first, Legality and Compliance in the Hiring Process, will be available soon. Additional activities covering other key parts of the hiring process are also in progress. "Having Tarah on the same team allowed me to more easily accomplish a goal that had been nagging at me a while," Aubrie said. "Now, I can spend more of the time I have with hiring managers on effective recruiting strategies and innovative approaches."
Introducing Tony Nails
In early March, Lori was excited to offer the compensation analyst position to Anthony Nails. Tony joined the team on March 30 after a sixteen year career at KidsPeace, an organization that operates facilities for young people experiencing a variety of crises and mental health challenges. 
"After graduating with a BS in Business Administration I went to work at KidsPeace working in direct care with residents between the ages of three and 21," Tony said "It wasn't what I thought I would be doing as a career, but I found that I was really good at staying calm and de-escalating conflict. So I became part of the mobile support team that helped with difficult conflicts across our facilities." 
Tony moved into the Human Resources office at KidsPeace where he was able to use the knowledge he gained in college. He worked in a variety of roles, eventually serving as the compensation analyst. "I am very analytical. I love data and I love Excel spreadsheets," he explained. "And I think I'm also able to come at data with a very neutral attitude, which serves me well when analyzing what a salary for a given position should be."
When Aubrie reached out to Tony via LinkedIn to discuss his potential interest in the job, he wasn't really looking to leave KidsPeace. "They're like a second family to me," he said. "But when Aubrie followed up with me a second time, I started wondering if there was something here I should explore. The chance to work in a larger team with diverse positions and benefits like tuition remission made the opportunity especially tempting." 
"Tony had the ideal set of skills and experience we were looking for," Lori explained. "I'm thrilled to have his data-driven analytical approach on our team." 
Although he hasn't had a chance to work on campus with the whole HR team, Tony is already busy and looking at the silver lining. "Since we're not currently doing position re-evaluations and are in a hiring freeze, I've had the chance to delve into our philosophy and learn more about the many types of jobs at Lehigh," he said. "I'll be working on making our titles and positions more consistent, which is something that will help us going forward when we do increase hiring activity." He's also gathering data for annual surveys Lehigh participates in that provide salary market data. This data helps inform salary decision making for the university.
Higher Visibility And Empathy
A stronger focus on data and metrics is at the heart of Lori's approach to the talent management lifecycle. "Most people see compensation as 'the math part' of human resources, but there are so many other aspects of the lifecycle that can be measured and analyzed to improve how we support Lehigh's mission," she said. 
For example, HR Associate Linda Lefever, who primarily focuses on performance management and employee relations, gathers data from a variety of sources, including exit interviews. "Lori views this information as part of a larger whole, it's not in a vacuum" Linda said. "So we can put my data regarding why employees leave Lehigh alongside data from Aubrie about hiring and onboarding, and we can really break it down and look at the implications."
Lori is excited about the possibilities of her new team. But it's not just about the numbers. "Data and analysis is important, but the 'human' in human resources is empathy," Lori said. 
"I am seeing our new team's collaborative process helping me with employee relations issues," Linda agreed. "We can better support employees and give them every chance for success when we look at their experiences across the board."
"It's that bigger picture of how our roles all impact one another," Tarah noted. "We have higher visibility into each other's work and we can operate more cohesively because we're all one team."