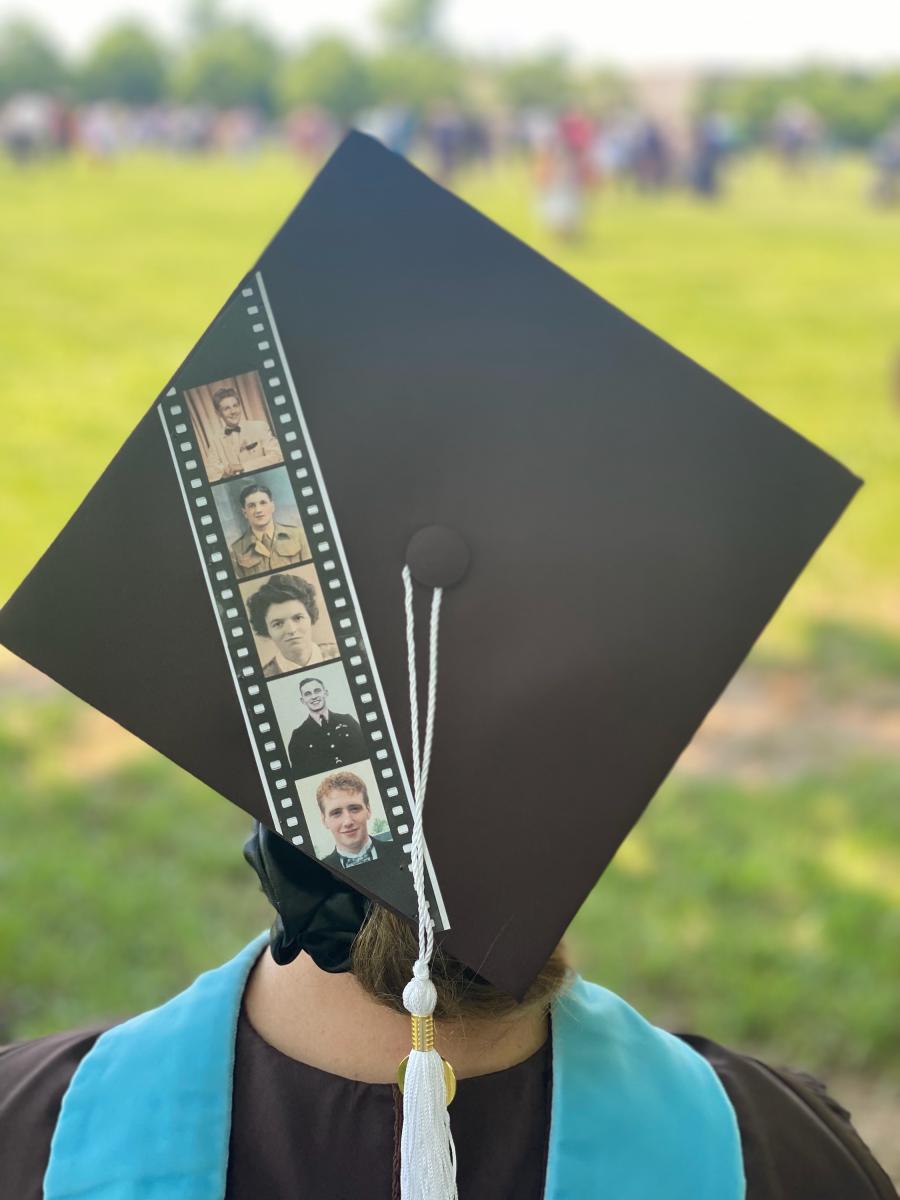 A sepia tone strip of photos neatly decorated the mortarboard cap of Tarah Cicero on a sunny Sunday morning in May. It wasn't the most elaborate adornment at Lehigh's annual Graduate Commencement, but it was perhaps the most poignant.
Tarah chose to display these photos of immigrant ancestors and beloved lost loved ones, including her father, on "the hat," as her family jokingly called it, as a tribute to those who came before her and strove to create a life for her in which she could reach her fullest potential. 
"My dad was born to teenage parents and he, my mother, and eventually my stepfather made great lives for us as small business owners. My maternal grandparents came here from England, when my mom and aunt were young to have a better life. They came here, so I could do this,'' Tarah explained. "When I was an art education undergraduate at Kutztown, I worked a lot of hours to maintain healthcare coverage and have money for the essentials, and I would say, 'Oh Grandma, I'm so tired.' and she would say 'You'll love it when the check comes!'"
"Thinking of that helped me when I was working hard to finish my master's degree. Thinking of how proud they would be if they were still here."
Tarah is one of several Lehigh staff and faculty members who completed a degree or certificate this year using the university's employee tuition benefits. In fact, Lehigh's educational benefits were one of the things that drew her to the job four years ago. She now holds an M.S. in Instructional Technology. 
Tarah started the master's program in fall 2019, finishing just one class before the pandemic. As the world shut down and Lehigh went remote in 2020, she found herself translating skills and experience back and forth between her work as the Learning Design and Development Specialist in Human Resources and her studies in the College of Education. 
"We wouldn't have been able to move things online so quickly in HR when COVID started if I hadn't been in the middle of an instructional design class. As COVID started and we went from in-person classes to fully online there were a lot of the things that Professor Farah Vallera did that I was able to translate into activities for our workshops for staff and faculty," she noted. "So I'm extremely grateful that the timing worked out the way it did."
Fitting graduate studies into her life was a manageable challenge for Tarah. In addition to limiting her course load to no more than one class per semester, she found support when she got stressed from both her partner and a four-legged friend.
"My partner Jeff has been great. When I'm feeling overwhelmed, he'll make sure things get done," she said. "And our dog, Dance, even though she can be a lot sometimes, she's really wonderful. If I was stressed out, I could go hug her and needing to walk her gave me an excuse to get away from my computer."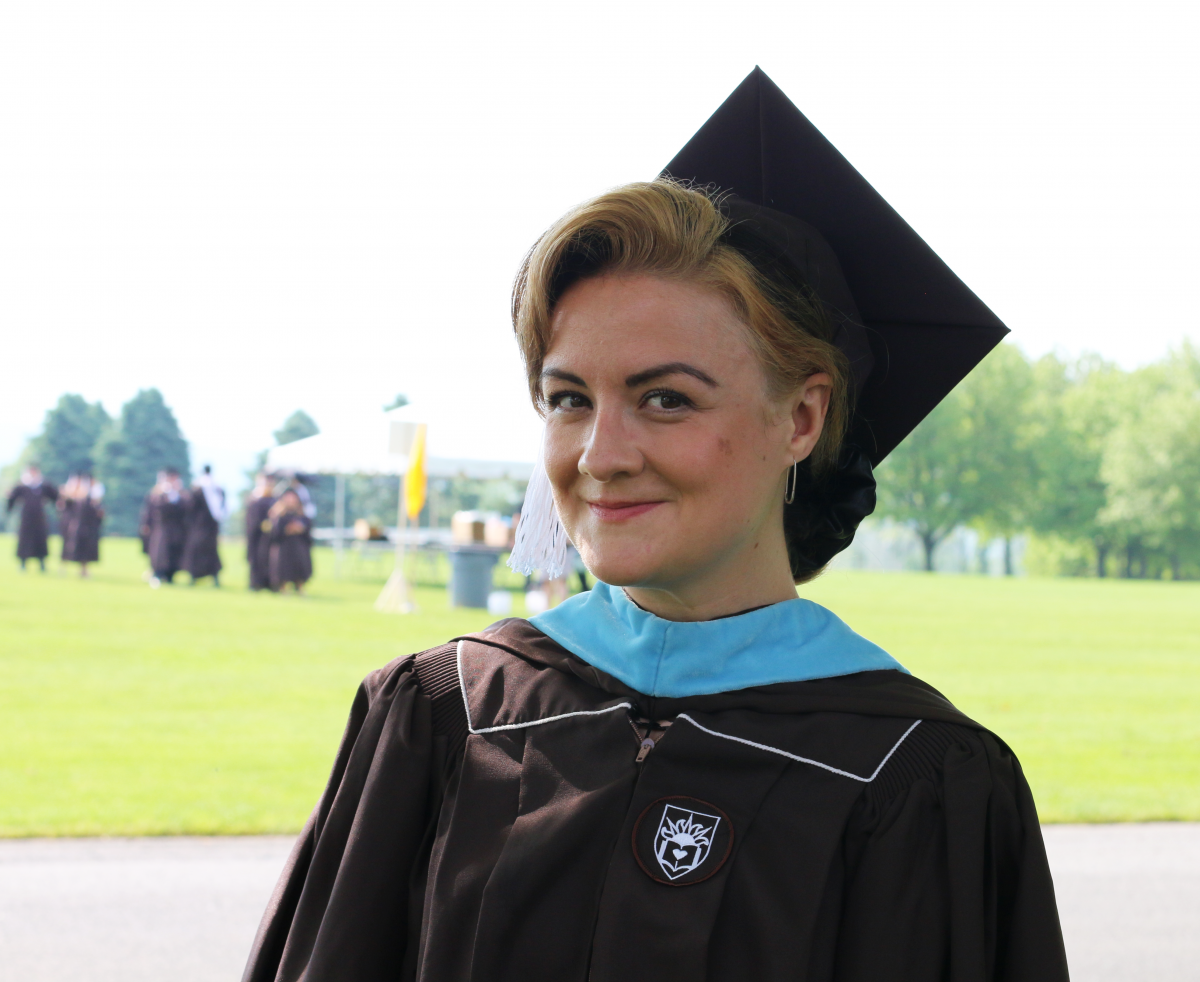 As Tarah progressed in her studies, she became particularly enthusiastic about using immersive technology, such as augmented or virtual reality (AR/VR) and games in educational settings. 
"I did an internship as part of the Lehigh RiVR Immersive Learning Project. I drew avatars for an educational 'Mystery of the Lehigh Gap' game with a partner. We also worked on the game's dialogue system," she recalled  "In class I was able to make an immersive experience using programs I never thought I'd ever be able to learn how to use. My teammates and I created a desert scene. Figuring out how to make it all work was a lot of fun."
Designing video games about the Lehigh River or based on The Sopranos may not appear to translate directly into her work at Lehigh, but Tarah says it's important to use your creativity and add to your toolbox of skills as an educator. If it's in the box, you can always pull it out in the future when the moment arises.
"For instance, the dialogue system I worked on. The wheels were turning and I thought that perhaps I could make some sort of game, maybe for managers to help them to coach their employees or have difficult conversations," she said.
Recently, Tarah accepted a position as a Senior Instructional Technologist in the Center for Innovation in Teaching and Learning in LTS. She's now part of a team that helps faculty thoughtfully and effectively integrate technology into their teaching and research. Her master's degree was key to her career advancement. This fall, Tarah will continue her studies in pursuit of a doctorate in Teaching and Learning Technology.
"I received a lot of encouragement from professors and colleagues in the program. Farah Vallera approached me about going on for the doctorate. I thought it could happen further down the road, but she thought it could be really good for me now," Tarah recalled. "Alec Bodzin similarly asked me after a class one day if I had considered the doctorate program."
Tarah says Drs. Vallera and Bodzin planted a seed, or perhaps nurtured one that was already there. She did some research and decided to go for it. Her advice to herself could serve as advice to anyone contemplating graduate studies.
"I thought I may as well give it a shot. I've been trying to focus on not letting an opportunity pass me by," she said. "I guess it's a cliche, but I do believe that you regret the things you don't do more than those you do."
If you're interested in taking Tarah's advice and giving it a shot, check out Lehigh's employee educational benefits on the HR website.
In the next issue of The Spot we'll feature the story of another employee who invested in themselves through graduate study at Lehigh.