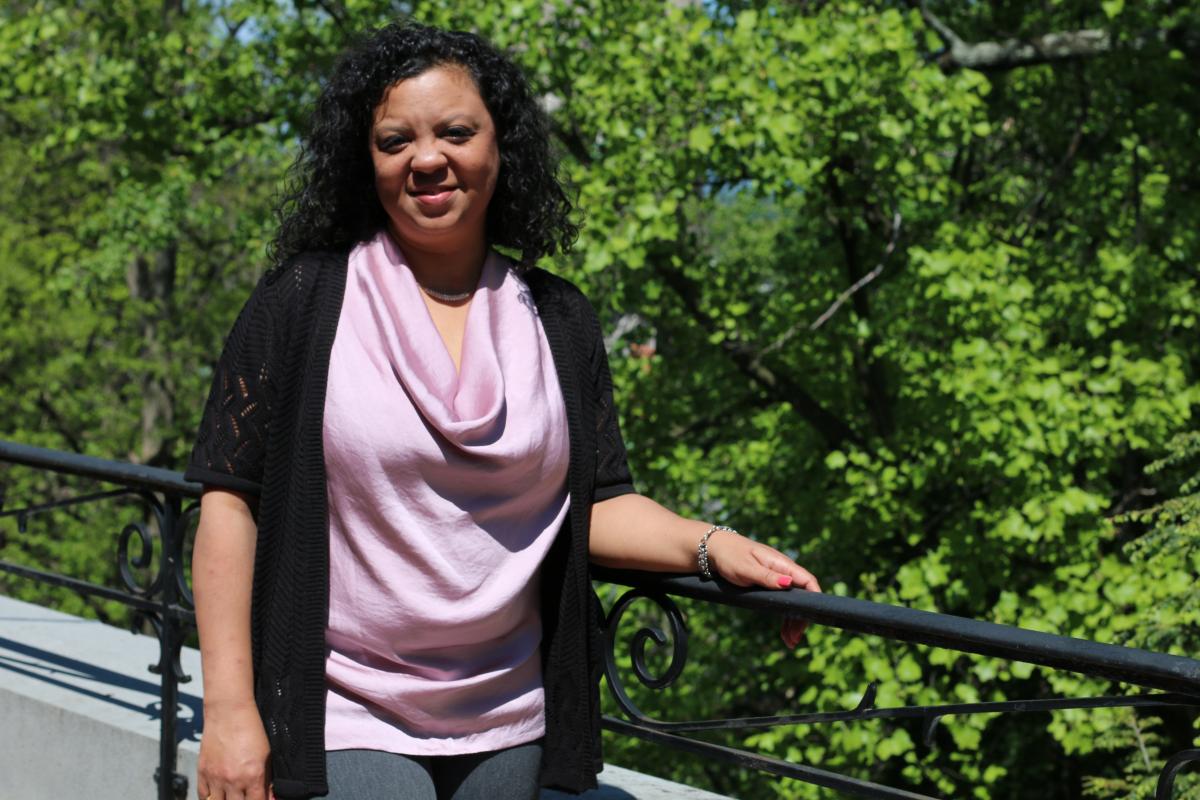 Halfway through her Lehigh graduate program in comparative and international education, Clara Buie (right), program director, Global Union and Community Engagement in the Office of International Affairs, was at a crossroads. Working full time at Lehigh in her role supporting the university's international students and their families while also raising three young children with her husband was already a lot. She was questioning whether or not to go on.
"I was at a point where I was thinking it was too much," she recalled. "I told my mom I was thinking of stopping, and she told me that when she was younger and raising us, she wanted to be a fashion designer. She started in a program, but then she felt guilty, because it was taking time away from us, so she just stopped."
Her mother urged Clara to keep going. "She said she wished she had someone to talk to her back then like she was talking to me, because then she might have realized that it was a short-term sacrifice of time and she could have finished and had something at the end," she said. "I took that with me and knew that even if I wasn't giving my children 100 percent, it would only be for a short amount of time in their lives."
Sadly, Clara's mother passed away two months before Clara crossed the stage to receive her Lehigh M.Ed. this May. "That was a really hard thing for me to do," she said, "finishing my degree and being at commencement and not having her in the crowd. She was such a support."
The Lehigh staff who received their masters' degrees this spring all made sacrifices in their lives to achieve their goals. Whether it was a bit less time with children or skipping a week-long family vacation to finish a summer class, they knew that the temporary loss of free time was worth it in the long run.
A Career Connection or a Passionate Interest
One of the exciting aspects of Lehigh's employee tuition benefit is that there are no set rules about what staff and faculty can study. Of course, employees must meet the requirements of the program, but once they do, they can study whatever they want.
Many employees choose a degree that they believe with help them in their career. Others pursue a passionate project.
Katie Guynn, director of Student Athlete Academic Services, chose the MBA program. On the surface, that might not seem like an obvious fit for a career in higher education, but she had a different take. "My ultimate career goal is to be an athletic director and having business knowledge is really important in that role," she explained.
When she was weighing whether or not to accept the job offer at Lehigh several years ago, she called her mentor, who is an athletic director at another university, to get her advice.
"I mentioned Lehigh has an MBA program and that I could go tuition free," she said. "My mentor replied, 'Are you crazy? This is an awesome job and you can do the MBA program? You should totally take this job!'"  Three years later, having survived the rigors of the oft-dreaded prerequisite accounting class by calling on the study skills she uses with student athletes, Katie earned that MBA.
The M.S. in Instructional Technology degree was a natural choice for Lauryn Artis-Woodman, who has been a coordinator for several programs in the College of Education since 2014. "I wanted to get a degree in education not related to teaching in the classroom," she said. "I love working with computers, so I took one class to decide if this is what I wanted. I discovered this is my favorite part of the work I do."
Instructional technology is a broad topic. Lauryn focused on online learning and a particular interest of hers, community health. "I'm interested in increasing health outcomes for people through instructional technology, whether for people who are already sick, or for prevention," she said. "It's education for adult populations, non-traditional learners, which is my passion."
At the same time, Lauryn says her coursework has also been applicable to her work in the College of Education. "I'm already using some of the things I've learned with regard to website building, streamlining and eliminating paper forms with Qualtrics, and managing Coursesites," she said.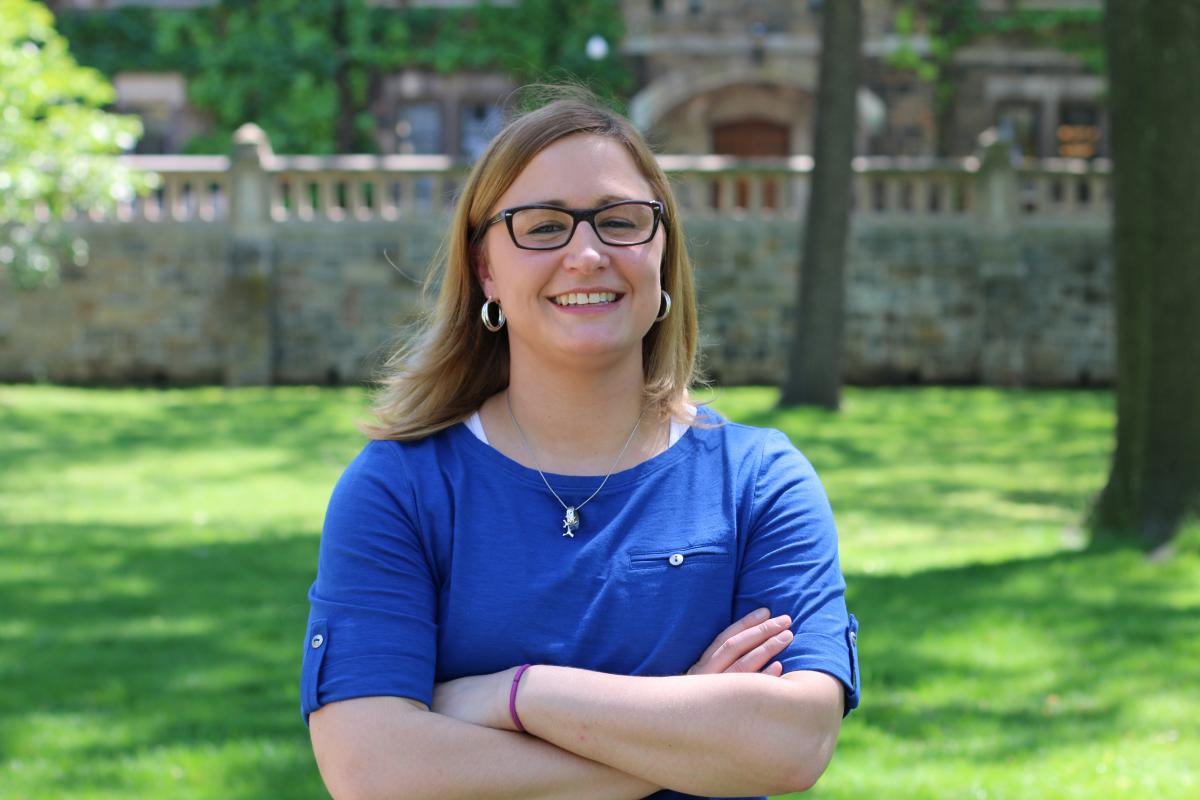 Abby Barlok (left) wears many hats as communications specialist for the Industrial and Systems Engineering department. Her role includes writing newsletters, running the ISE website and managing social media. She also plans alumni events. But she finds her work mentoring students and connecting them with ISE alumni especially fulfilling. "I can put them in front of somebody and help them make something happen," she said.
When Abby arrived at Lehigh four years ago, she learned about the employee tuition benefit. "I was so shocked, I didn't believe it was an actual thing," she said. "I thought who wouldn't take advantage of that?"
Having an undergraduate degree in English and a job in communications, Abby thought at first about continuing to study English. But she wanted to delve into things she hadn't studied, too. A chat with Casey Petroski, who was at that time the coordinator in the College of Arts and Sciences' graduate programs office, led Abby to the American Studies program. It was a fateful conversation.
"The first class I took was on the Civil Rights Movement. I learned about things I hadn't learned before, and at the same time, I got really interested in graphic novels because we used them in the class."
Abby was drawn to the graphic novel medium. "When I was little I used to walk to the comic book shop all the time," she said. "I'm more of a visual person, so while I enjoy reading, if it's a comic book, I'm stimulated more."
Moved by one of the graphic novels they were reading, Abby spoke up in class about what she saw from her perspective as an avid comic book reader. When her professor asked her to stay behind after class, she thought she had talked too much.
"I thought, 'Oh no!' But, after class he said enthusiastically, 'You're really into graphic novels!'" she recalled.  "So I told him my history and he said that if I wanted to work on something related to comics and graphic novels for my thesis, we should work together."
Because she knew what she wanted to write about early on, she was able to use independent studies and other class projects to develop her finished product. Abby's resulting thesis, "New Tools for Storytelling: Flexible Ethnicity and Adaptations in Comics and Television," was a true labor of love.
Benefits Beyond the Degree
Career credentials or personal growth are often the end goal of a graduate degree. But there can be unexpected benefits to the experience.
Adrienne Nenow, associate director for regional and affinity strategy in Alumni Affairs chose to pursue an M.Ed. in comparative and international education. During her time in the program, she served as a youth representative to the United Nations and was able to combine her grant writing skills with her commitment to international education and development. "I did a grant project for a non-governmental organization (NGO) in Rwanda that helps post-genocide orphans by providing a safe environment for living, learning and healthcare," she said. "We worked on a grant from Microsoft to help develop their technology education program and collaborated with the NGO in Rwanda via Skype."
Many College of Education students take grueling eight-day intensive classes during the summer session that could be compared with running a marathon every day for a week. Adrienne says those classes and the experience of graduate work have impacted her confidence at work.
"I've always been pretty structured in scheduling things, but doing the master's program while working forced me to be incredibly structured with my time," she said. "Now, in my new role, managing 30 send-off programs this summer feels like something I can do. Before doing the program I would have looked at all of the logistical elements of the send-off program and would have been overwhelmed."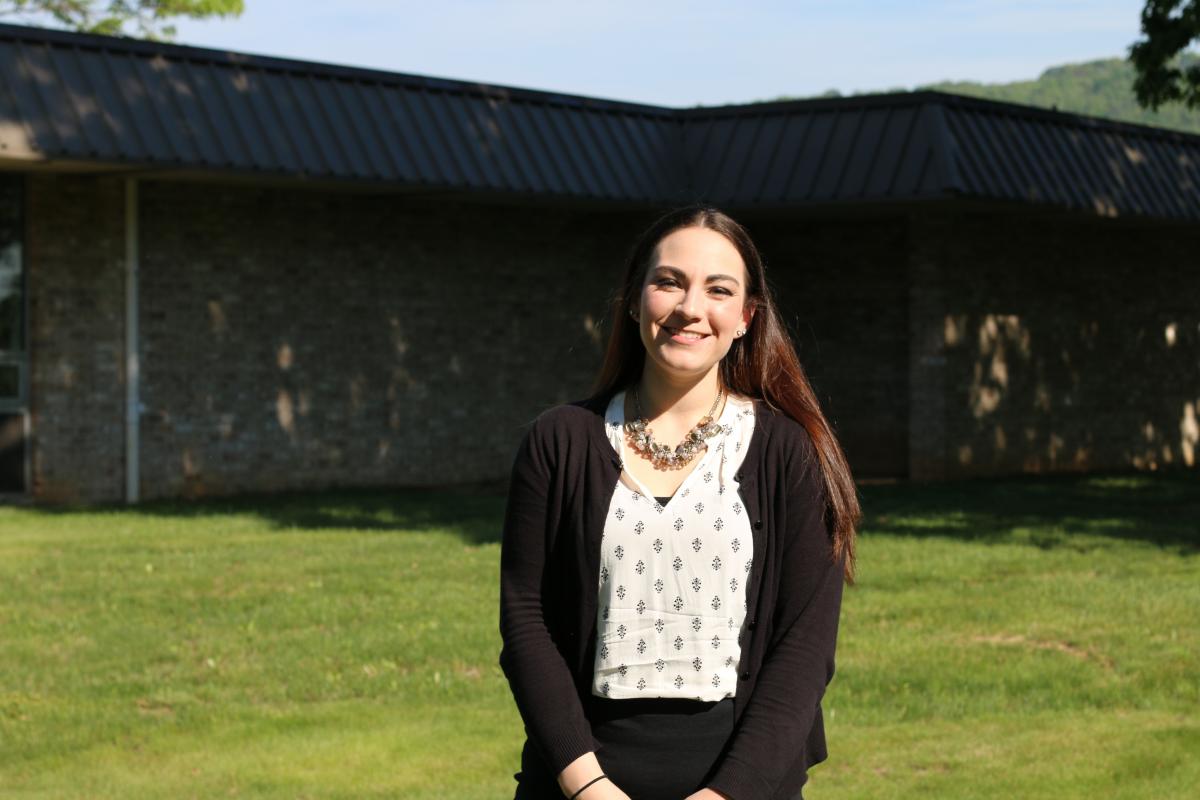 Also studying in the College of Education, Jaclyn Jaeger (right), a prospect management and data analytics specialist in Development, loved the eight-day courses. "You're really immersed in the material. And you become close with your colleagues in the class," she said. "I feel like I learned the most out of those, actually."
Jaclyn decided on the educational leadership masters program for her degree. With a bachelor's degree in psychology, she was interested in furthering her skills particularly in the area of career counseling. One class offered her something she hadn't expected – a new view of Lehigh.
"In Dr. George White's "Organizational Leadership and Change Management" course we had to look into our organization and take pictures, focusing on what part of the structure the subject of our photographs fit into," she said. "It forced me to think about Lehigh differently. I took a photograph of UMOJA House, placing it in the realm of diversity and inclusion, and I learned the story behind its creation. It was a powerful exercise and gave me a fresh perspective."
Casey Hilferty, coordinator for undergraduate programs in the College of Business and Economics, also chose the educational leadership program and is applying it to her work in real time. "I took a career counseling class in my final spring semester and found myself trying to use the theories with our graduating seniors as I helped them through the process of finding jobs," she said. "I learned ways to help de-escalate the emotion of the situation, so they could be calm enough to see things would work out."
Like Jaclyn, Casey found one of the added benefits of studying where she also works was expanding her understanding of the university. "I did a project on transgender students at Lehigh for one of my classes and learned about the different offices on campus that support that population," she said.
Clara found that studying in classes with the same students she often interacted with on campus yielded benefits for both. "You'll find students are really intrigued by your journey. They cherish that piece you can bring to the classroom," she said. "Knowing you're a staff member and part of the community, and that you are still pursuing something you're interested in gives them a lot of courage to continue on. You get that for yourself and you display it onto the students. They see you in a different light."
The Necessities of Success
Time management skills, sacrifice, and passion for the subject are all important facets to successfully completing a master's degree. But if you ask a graduating Lehigh employee what is absolutely essential to succeeding at combining full time work and graduate study, you'll hear a consistent refrain: Support, support, and support.
For some, it was a supportive supervisor who allowed them to flex their schedule as long as they got work done. For Clara, it was a supportive spouse who put three small children to bed so she could take a class that ended at 10:00 p.m. Casey's fiancé  didn't complain when she answered the nightly "What's for dinner?" with "Frozen pizza. Again."
Now that they've finished their degrees, many graduates are looking forward to some free time to read, reconnect with friends, and even consider continuing their education further.
Some graduates are already returning the favor for the support they were shown. Clara's husband is finishing up a master's degree and teaching fourth grade in the Allentown School District after having been a stay at home parent for several years. Clara will get to spend more time with her kids and make the puzzle pieces of their busy life fit together.
Casey's fiancé, an elementary and middle school band teacher, is starting a graduate program as well. Casey will make sure he's not just eating frozen pizza, but she's also looking forward to getting reacquainted with her favorite video games. "He used to play games while I studied, but now I get the Xbox back," she laughed. "And I'm really excited about that."