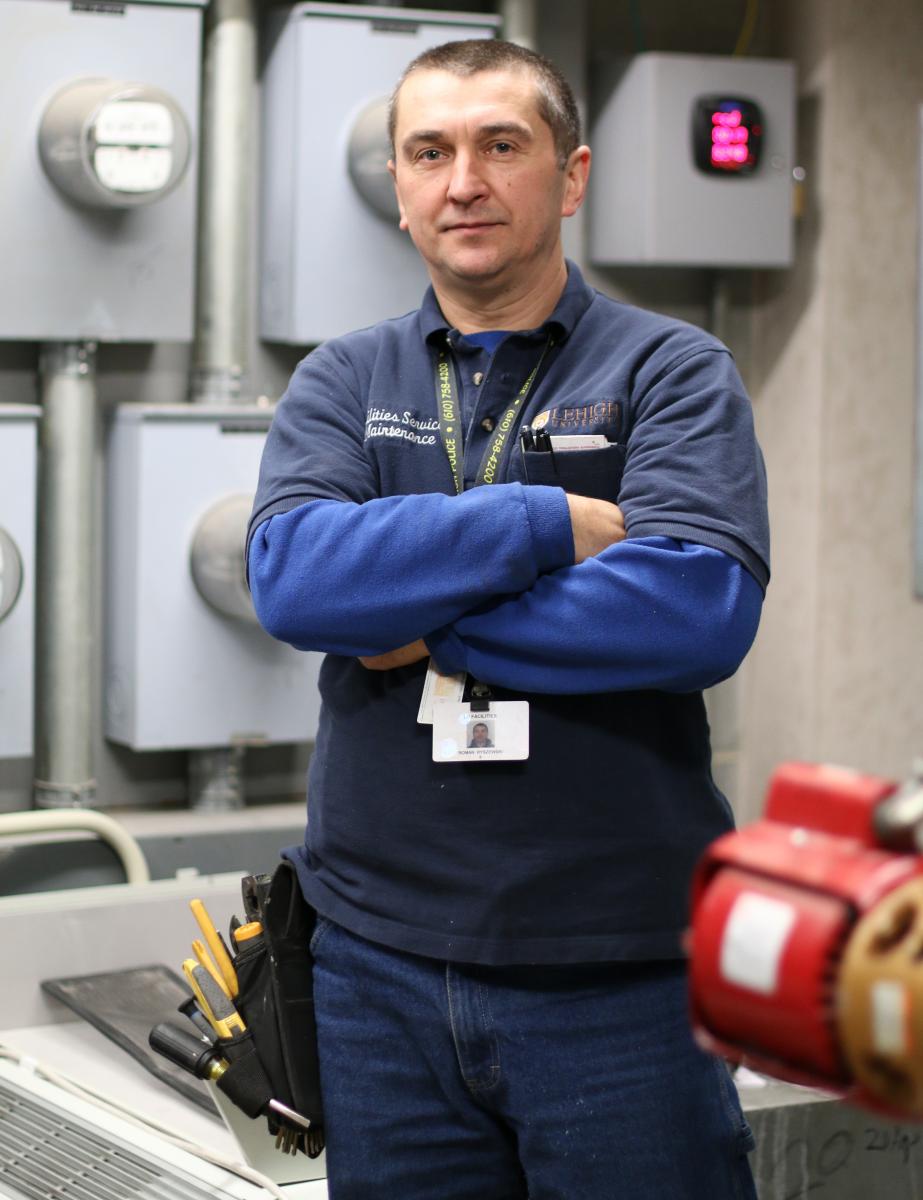 On any given day you might find Roman Ryszewski tackling plumbing, HVAC, or drywall – whatever is needed to keep residence halls like Brodhead House in working order. As a Lehigh Maintenance Technician, Roman's job requires him to do a little of everything.
But talk to him for a few minutes and you quickly find out that electrical work is Roman's specialty, and his passion.
"I like everything about it," he said recently. "Some may think electrical is the same thing over and over again, but it's not. There are always differences even if you're doing the same task. No two houses are wired exactly the same, our older buildings at Lehigh have structural challenges. I'm never bored. I could do this day and night."
That enthusiasm for electrical work, and the skills Roman has honed over three decades of study and experience paid off big for him recently as he won the top prize at the IDEAL Elite Tradesmen National Championships.
From The Old Country to New Horizons
Roman's career began with studies at technical school in Poland and a job at one of the most advanced food factories in his home country. Working in an up-to-date facility with equipment from many countries was unusual at that time in Poland. He says he was fortunate to have exposure to a diverse range of modern equipment.
Seeking new horizons in the United States, Roman emigrated and settled in New Jersey in 1999. He began working for local electricians to get acclimated to his new home. Meanwhile, he studied for the state's electrician's license exam, which has a reputation for being one of the toughest in the nation. Once he earned his license, Roman struck out on his own and opened his own business. As a contractor, he found himself doing work at Lehigh and eventually chose to close his shop and work for the University full-time.   
As part of a team at Lehigh, Roman works in a cooperative fashion. But that doesn't mean he isn't competitive. "Owning your own business, you are competing against other electricians," he noted. "Mostly on price, but also your reputation for quality."
When he heard about a national competition of electricians sponsored by toolmaker IDEAL, Roman jumped at the chance to test his own skills against the best in the business. After finishing in the top 16 in 2016, he decided to give it another try. He worked his way through the local contest to earn the right to represent northeastern Pennsylvania at the national tournament in Orlando, Florida in October 2017.
Chopped For Electricians
Roman kept a close eye on the changes to the tournament's scoring system for 2017. The significant difference was a reduction in the emphasis on time and an increase in other scoring areas. He developed a strategy for himself to maximize points in quality, safety, and proper use of tools. It was crucial to his victory.
If you're trying to imagine what a competition pitting electricians against each other is like, imagine the popular Food Network program Chopped, but for tradespeople. Competitors were kept in a holding room prior to their turn so they couldn't see what their tasks would be. Each of the three rounds (think appetizer, entrée and dessert) consisted of increasingly complex wiring tasks designed to fit the time and space constraints of the contest. Roman said it was fascinating to watch how differently each electrician would approach a problem.
"In the briefing room you got ten or fifteen minutes to go over the plans and map out your strategy. From my point of view that was the key," he said. "In the first round there were more than 60 electricians in the room and every one of them had their own way of starting. In the end it's the same finished product but everybody starts in a different way. Some started from the left of the project and worked to the right. Another would start from right and still another begins in the middle and then works in either direction."
As the rounds continued, Roman sensed he was holding his own. He sized up the competition, including the returning champion from 2016, and thought he had a special edge.
"My career has included working in industrial, residential and commercial electrical settings," he said. "I was pretty much flexible with anything they threw at us because I had worked in all of these settings."
Having been a small independent electrician with limited access to large expensive equipment also played in Roman's favor. "In the final round we had to bend one and a quarter inch conduit and I always did that with a hand bender, but I knew that my main competition, the returning winner, worked for a big company that uses hydraulic benders," he noted. "We have a hydraulic bender at Lehigh, but I had the prior experience using the hand tool and that gave me an advantage."
In the final round, Roman knew he was in position to win. Then, to the surprise of the audience, he slowed down.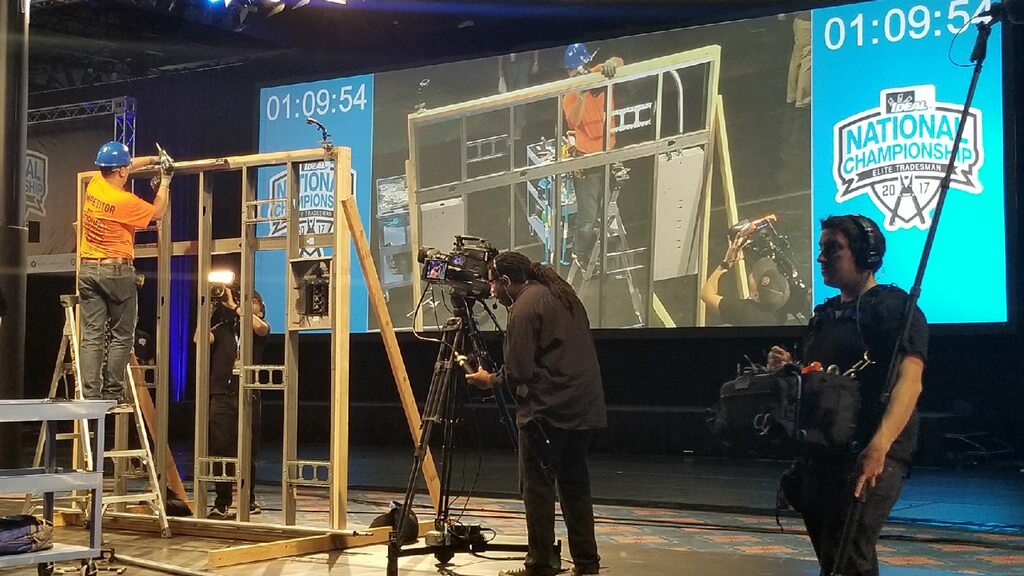 Roman Ryszewski competes in the IDEAL Elite Tradesman National Championships at the Orlando Convention Center
"I was getting down to the wire and people in the crowd were yelling 'hit the button! hit the button!' but I looked at them as if to say 'I know what I'm doing' because I knew that as long as I was done within the 60 minute time limit,  if I did a more thorough job I would get more points," he explained.
"The last task was marking all the wires. It takes time; you have to build the labels and wrap them on the cable and do it for every single one. I knew from experience my competitor might not be as thorough in his work. I finished second in the time, but overall I had completed everything the highest quality I could."
When the final contestant pushed his button, the competitors, the live audience, and the 45,000 people watching on Facebook Live still didn't know who had won. For that, they would have to wait for the awards dinner later that evening. There was tension in the air as Roman heard his name called as one of the top three in the individual competition. "Once I knew I was in the top three and that I would win one of the awards, I relaxed," he said. "No matter what I knew I had won some money and was a finalist."
They read someone else's name as the third place winner, and Roman felt his heart race. It was down to last year's returning champion and him. "I kind of was hoping and thinking I really could be the winner," Roman said, "Then they announced the other competitor's name and I knew."
More Than Money
First prize included a big check. But he says he got more out of the contest than the money. Even though they were adversaries in the arena, Roman and his fellow competitors forged lasting friendships. He learned about new tools he can use to make his work at Lehigh more efficient and accurate. And he enjoyed watching the student and team competitions during his down time.
"The way that they organized the team contest was amazing," he said. "There's a whole crew working at night building small houses for the teams to wire."
Roman also became a minor celebrity on Facebook. He didn't even have a Facebook account, but after the final round, Roman learned how many folks had tuned into the livestream, including many Polish and Polish-American tradesmen who were excited to see someone of their background win a national championship. On the drive home from Florida, he signed up for Facebook to connect with old friends and watch the replay of the contest.
Back in Pennsylvania, Roman is already making plans to defend his title in 2018. As the returning champion, he has an automatic spot in the national contest, so he's looking forward to bringing his wife to lead his cheering section.
While being considered the best electrician in the entire United States could give some people an inflated sense of themselves, Roman's colleagues are keeping him humble. Laughing at the memory, Roman said, "When I got back from the competition, I had to replace a flange on a toilet in one of the residence halls. My co-worker pointed at me, saying 'Oh, look there's our IDEAL champion electrician fixing a toilet!"
But that's all in a day's work for a jack of all trades who happens to be the nation's best electrician. And that's fine with him. Roman likes the fact that no two days are the same. It keeps him approaching each problem from a different angle.
"I'm so happy," he said.