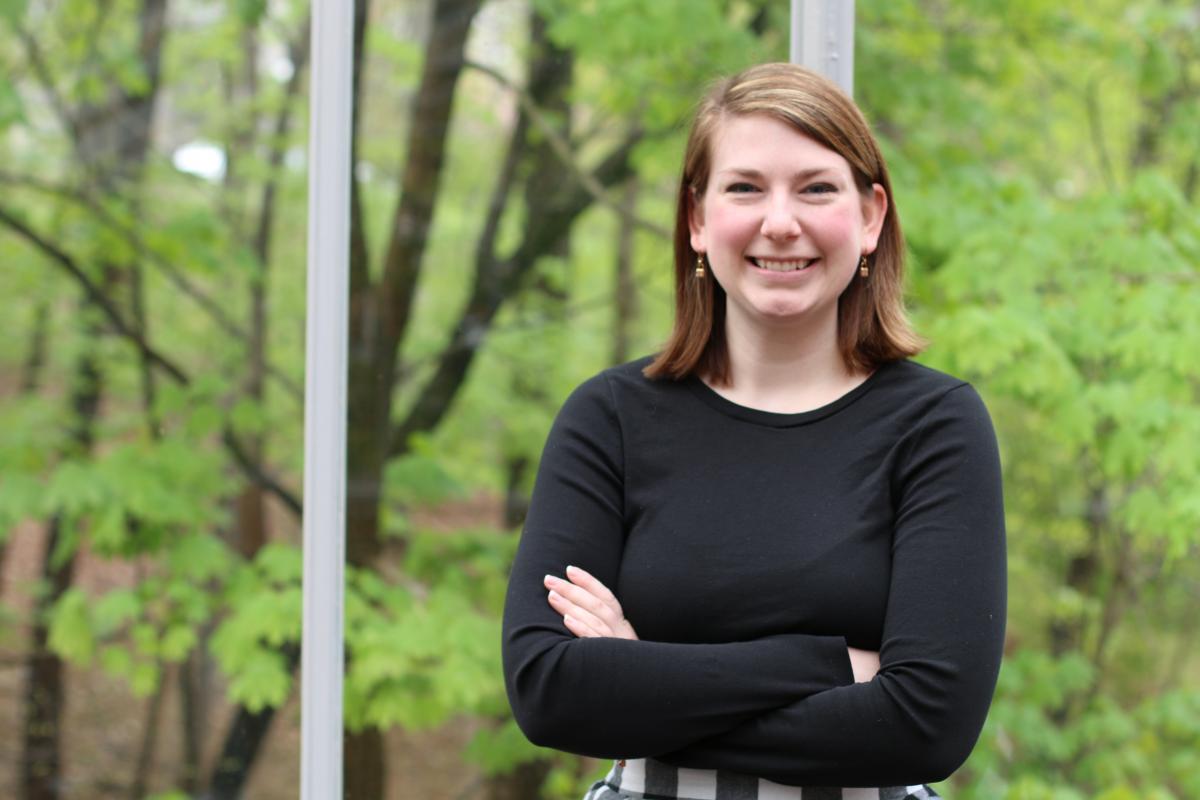 As a Financial Analyst in Lehigh's Controller's Office, Kelly Predmore '12, often spends her days poring over endowment documents. Some of the gift agreements she keeps track of go back as far as the founding of the institution.
"There are agreements from the 1800s that we've had to tape together because they're falling apart. They're handwritten in cursive, and it's fascinating to see the language people used back then," she said.
It's not exactly what she had in mind when she first arrived at Lehigh as an undergraduate with plans for a career as a trauma surgeon.
The Adrenaline Rush
Kelly's interest in medicine had been stoked through her volunteer work during high school as an emergency medical technician (EMT). She was hooked on the thrill, what she calls "the adrenaline rush" of helping people and knew she wanted to continue that work.
"When I started looking at colleges I looked into whether there was a campus emergency medical squad (EMS). So when I visited Lehigh to decide whether I wanted to study here, I got connected with folks at Lehigh EMS, and I really liked the people I talked with."
The very first week of her first semester, Kelly became part of the Lehigh EMS team. As an experienced EMT, she started leading response teams right away. Her trajectory toward a career in medicine was on track. Or so it seemed.
"After taking my first biology course I realized I did not want to do pre-med after all," she said. "I eventually took an economics class, loved it, switched over and then fell into accounting."
Although her career path shifted, Kelly's desire to make a difference hadn't. "I thought, 'why don't I do business as my career, but then have EMT work as a hobby?' and that's how I decided to balance that out," she said.
Back To Lehigh
After several years working in public accounting, Kelly decided to seek a position in higher education. By happy circumstances, she wound up at Lehigh in her present job in the Controller's Office.
"I was ecstatic when I was offered the job because it meant I could move back to Bethlehem and I love Lehigh so much," she said.
Being an alumna gives her new role special meaning. "I see the connections with alumni and donors. I get emails from donors who are thrilled I'm an alumna, too. I have so many memories here. I'm always remembering things and telling people [as we walk across campus] 'Oh I had class in that building,'' she says, laughing. "I probably do that too much."
Returning to Lehigh also gave Kelly the chance to jump back into her EMS work. As soon as she began work in the Controller's Office, she looked up Steve Lewis from LTS, who manages Lehigh EMS along with Bob Bruneio from Transportation Services.
"I asked if I could volunteer, and they said yes," she said. "I became a crew chief and I run a weekly shift."
Kelly believes her dual identity as staff and young alumna gives her an added advantage in her EMS work at Lehigh. "Because I'm on the younger side students feel comfortable telling me things and asking me things," she observed. "So I'm sort of a bridge between both worlds."
A New Role: Teacher
Two years ago, Steve Lewis approached Kelly about adding CPR/AED/First Aid training to her EMS volunteer work. She jumped at the chance. Human Resources provides funding for the classes, which are open to all faculty and staff. HR also paid for the training Kelly needed to become a certified instructor.
"It's a really nice change of pace from what I do at work," Kelly said. "I love teaching the faculty and staff. They're excited about learning CPR and helping the community."
At a recent training, Lehigh faculty and staff were learning proper CPR technique from Kelly. She also taught them how to use the automated external defibrillator (AED) devices that are now available in numerous campus locations.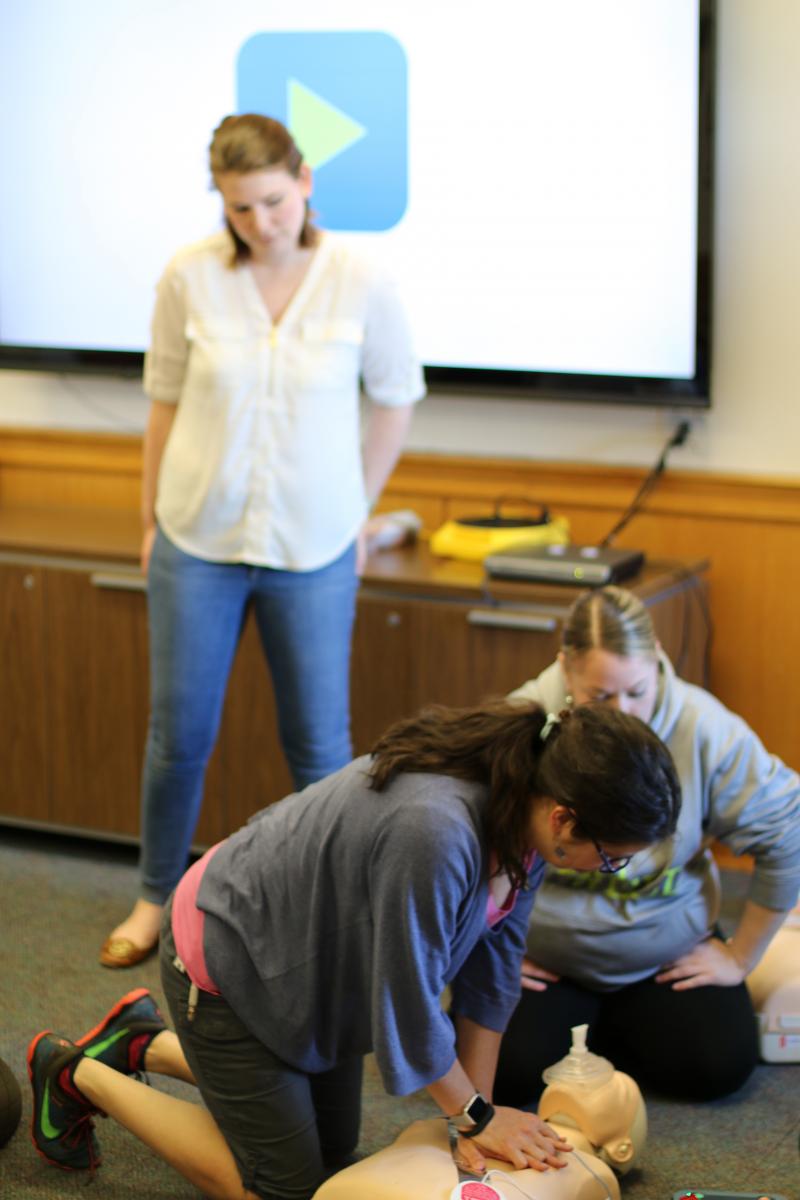 Ruth Elizabeth Miller from Zoellner Arts Center was taking the class to renew her certification, which she has held since she was a teenager. She spearheaded the effort to install an AED at Zoellner and says it's important for employees at the arts center to be prepared to assist the public. "We're really grateful that Lehigh offers this," she said. "It changes each time I take the course to recertify."
Jenny Chao, Coordinator in Interdisciplinary Programs, added, "I wanted to be trained up and be able to respond in an emergency situation. This is the first full day program I've attended, but I thought it was really important."
Dolores Rice from the Office of Research and Sponsored Programs had a more personal reason for taking the class. "I'm about to become a grandmother and I thought it was a good thing to know for when I'm babysitting," she said.
The CPR/AED/First Aid training program for staff and faculty has become highly popular at Lehigh. Nearly 600 employees – about one in three – are now trained.
"The more people who are trained on campus, the better it is for me and the other EMTs," Kelly noted. "Every minute that you're doing CPR, you're exponentially increasing a person's chance of survival, so any faculty or staff who can start working on their co-worker or friend before we get there – that's amazing."
Steve is grateful Kelly is part of the team of trainers, which also includes Bob Bruneio. "Kelly graciously complements Bob and myself, adding to the training experience. She is an ambassador for this program and helps our important life-saving training reach even more faculty and staff," he said. "We're lucky to have her!"
A Student Again
If you think a full-time career, part-time EMS volunteering, and training colleagues in CPR constituted a full plate, you don't know Kelly. Two years ago, she also started working on her Lehigh MBA, thanks to the employee tuition benefit program.
Even when she's studying business, Kelly finds ways to incorporate her love of emergency medicine. "Last semester, I did a project for a class on Lehigh EMS response times. We had to use statistical measurement, including regression analysis. We looked at variables and did an analysis of how we might be able to improve response times, then presented them at the end of the class," she explained. "It was great to be able to incorporate my world in all of its different areas into the program."
In the end, Kelly does it all because of an impulse to help people, regardless of whether they can ever pay her back. "Whenever I see someone pulled over by the side of the road, I stop to check on them. I have equipment in my car," she said. "It drives my boyfriend a little crazy. He asks 'Do you have to be the one to help everybody we pass?'"
"But, these people may be facing the most traumatic thing they've ever experienced in their lives. They're looking to you to comfort them and fix them and help them," Kelly reflected. "Sometimes it's overwhelming, but you put your emotions to the side and you deal with it after the call. That's why I keep doing what I do."
For More Information
Visit Lehigh EMS on the web to learn about their services and AED locations.
Keep watch in your email box for the next registration opportunity for the day-long CPR/AED/First Aid training classes