Tuesday, January 17, 2017
1: Maximize the Retirement Match: It's Not Too Late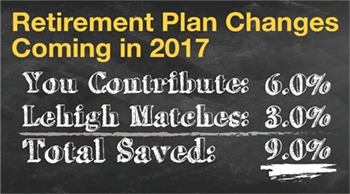 With the turn of the new year, Lehigh's retirement plan now offers a 50 percent match of your voluntary retirement contributions up to six (6) percent. That means if you direct six percent of your salary into your Lehigh University Retirement Plan, Lehigh will contribute an additional three (3) percent on top of the base contribution you already receive.
Here's the great news! It's not too late to increase your retirement contribution. In fact, it's never too late. You can change the amount you set aside for retirement from your paycheck at any time you wish.
Even if you don't feel capable of setting aside the full six percent, Lehigh will still match whatever amount you can save at that 50 percent rate. Set aside as much as you can. You will thank yourself later.
2: Electronic W-2 Forms Available
If you like to get a head start on your income tax returns, you can get your electronic W-2 form sooner than the paper version.
To sign up now to access your W-2 form electronically via Banner Self Service, log in to Banner Self Service.  Once you're logged, in select Employee > Tax Forms > Electronic W-2 Consent.  Then simply check the box to Consent to receive W-2 electronically and click on the Submit tab.
When your 2016 Form W-2 is available you will receive an e-mail letting you know so that you can go into Banner Self Service to access your form.
 If you have any questions, please e-mail inpayw2@lehigh.edu.
3: Friendly Reminder About Tuition Cash Grant Benefit
As we head into a new semester, we wanted to remind employees benefiting from the Tuition Cash Grant that in order to receive the grant, you must submit your child's college tuition bill to Human Resources before it is due. There is no provision for reimbursing you after the fact.
If you have any questions, contact Betty Konczyk at bjk208@lehigh.edu or extension 8-2952.