Thursday, October 27, 2022
On the morning of Lehigh's annual Graduate Commencement ceremony last May, Christine Russell joined her fellow graduates for a pre-commencement breakfast. Seated beside her were her mother, husband and five daughters.
As she looked around the table, Christine saw her family members' faces beaming with pride. After two and a half years of hard work as a graduate student, she pinpoints this breakfast with her family as the moment she felt truly accomplished.
"They congratulated me at least 100 times that day, each of them," Christine said. "I think that was the point where I realized that all of that hard work, all of the determination was absolutely worth every second."
For her young daughters in particular, Christine felt she set a valuable example, demonstrating that they can grow up to do and be anything.
"It allowed them to realize that they can do whatever drives them to follow their passions," she said, "to see my work ethic and not be limited by any outside forces, and to really be driven in the areas that you want to be in to make yourself the best self possible."
Christine, like several other Lehigh staff and faculty members, completed a master's degree earlier this year using the university's employee tuition benefits. Today, she holds a Master's in Educational Leadership, though she began her journey at Lehigh in 2017 as a part-time career coach.
"There's Not Going to be a Better Time to Start"
In August of 2018, Christine took on a new role as the associate director for Lehigh's Center for Career and Professional Development. About a year and half later, she made the decision to pursue a degree in higher education to bolster her career.
"I thought 'there's not going to be a better time to start,'" Christine recalled. "I just had to do it, and I knew that I was ready for it because I realized that the classes were aligning with what I was doing in my work. I wanted to make sure that I was ready for any opportunities that came my way and I didn't want to be limited by my education."
Christine's graduate program began in January 2020, less than two months before the COVID-19 pandemic hit, and Lehigh became entirely remote. Although she prefers learning in a classroom, Christine said remote learning actually supported her progress in some ways.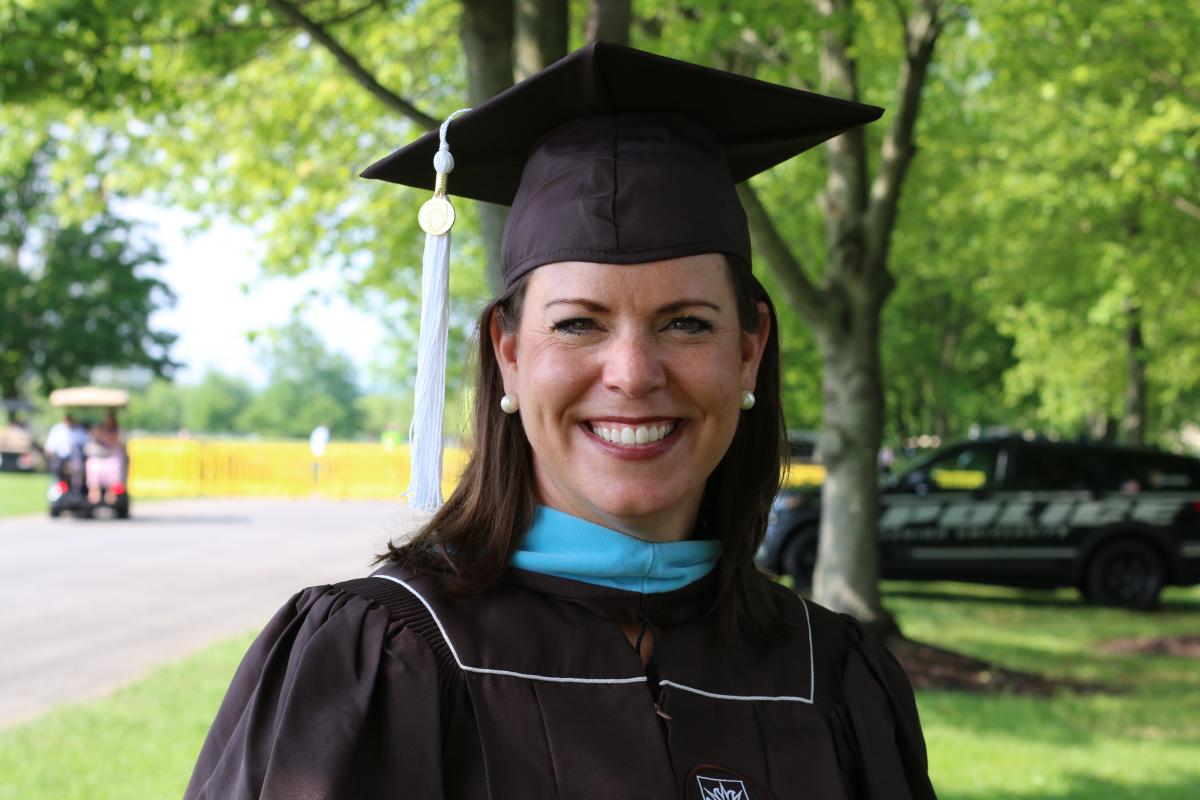 "I think I also saw that as an opportunity to continue going forward," she said. "I didn't have the travel time and if my husband needed to be outside of the home, I was still home with the kiddos while I was in my classes."
Throughout the pandemic, Christine balanced her education alongside a full-time job and a family of seven. She managed these challenges by setting realistic expectations for herself as a graduate student.
"There were some times where I wanted to take more classes in a semester, but realized that maybe taking one for that particular semester was all that I could handle," she noted. "I think I just set the goal and realized that it's never going to get easier. So I might as well just start it, and then complete it, and then move forward in my professional life."
Timely Lessons Applied in The Moment
Christine said she decided to study educational leadership because the topic aligned closely with her career goals. During her time in the College of Education, she was able to take multiple classes that directly related to her daily work.
One of the topics she became particularly passionate about is social-emotional learning, which was introduced to Christine in a course taught by Dr. L. Brook Sawyer.
"It's a really great class because not only does it help you to support others, but I think it also allows you strategies to be your best self," Christine said. "And with essentially a focus on mental health, I think that it was a really timely class."
Christine brought these concepts back to the Career Center and utilizes them in her everyday work. She works with students in workshops and appointments to help them become their best selves, and reminds herself to practice active listening.
The other course that notably shaped Christine's career journey was Cultural and Linguistic Diversity, which focuses on English language learners. As a part of this class, Christine had the opportunity to interview an international student.
"We really were able to identify some of the challenges that international students face, not only as students, but as individuals," she recalled. "It helped me to shape some of the programming that we have for international students. It was very eye opening."
In February of this year, Christine accepted a new position as Director of Career Education for the Center for Career and Professional Development. In this role, she oversees Lehigh's Career Education Team and integrates career education into the student experience. 
As she transitioned into a new role while completing her degree, Christine said she was able to apply the leadership and management concepts she learned as a student.
Though she does not have another degree in mind as of now, Christine said she would like to continue learning about management leadership and career development. But for those considering graduate school, Christine encourages them to take the opportunity. 
"Don't be afraid to start," she said. "It's an incredible benefit that we have. It's important to maximize all of your benefits that any employer is offering. With perseverance and dedication, you can get it done."
-- Story by Aliza Lev '23, Employee Communications Intern