Monday, September 14, 2015
Lehigh University is committed to inclusive diversity on our campus and strives to build a more inclusive culture through opportunities for education and dialogue.  We value and celebrate our many differences and the richness added to our lives and community through our diversity.  As such, we confront and reject harassment and discrimination in all forms and take efforts to prevent harassment and discrimination on our campus.
As part of our ongoing efforts to create a diverse and inclusive environment, Lehigh University requires all students, faculty, and staff to complete online training on the topic of harassment and discrimination. The online harassment training must be completed prior to September 30, 2015.
Many faculty and staff have already completed the required online training during the Spring 2015 semester. If you did so, you are not required to complete it again prior to the September 30, 2015 deadline. If you do not remember whether you have previously completed the required online training, please contact the Office of the General Counsel at extension 8-3572.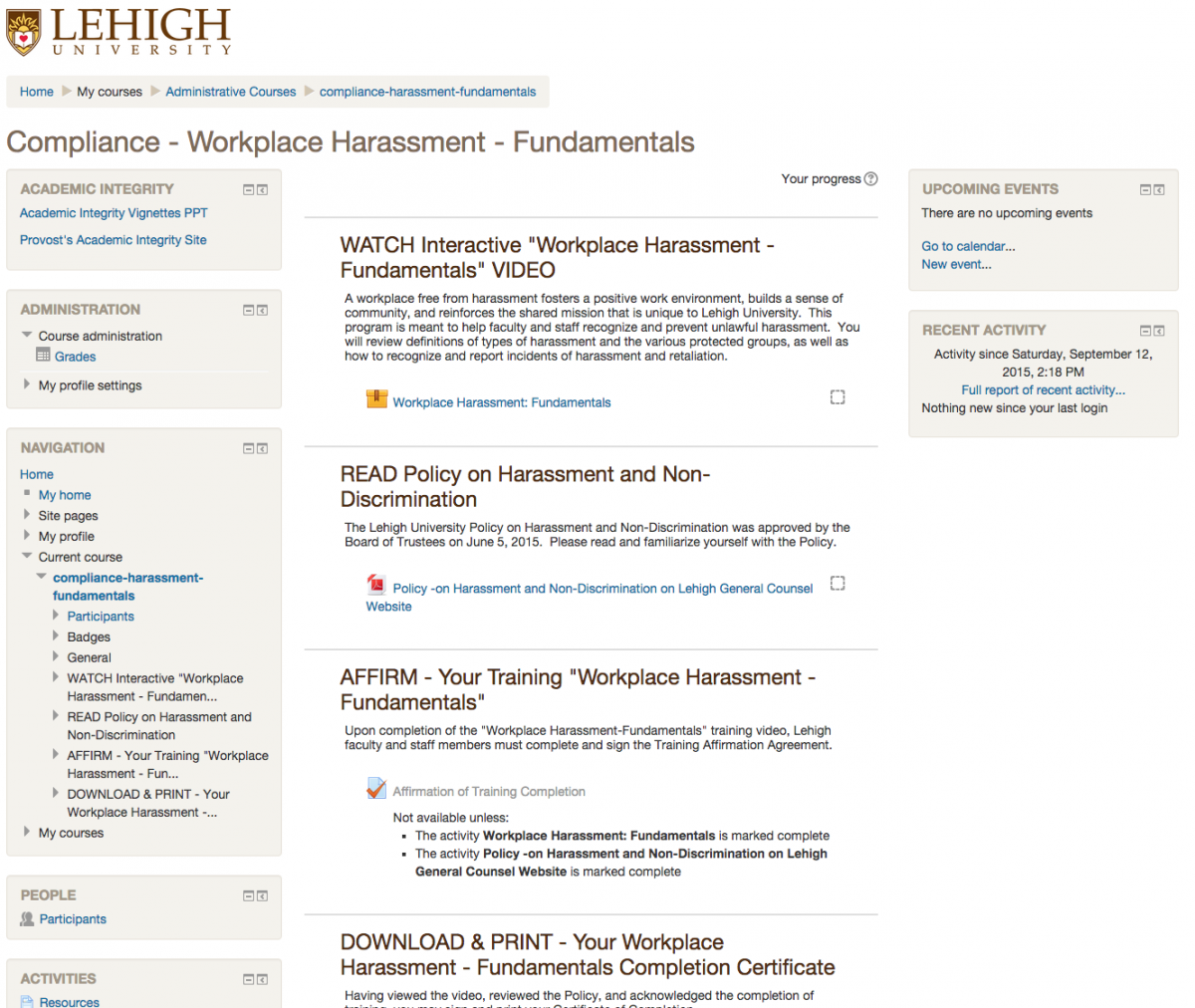 The online harassment training can be accessed through Lehigh's Coursesite at coursesite.lehigh.edu. You have already been enrolled in the required course that must be completed.  The title of the course is "Workplace Harassment - Fundamentals."
The course can be found in the "Compliance" folder by clicking on the "My Courses" file, then the "Administrative Courses" file, followed by the "Compliance" folder.
Each online training program contains five parts: 
1.   A 30- to 40-minute video addressing harassment
2.   A review of the applicable University policy on harassment
3.   Completion of an affirmation indicating that you have completed the training and review of the policy
4.   An optional certification acknowledging completion of the training,
5.   An optional survey to provide feedback on the video.
 
Any faculty or staff member who has not yet completed the online harassment training must complete the program on or before September 30, 2015.
If you have any questions, contact the Office of General Counsel at inogc@lehigh.edu or 610-758-3572.