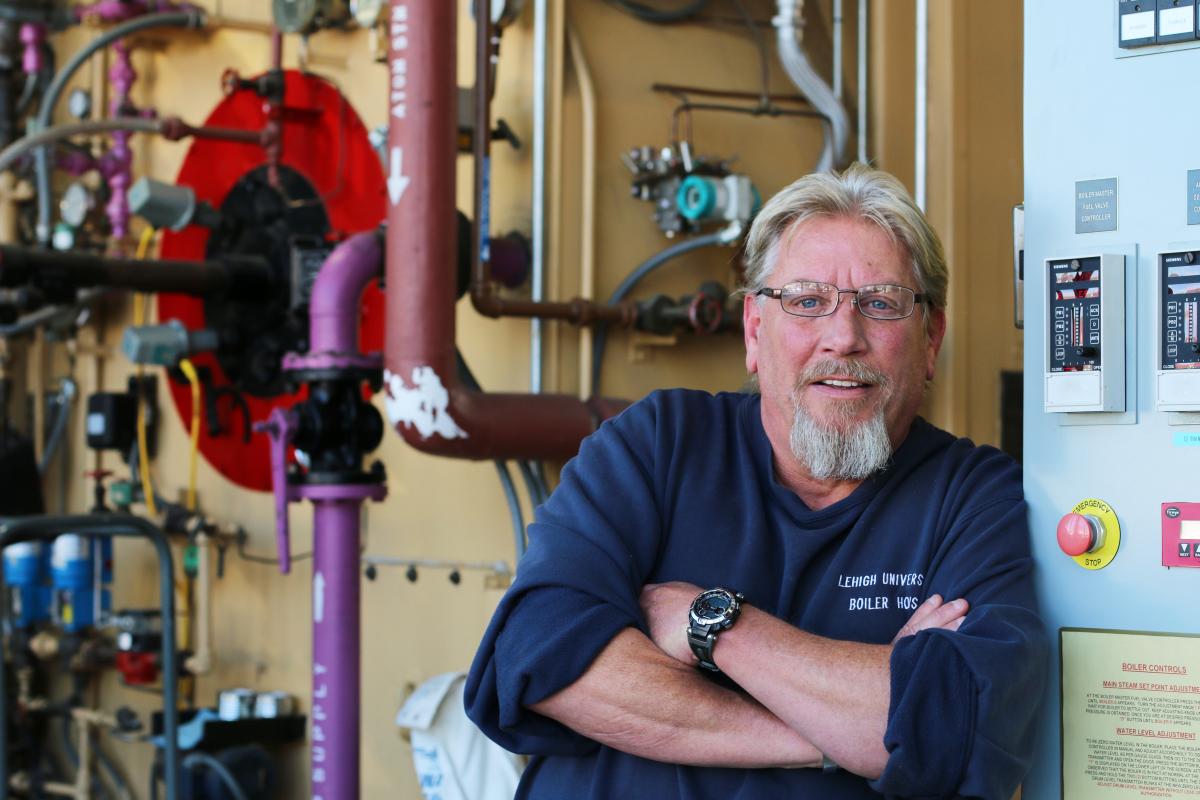 Kent Hayhurst was newly retired from a career in the Navy when he started work as a swing shift boiler operator at Lehigh in 1996. After just three months on the job, he was offered the supervisory role of lead boiler operator.
As the new guy on the team, Kent didn't want to step on anyone's toes, so he asked his boss if he could think about it. Then he went and spoke to the other boiler operators.
"They said to me 'We don't want the position. Too much paperwork. Go for it."
Twenty one years later, Kent still loves what he does. He doesn't even mind the paperwork. He supervises four employees who work shifts around the clock every day of the year.
But About That Paperwork...
Kent has crossed the equator on a Navy vessel. He has crawled on his hands and knees beneath campus and diagrammed all of its tunnels, manholes, and emergency shut off valves. (Yes, as students have claimed for years, there are miles of tunnels winding under campus).  He's always up for a challenge.
Even so, tackling the new Performance Draft Book exercise of mapping Key Accountabilities to Core Success Factors gave him some pause. To prepare, he did a training session with Linda Lefever in Human Resources.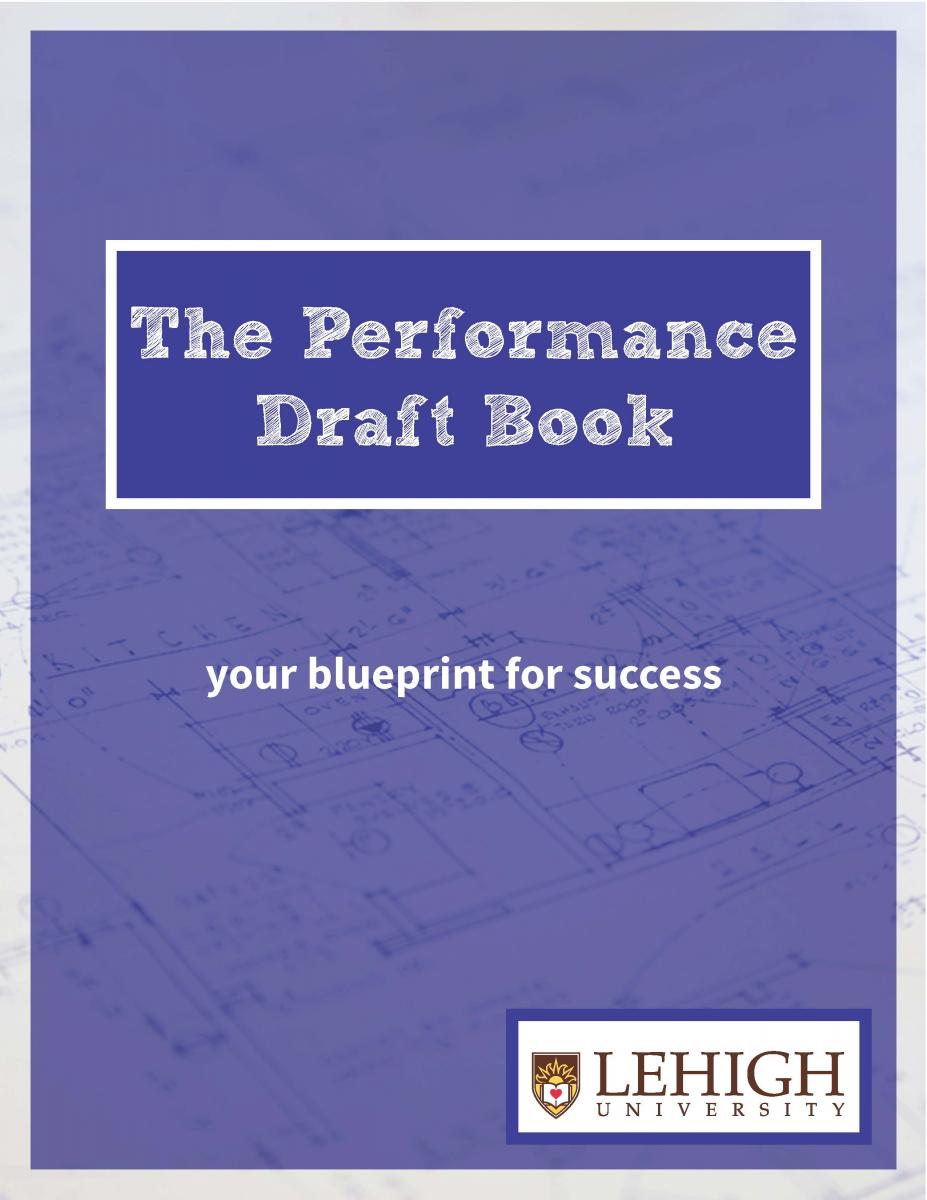 "I took the Draft Book home over the weekend after the training. I sat down at my table for a couple of hours and thought 'How can I take these Success Factors and make them workable for a boiler operator?' I just started playing with it," he said.
First Kent connected a boiler operator's duties to Lehigh's mission and goals (Success Factor #1). "Our part of Lehigh's mission is to make life easier for our students, faculty and staff," Kent said. "We make sure our students have the heating and air conditioning they need in classrooms, and where they eat, sleep and play."
From there, he said, it started snowballing. Soon he had numerous examples of how a boiler operator's day-to-day work ties into the Core Success Factors. Here are a few excerpts:
Success Factor #2 – Embrace and Adapt to Change
1.      Keep up with advanced technology that becomes available for boilers, chillers and associated machinery
2.      Be willing to change with changing policies as new leadership arrives at Lehigh
3.      Keep up to date with new laws, regulations, and Lehigh rules.
Success Factor #3 – Accountability for Work Achievements
1.      Documented monthly hours report show what kind of work you accomplished as well as how much time was spent
2.      PMS books show planned maintenance completed during the month
3.      Weekly emergency generator sheets indicate time starting and stopping generators.
Success Factor #4 – Ownership for Learning and Development
1.      Complete training that Lehigh gives you, whether online, in house or in another campus building
2.      Stay current with new technology by reading owners' manuals and technical manuals.
Success Factor #5 – Communicate Effectively
1.      Students, faculty and staff may ask for tours of the boiler house. Take your time and make them feel comfortable.
2.      Speak to contractors and vendors professionally
3.      Treat official inspectors as well as Lehigh personal who come to inspect the plant with respect.
Success Factor #6 – Demonstrate Creativity and Innovation
1.      Suggestions for improving efficiency, cost and time management are always listened to and appreciated
2.      Show initiative and creativity and in the day to day operations to make a difficult task easier
3.      Step up to the plate when times get rough and offer to fill shifts and/or help a colleague.
Advice From a Pro
Kent gained a lot of his initial leadership style in the military, and has added to it over the years through experience and professional development at Lehigh. "The way I operate with my employees is that I get them to think for themselves," he said. "I instill in them that they should always be thinking of things and being innovative and come to me with their ideas. And they do."
Whether you are an employee or a supervisor, Kent thinks you'll find using the Draft Book for performance management an improvement.
"It's more times a year but it's easier," he said. "In the past, I'd go a whole year and forget things. Doing it quarterly means that things are fresher in my mind."
With the end of the first quarter of the year approaching, Human Resources recommends starting to use your Draft Book by going through the Success Factors exercise.
If you're a supervisor, consider helping your staff get the ball rolling by doing the exercise yourself from their point of view like Kent did.
"That's how I attacked it and it worked great for me," he said. "I sent my team a copy of my version, and now I'm looking forward to getting their feedback to see if my ideas helped."
About The Boiler House
The Boiler House team makes all the steam for heating and humidity control for 36 buildings and chills the water that cools 14. They also serve as the after-hours call center for Lehigh, responding to students and others overnight in what Kent calls a collaborative function for the Facilities Department. "It's an exciting job. It keeps us on our toes and keeps us busy," he said.
The current facility dates to 1968. It has remained state-of-the art over the years with the addition of digital controls and other systems improvements. Like Kent, the other four employees in the plant got their experience running similar facilities in the military, especially on ships like carriers, destroyers and fast frigates. With the Navy and Coast Guard phasing out steam power, finding experienced operators is getting to be more of a challenge.
Being in the center of campus on Packer Avenue, with floor to ceiling glass walls, the Boiler House has a tendency to draw attention. The team takes pride in keeping it in ship shape.
"I have an open door policy for tours. From the Board of Trustees to students, everyone is welcome. A lot of parents stop by and ask what we do in here," Kent said. "Usually boiler houses are kept in a dark dungeon, but ours is a showpiece."