Thursday, October 7, 2021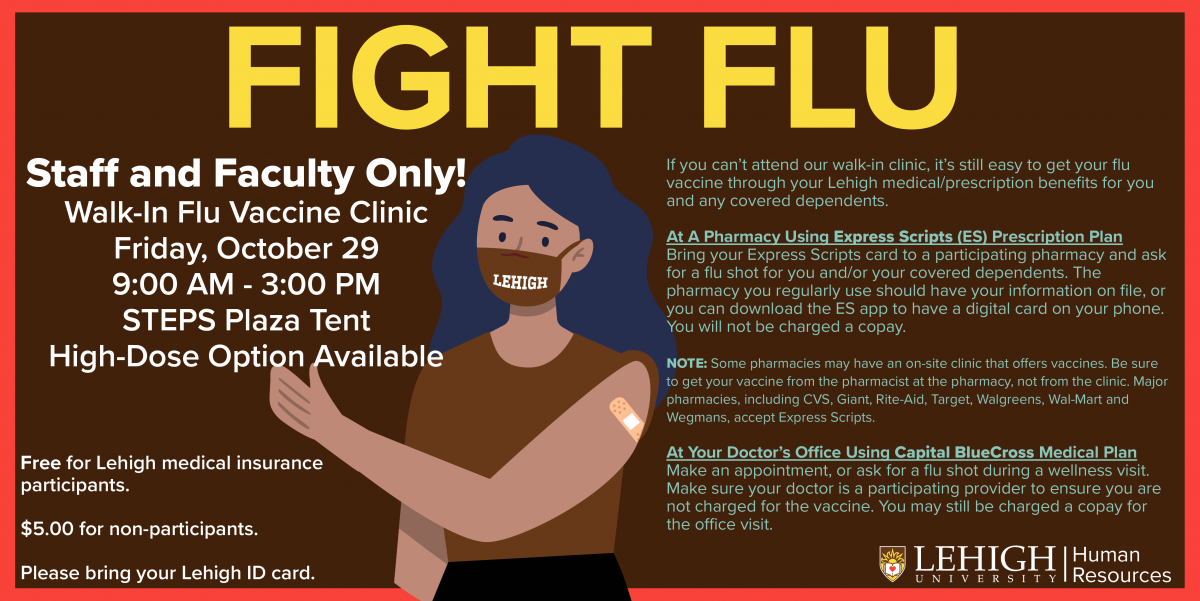 Plain Text Version:
Fight Flu! Walk-In Flu Vaccine Clinic for Staff and Faculty Only. Friday October 29th from 9:00 AM to 3:00 PM. Location: STEPS tent. High-Dose Option Available. Free for Lehigh medical insurance participants. Five dollars for non-participants. Please Bring your Lehigh Identification Card.
If you can't attend our walk-in clinic, it's still easy to get your flu vaccine through your Lehigh medical/prescription benefits for you and any covered dependents. At A Pharmacy Using Express Scripts (ES) Prescription Plan: Bring your Express Scripts card to a participating pharmacy and ask for a flu shot for you and/or your covered dependents. The pharmacy you regularly use should have your information on file, or you can download the ES app to have a digital card on your phone. You will not be charged a copay. NOTE: Some pharmacies may have an on-site clinic that o ers vaccines. Be sure to get your vaccine from the pharmacist at the pharmacy, not from the clinic. Major pharmacies, including CVS, Giant, Rite-Aid, Target, Walgreens, Wal-Mart and Wegmans, accept Express Scripts. At Your Doctor's Office Using Capital BlueCross Medical Plan:  Make an appointment, or ask for a flu shot during a wellness visit. Make sure your doctor is a participating provider to ensure you are not charged for the vaccine. You may still be charged a copay for the office visit.