Social Distance Your Toothbrush If You're S
ick
Right now, it's more important than ever to practice proper toothbrush hygiene – especially if you're sick. Because when you brush your teeth, germs end up on your toothbrush. And if it's stored in a shared toothbrush holder, germs can spread to other people in your house.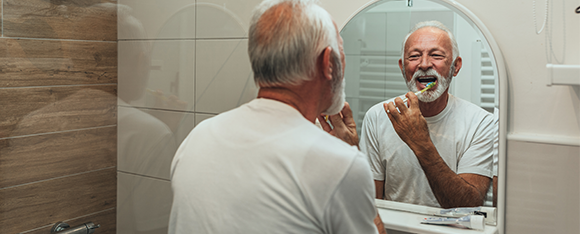 Follow these toothbrush hygiene tips to help keep your family healthy, whether you have a cold, the flu, and especially if you get COVID-19.
Keep your toothbrush separate

  Isolate your toothbrush by your bedside table or in another separate area. Keep it upright in a cup or other toothbrush holder.
Wash your hands before and after brushing or flossing

  The CDC says to wash with soap and water for at least 20 seconds, or use hand sanitizer that's at least 60% alcohol. 
Disinfect the handle

  After brushing, wipe your toothbrush handle with a safe household disinfectant. The coronavirus can live for 2 to 3 days on plastic surfaces like a toothbrush.
Don't contaminate the toothpaste

  To avoid touching the tube to your brush, queeze toothpaste onto a Q-tip or piece of wax paper, then apply it to the bristles. 
Never share a toothbrush

  Adults know better, but kids can grab the wrong brush by mistake. Try color coding the family's toothbrushes to help prevent swapping bacteria.
Trash your toothbrush after being sick

  Get a new toothbrush or new head if you use an electronic toothbrush. Even if you're healthy, you should replace your toothbrush every 3 to 4 months.