Have you been signing up for challenges and earning BeWell points, but you still haven't received a reward? It could be that you've skipped the basics. Don't lose out – make sure you've taken all three of the required steps you need to level up.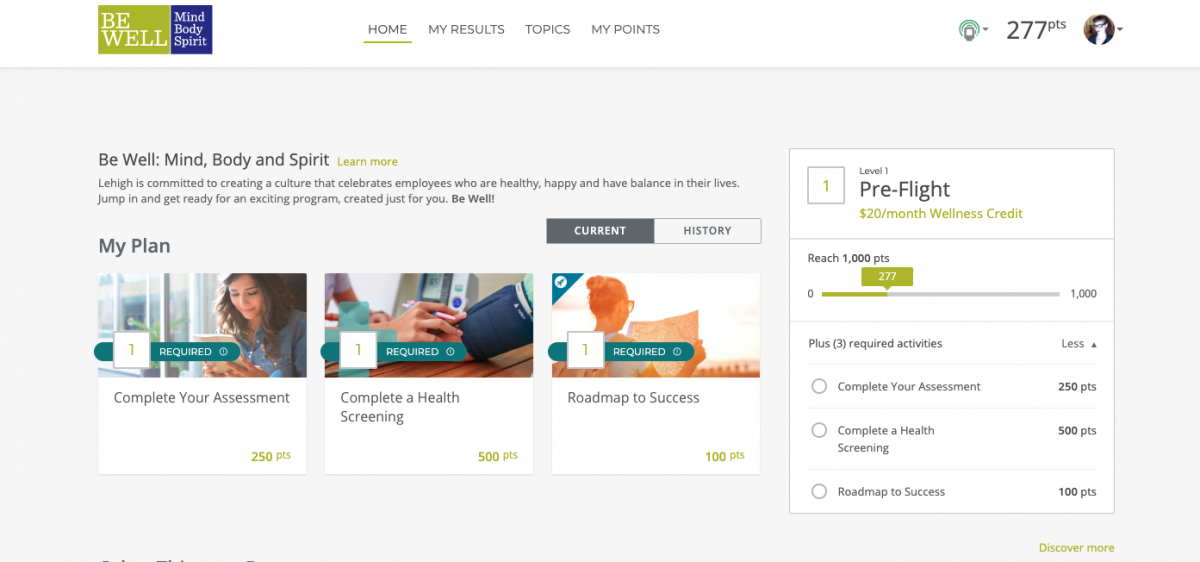 One: Complete Your Assessment
The Assessment is an online questionnaire that provides you with an analysis of your well-being. In addition to learning about suggested areas for you to focus on, you earn 250 BeWell points for this task.
Two: Complete Your Health Screening
Although Healthscan has passed for this year of Be Well, it's not too late to complete this task. If you missed the onsite event, click here for a Quest Form to take to any one of Quest Labs for a blood draw. Please remember to fast for 10 hours.
If you choose one of the additional tests ($10 each - which Lehigh will bill after) please check off the box BEFORE you enter Quest labs. We recommend making an appointment by following these directions:
Go to www.questdiagnostics.com
Click on - Make an Appointment
Click on - Find a Location Near You
On the drop-down menu, Select Purchased My Own Test
Click on the Location You Prefer
Click on - Schedule an Appointment
Select Your Preferred Date/Time
Fill Out the Required Information (Name, Address, etc.) and submit
You will receive an immediate confirmation.
Please email Mary Jo McNulty (mjd4@lehigh.edu) when you have your blood drawn so she can notify ADURO. In addition to providing you with important data about your health, this screening will earn you 500 BeWell points.

Three: Start Your Roadmap For Success
The Roadmap for Success asks the question: What if anything was possible?
A fresh start, an understanding of what you want to accomplish and why it is important? A commitment to enhancing your health and well-being? And more important, what if you could create a burning desire to reach your personal and professional goals?
Even if you took part in Roadmap exercise last year, you still must complete this exercise. You can choose to identify a new vision for yourself and use the roadmap checkpoints to see this vision come to fruition. Or, continue on your journey to success by revisiting your old goal and updating it to align with your current values.
To complete this task, click on the "Participate in the Roadmap For Success" button and follow the instructions. When you finish, you will earn 100 points.

These three required actions will net you 850 BeWell points. If you've been earning points through challenges, you'll most likely achieve Level One once they are complete. You'll begin earning the monthly BeWell credit and be eligible for discounted prices on group exercise classes at Taylor Gym.
So make sure you get what's coming to you! Finish your required BeWell Basics as soon as possible. As always, if you have any questions, feel free to contact Mary Jo McNulty via email or at extension 8-3894.