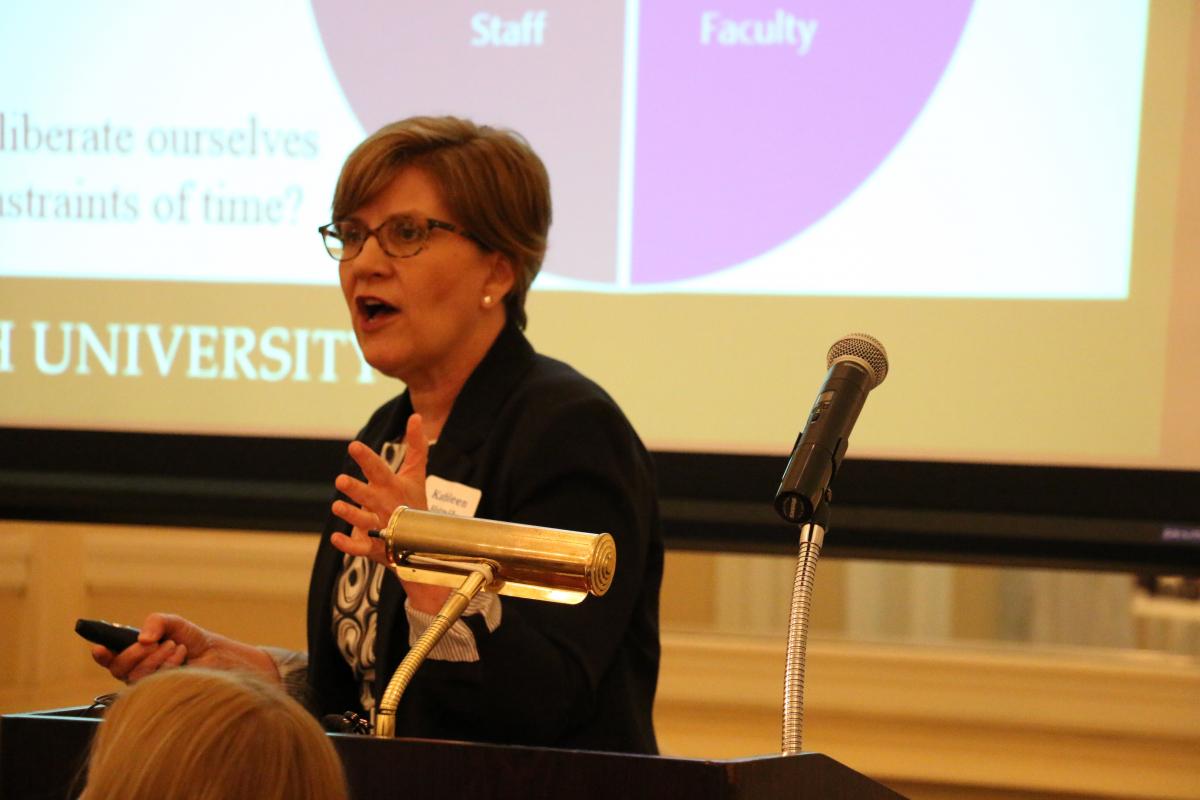 Kathleen Hutnick, Ph.D. (photo, right), Associate Dean and Director of Graduate Student Life, (photo, right) has a pretty good idea at this point in her life where her professional strengths and weaknesses lie. So when she was offered the opportunity to participate in the first-ever Lehigh Pragmatic Leadership Program, presented by the Bacharach Leadership Group, she jumped at the chance.
"I hoped the program would help me address those areas where I need to improve," she recently reflected. "As a 'people person,' the focus of this leadership training helped articulate the more practical – pragmatic – skills that I need to increase my effectiveness in my role." 
For Assistant Vice President of Alumni Affairs Jennifer Cunningham, her reasons for taking on the commitment of a year-long program were tied to Lehigh's ambitious goals. "I knew Sam [Bacharach]'s work and reputation from my previous institution so I jumped through hoops to make sure I could fulfill the attendance requirements," she said. "I expected to gain practical, proven tools to help me grow and evolve the alumni relations program in anticipation of our billion dollar campaign."
Jennifer and Kathleen were among 27 Lehigh staff from across the university who were nominated by their supervisors for this intensive, hands-on leadership development experience. The program culminated in presentations to senior leadership in May.
About BLG and Pragmatic Leadership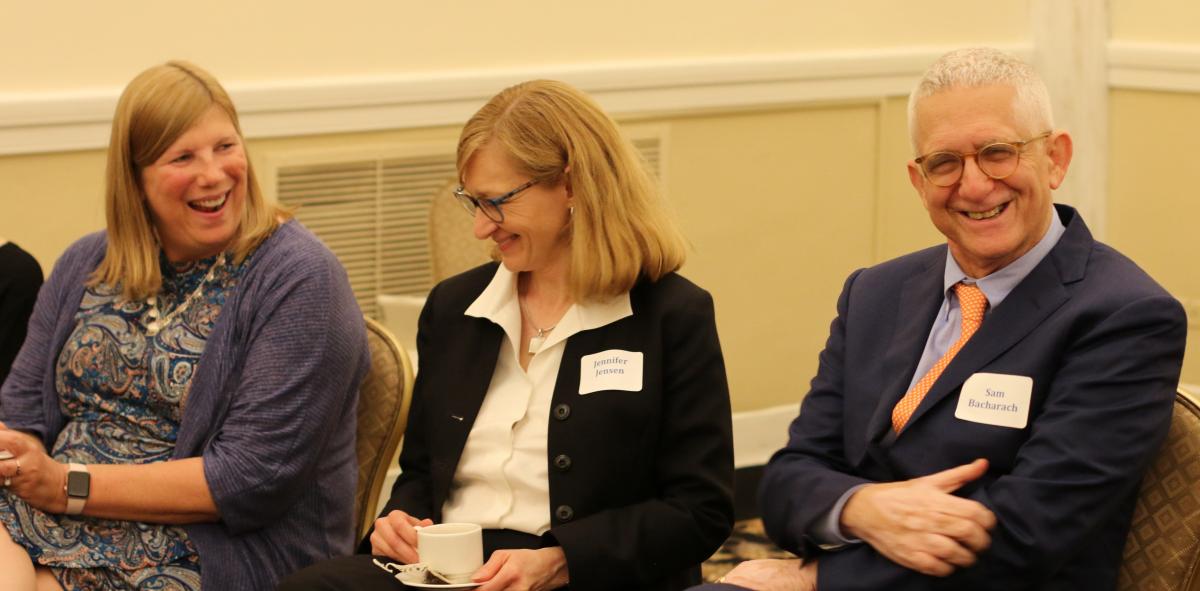 The Bacharach Leadership Group (BLG) is a consulting organization that provides training and facilitation for universities and companies seeking to enhance their employees' leadership abilities. Co-Founder Sam Bacharach (photo, right) is the McKelvey-Grant Professor of Labor Management at Cornell University's ILR School. His partner, Yael Bacharach, is a practicing psychotherapist and coach. 
The program at Lehigh focused on two main elements: learning the skills of pragmatic leadership and learning to be a coach as a supervisor.
Susan Gunelius, Editor-in-Chief of Women on Business describes pragmatic leaders as "focus[ed] on the processes behind any task, initiative, or goal. Their top priority is to figure out how the team is going to get things done. As a result, they are often mistakenly accused of being negative in their approach when in fact they simply view the entire picture (roadblocks included) to get to the end result. It's a much more linear, practical way of thinking and doing than the way idealist leaders think."
Kathleen says pragmatic leadership can take an idea from grand vision to completion. "I learned that the action happens in the middle," she said. "You can have the big idea (the beginning) and the vision of what a successful outcome would look like (the end), but in order to get to that outcome, you have to move things in the middle. So often, we have big ideas that end up getting shelved because we don't know how to move forward."
Jennifer Cunningham says that this necessary middle work can take a long time. Patience and negotiating skills are essential. "The ideas that get implemented aren't necessarily the best, but rather, the ones that are posed by those who either have the most patience or who can get people with vastly different agendas on their side," she noted. "I don't have any patience, so this course was invaluable!"
Women's Basketball Head Coach Sue Troyan noted that part of the process of leading change in the higher education environment is making your case to others. She says the program helped her hone that skill. "It gave me a stronger base for understanding how to pitch arguments, how to create buy-in, and how to develop coalitions throughout a university setting,"
Group Projects Focused on Lehigh's Future
 
Naturally, the best way to learn pragmatic leadership is through a real-world project. The 27 participants divided into three groups and tackled topics of interest to Lehigh senior leadership tied to the priorities of the Path to Prominence: staffing the new college of health; developing a "one Lehigh" mindset; and enhancing academic advising.
Each group was tasked with researching their topic and developing a set of recommendations that they presented to President John Simon, Provost Pat Farrell and other senior leaders at the end of the semester. Jennifer Mertz, Director of Financial Aid, valued the opportunity, which included a question and answer session for each group.
"The program taught us how to speak to senior leaders of the University," Jennifer Mertz noted. "It taught us how to present an idea or proposal by taking a very detailed request and focusing on how that one small request fits a much larger goal of the University." 
Taking on topics specific to Lehigh afforded the groups the chance to get to know each other better. Chad Kusko, Administrative Director at ATLSS, left impressed by his colleagues. "The group project reinforced that the University is staffed with bright, hard working, creative people," he said.
Jennifer Cunningham says Lehigh has "rock star" staff.  "We have amazing talent here," she said. "I realized how many partners I can have around the university to engage alumni."
From Supervisor to Coach
 
Transforming a supervisor into a coach is a process that requires a significant shift in perspective. Kathleen noted that the coaching training provided by Yael Bacharach was incredibly helpful. "Effective coaching is founded on the belief that the answer is inside the person who is seeking advice," she said.
To allow the person seeking advice to pull that answer out from inside requires listening. Chad believes the training he received will impact his behavior. "I'm learning to force myself to not jump in and provide an answer or solution immediately," he said. "Rather, I'm striving to be better at empowering other staff members to drive to the answer of a challenge."
It's not always easy, of course. For Yenny Anderson, Director of Institutional Research, allowing space for thoughtful pauses takes practice. "I have learned the value of silence and no longer feel as if a silent moment during a conversation is an awkward moment," she noted.
Patricia Mann, Director of Administration, Provost's Office, says it takes extra effort to put coaching principles into action. "We are all so busy and caught up in our day-to-day activities, but if we listen more carefully, the outcome for all is always a positive outcome."
An Army of Good Leaders
 
For Emily Ford, Assistant Dean in the College of Business and Economics, one key insight from the program is that leadership is situational. "I learned the importance of leading from where you are, regardless of your title," she said, "and that you should take time to understand the political terrain of your organization."
Each member of the first Lehigh Pragmatic Leadership program went on a journey of self-discovery. They also gained a new network of 26 new contacts at the University who can serve as resources and potentially as partners in support of Lehigh's vision and mission.
"I learned that we are all leaders in our own unique ways, but a true leader is developed over time," Yenny reflected. "Programs like these will help build an army of good leaders that will help Lehigh University move into the future."