Friday, February 22, 2019
For the seventh year, Lehigh University is participating in the national 2019 RecycleMania competition.  The event continues through March 30.  RecycleMania is a friendly competition between colleges and universities to promote waste reduction and recycling activities in campus communities.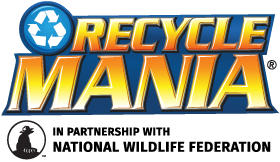 The Spot spoke with Alex Almonte, Graduate Assistant in the Office of Sustainability, to learn more about this year's competition. He said that as in past years, they'll be measuring total pounds of trash and the amount of trash that is diverted from the waste stream into recycling. But this year, there is a new emphasis for Lehigh on the issue of recycling contamination.
"The climate around the business of recycling has changed a lot in the last year," Alex explained. "Much of the recycling in the United States is outsourced overseas and the vendors have greatly increased restrictions on the amount of contamination that is acceptable."
Alex said that the allowable amount of contamination has dropped to just one half of one percent (.5%). "Imagine if you have a whole garbage bag full of clean recycling and you have one small piece of bread mixed in, or a few drops of liquid in a plastic bottle," he said. "That would contaminate the whole bag and that bag wouldn't be accepted."
Because of this change, the Office of Sustainability will be focused on the goal of Zero Contamination Recycling. "It's a big change for a lot of people. It's something they didn't really think of before," Alex said. "So, contrary to what we've been used to, if you have any doubt about an item, you should throw it out, because if you put it in the recycling bin, you could be ruining a much larger amount of recyclables."
The RecycleMania team will be on hand on the second floor of the UC every Friday through the end of the competition to help educate students, faculty and staff about what contaminates recyclables. The Office of Sustainability and LU Facilities are also planning longer term changes in campus signage and bins for trash and recycling so that the university can greatly reduce its contamination levels and increase its recycling rate.
Learn more about how the Office of Sustainability works with faculty and staff.

How can you help Lehigh achieve ZERO recycling contamination?
STEP 1: Make sure you only recycle items that can be recycled at Lehigh.  Every municipality has different recycling rules, so what you can recycle at home may be different than here on campus!
Learn what is and isn't recyclable at Lehigh
Review this recycling flier and trash flier
STEP 2: Make sure your recyclables are clean and empty.  This means rinsing off any food residue and dumping out any liquids before you toss them in the recycling bin. 
Other Ways to Get Involved in RecycleMania:
Use a reusable mug to avoid using single use coffee cups. Lehigh Dining is offering $0.99 brewed drip hot coffee (any size) when you use a reusable mug during RecycleMania.
Swap out your desk-side 7 gallon trash bin for a mini bin. To kickstart a good recycling habit.  Register here.
Start recycling K-Cups in your office.  Pick up a K-Cup recycling collection box at Purchasing Services (3rd and New St) or at Lab Stores (6 East Packer Avenue Room 132). The boxes are pre-paid, and there is NO cost. Once the box is filled, simply contact UPS to have the box picked up.
Participate in the Used Athletic Shoe Drive from Feb 15 - Mar 1. Collection boxes will be set up at the following locations: Iacocca Hall, 2nd Floor Room B-212; STEPS Concourse; Taylor Gym near Fitness Center; Stabler Arena Lobby; Williams Hall Global Commons; Lehigh Bookstore; Hawk's Nest.
To see the full list of RecycleMania events and campaigns, click here.