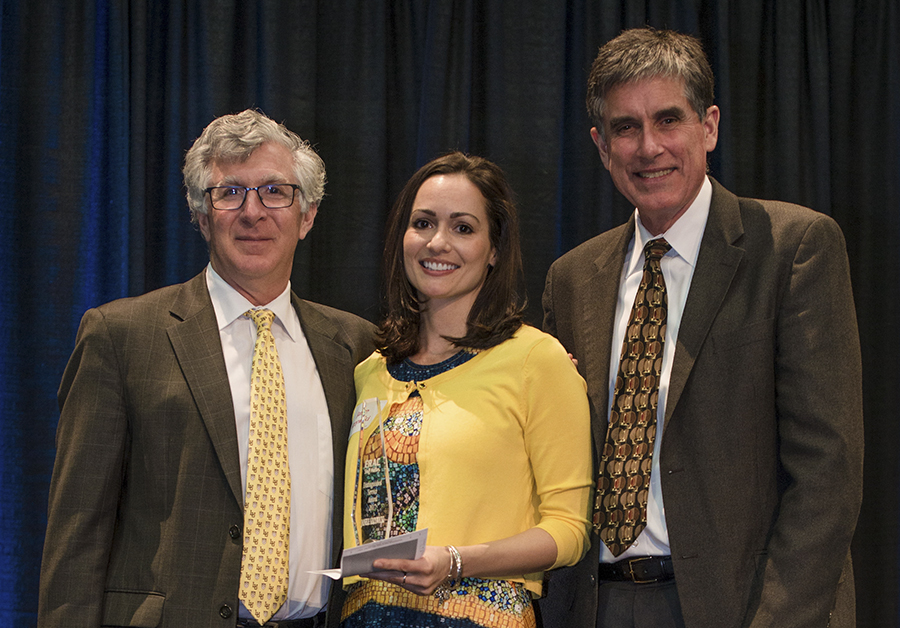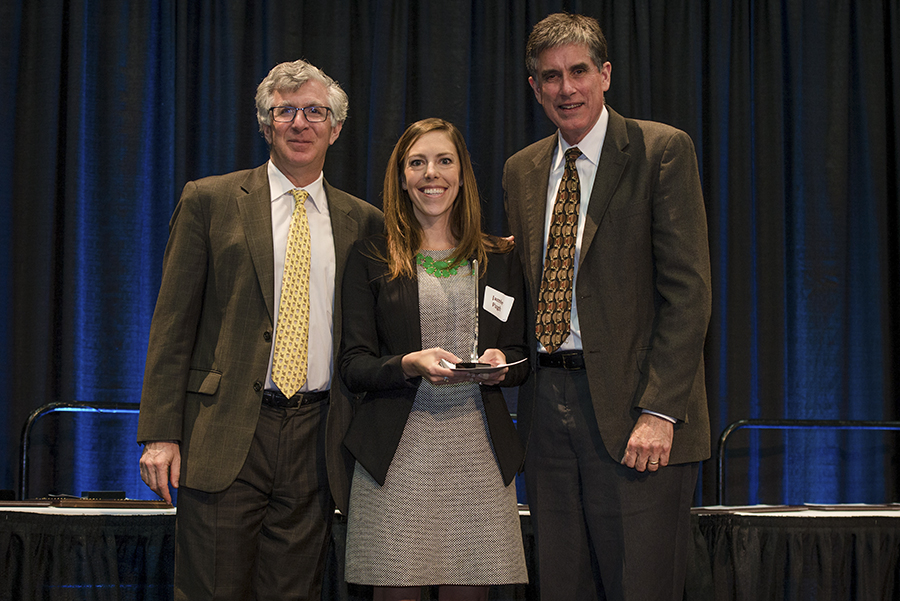 ERAC Distinguished Service Award
Janele Krzywicki (top), Provost's Office
Jamie Pugh (bottom), College of Business and Economics
Since 1993, the Employee Relations Advisory Committee (ERAC) Distinguished Service Award has recognized outstanding performance of Lehigh staff members. ERAC Chair Angela Scott Ferencin presented the awards, citing Krzywicki's care for every aspect of the faculty life cycle at Lehigh and Pugh's passion about her job and making Lehigh a better place.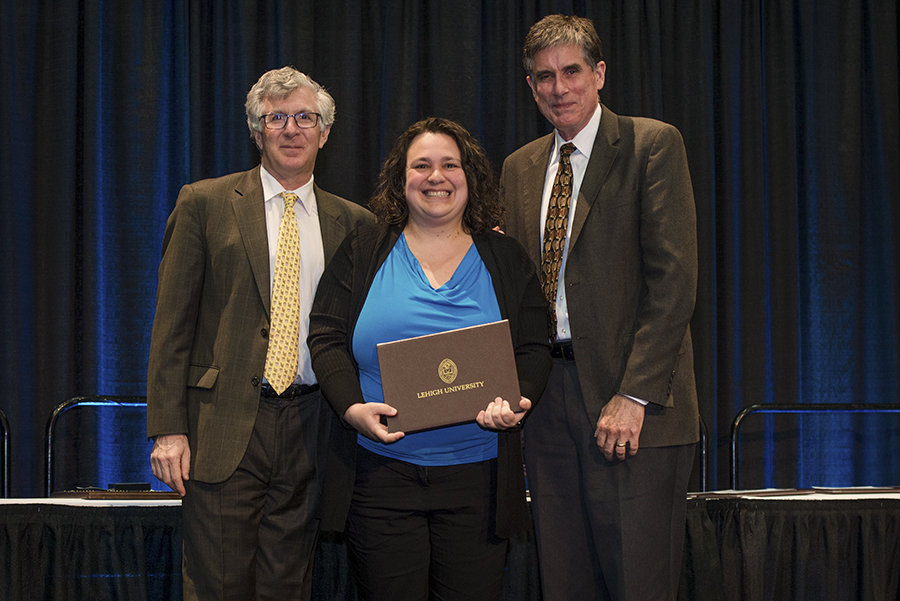 Paul J. Franz Award
Carolina Hernandez, Director, Community Service Office
The Paul J. Franz Award recognizes a professional staff administrator who combines excellence of performance with a service of dedication and devotion to Lehigh University. Carolina tirelessly trains her student staff to be effective, capable, and mission-driven members of a team that views service to others as a privilege. Her boundless energy, compassion, sense of humor, and belief in the power of a united community that make her an inspiration to all who have the opportunity to work beside her.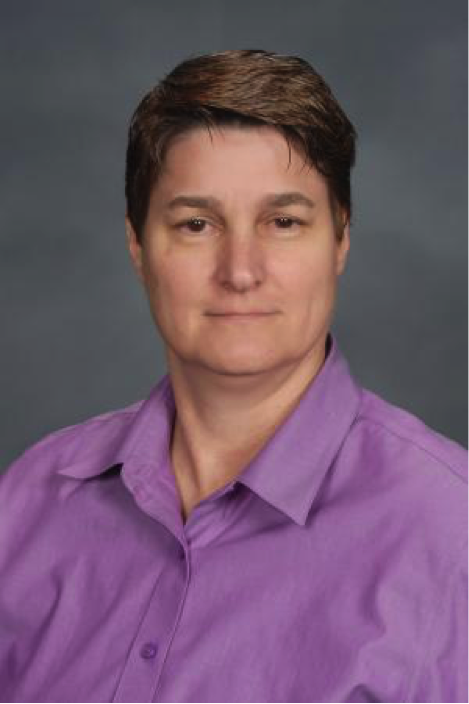 Deming Lewis Faculty Award
Anne-Marie Anderson, Associate Professor, Finance and Law
The Deming Lewis Award recipient was a faculty member while the 10-year reunion class was in school and has been judged by the 10-year reunion class to have most significantly influenced their members' educational experience. In 2009, Professor Anderson was named the third Joseph R. Perella and Amy M. Perella Chair in Finance. One alumnus noted: Professor Anderson "has the ability to unearth something in students that perhaps they did not know was there."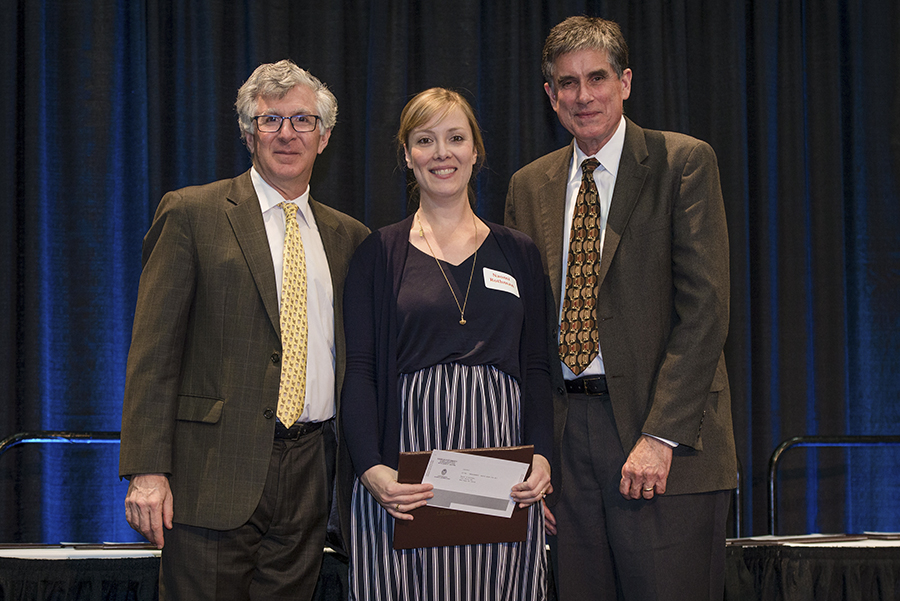 Carl and Ingeborg Beidleman Research Award in Business and Economics
Naomi Rothman, Assistant Professor, College of Business and Economics
The Beidleman Research Award highlights quality research and refereed scholarship in business and applied economic disciplines.  Dr. Rothman's research examines the unexpected ways that people make higher quality decisions and influence others to make higher quality decisions through their use of emotions and social power.  She is credited as the researcher in the field of emotion who coined the term "ambivalence," which has stimulated a stream of research.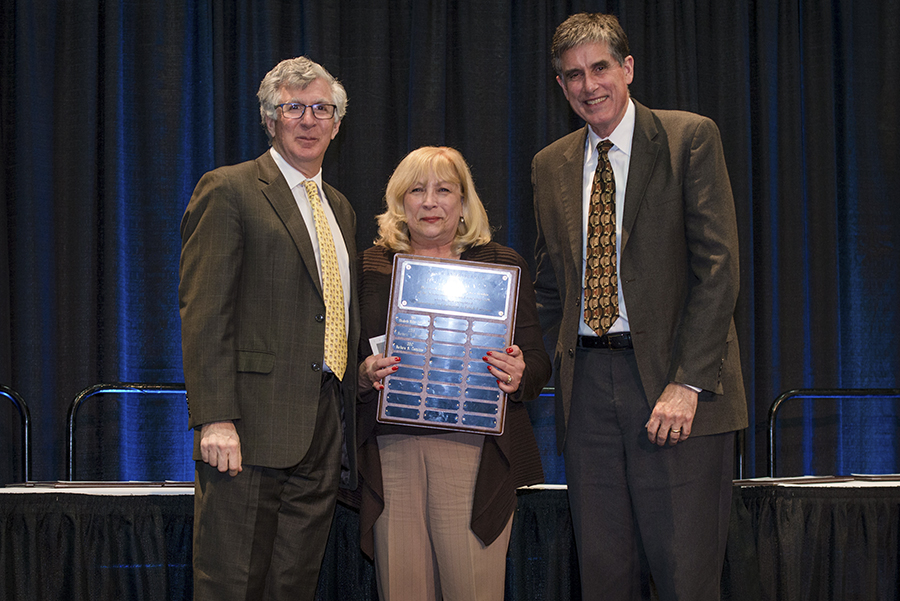 The John W. and Barbara R. Woltjen Award
Barbara Campione, Finance and Administration Office
Pat Johnson, Vice President of Finance and Administration presented this award which is awarded annually to a member of the nonexempt staff in the Finance and Administration area who shows commitment and dedication to Lehigh and demonstrated exceptional service to the campus community. Johnson highlighted Campione's eagerness to take on new projects and see them to successful completion.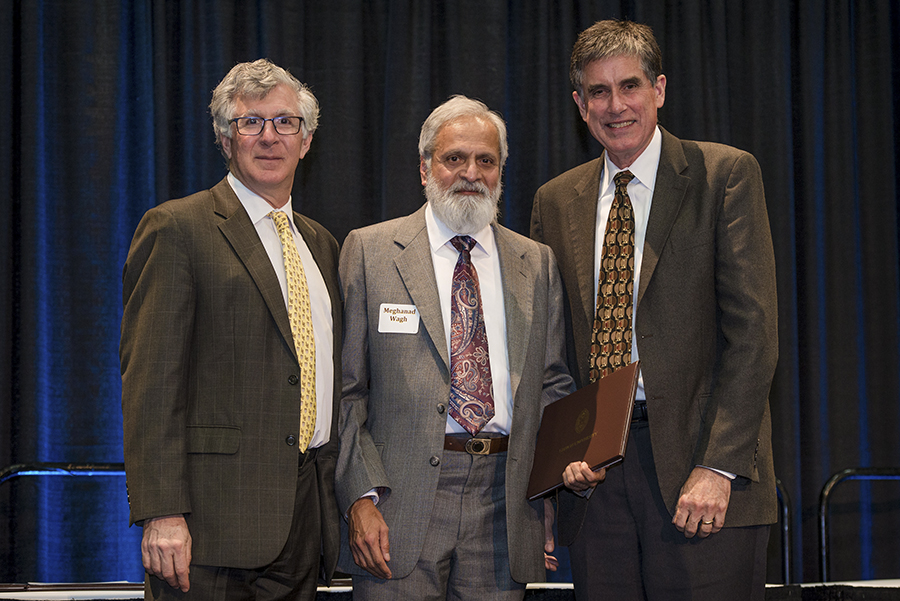 Christian R. and Mary F. Lindback Foundation Award
Meghanad Wagh, Associate Professor, Electrical and Computer Engineering Department
The Lindback Foundation Award is given to a faculty member for distinguished teaching performed during the academic year. Dr. Wagh has spearheaded the teaching activities for the core Computer Engineering program and has contributed significantly to teaching both undergraduate and graduate core curriculum in the ECE department.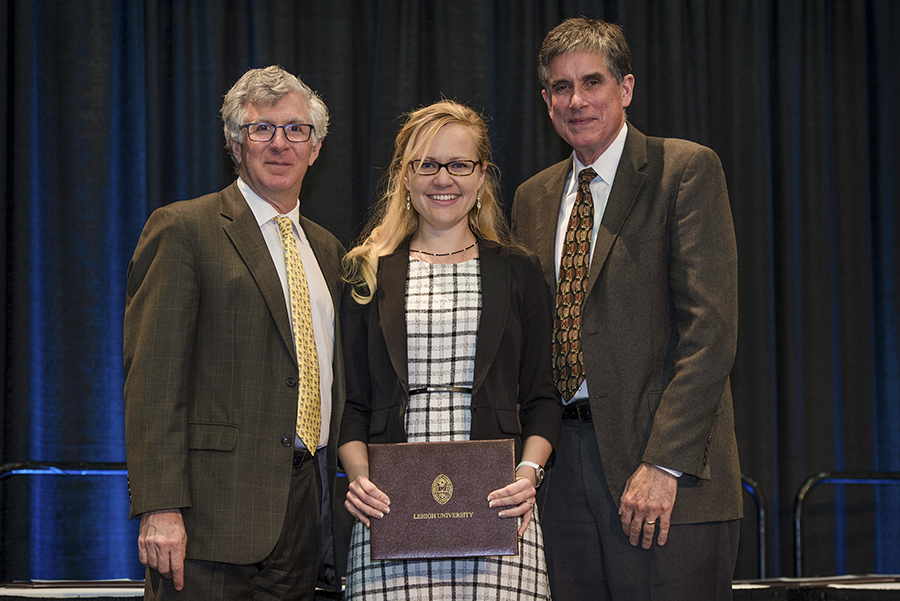 LU Early Career Award for Distinguished Teaching
Marina Puzakova, Assistant Professor, Marketing Department
This award is presented to a junior member of the faculty for distinguished teaching performed during the academic year.  Dr. Puzakova has innovated in her teaching, developing a new course in Digital and Social Media Marketing and recruiting local area businesses to add an experiential component to her class.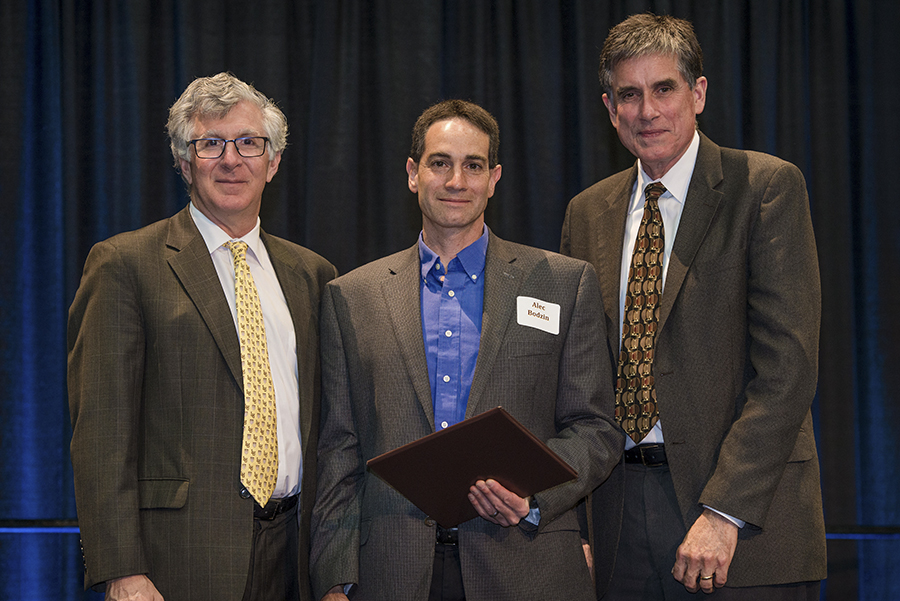 Perry A. Zirkel Award for Distinguished Teaching in Education
Alec Bodzin, Professor, Education and Human Services
The Zirkel Award recognizes a faculty member in the College of Education with a national or international reputation as a respected scholar.  He has a long track record of research in technology-mediated science and environmental education and inquiry-oriented science teaching techniques.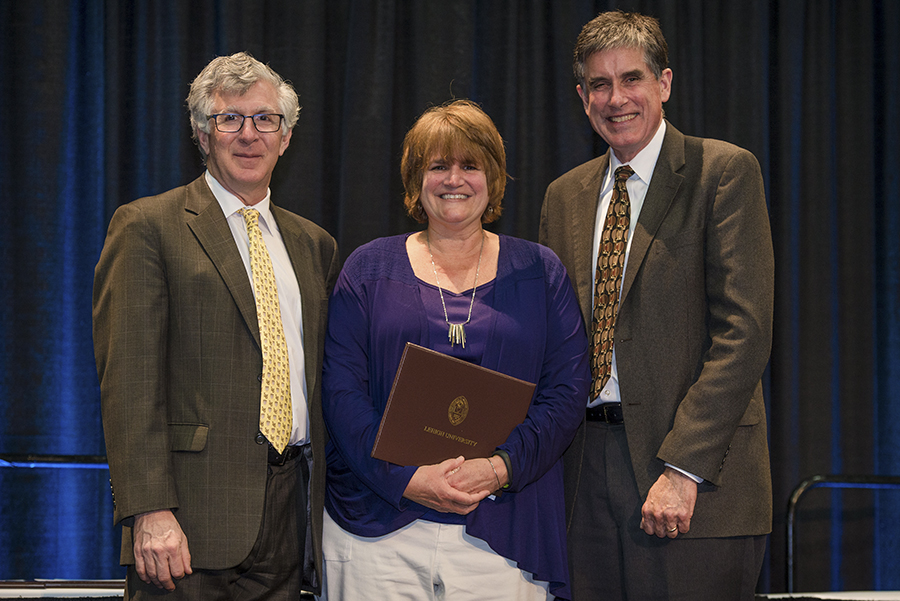 Perry and Carol Zirkel Nonexempt Staff Award
Kathy Throne, Journalism Department
The Zirkel Nonexempt Staff Award recognizes outstanding performance and contributions by a member of the University's nonexempt staff. Throne has also taken on many extra duties with the Epitome and Brown and White business team and in other areas of the department in the past two years, and has accomplished her work with consistent excellence.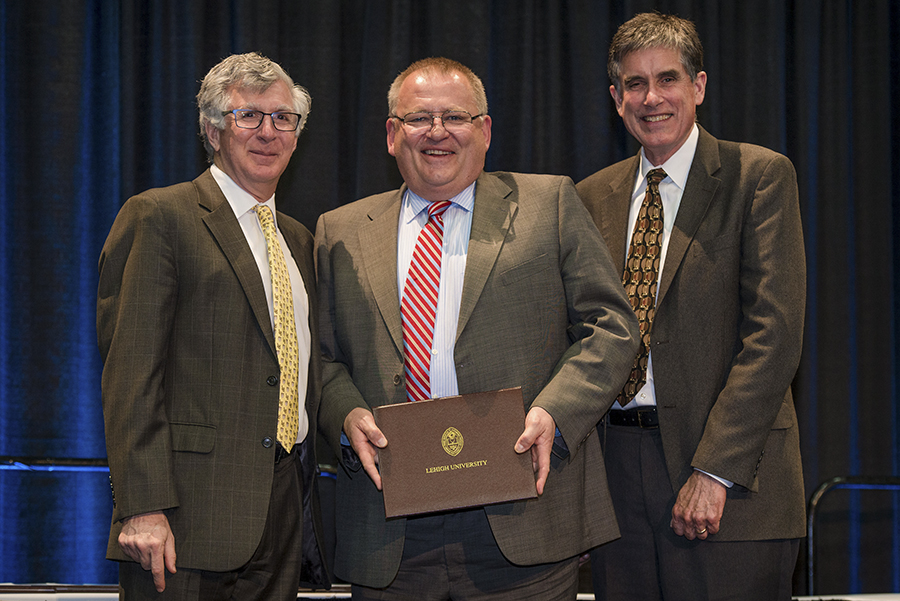 LU Award for Distinguished Service
Edward Shupp, Chief of University Police
The Award for Distinguished Service is given to a member of the exempt staff who has contributed in significant ways to the Lehigh community over a number of years. Chief Shupp has provided four decades of outstanding service to Lehigh. His efforts to enhance safety on and off campus have been numerous, including the expansion of the emergency telephone system and establishing a community policing approach.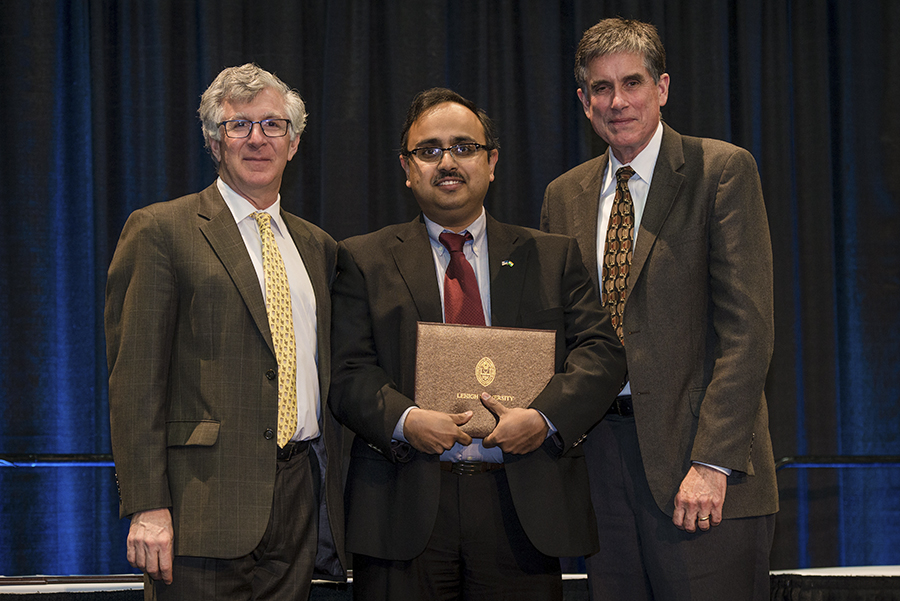 Eleanor and Joseph F. Libsch Early Career Research Award
Arindam Banerjee, Associate Professor, Mechanical Engineering and Mechanics
The Libsch Early Career Research Award, named in honor of Lehigh's first vice president for research and his wife. It honors a faculty member who is early in their research career and who has demonstrated the potential for high-quality research and scholarship. Dr. Banerjee is viewed as a world leader in modeling flow behavior in complex systems germane to both energy applications and human wellness. His recent research in fluid flow in ventilated human airways holds the potential for significant future impact.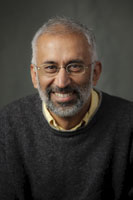 Eleanor and Joseph F. Libsch Research Award
Anand Jagota, Professor, Chemical and Biomolecular Engineering
The Libsch Research Award rewards those conducting distinguished research. Dr. Jagota is known internationally for his expertise in the area of adhesion, particularly biomolecules (for example DNA) and carbon nanotubes. His contributions are exceptional for their fundamental depth, interdisciplinary synthesis of concepts, and their ability to make an impact on real-life applications.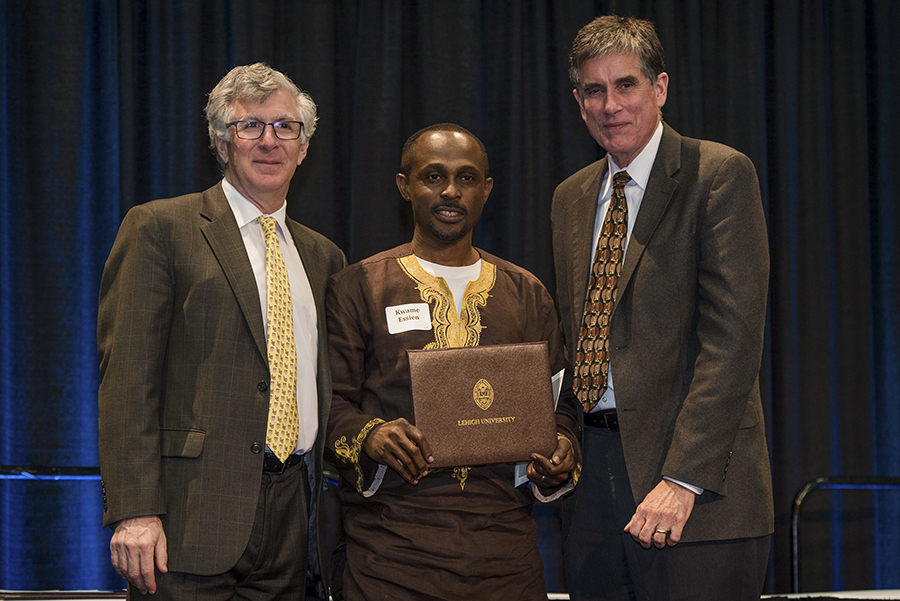 Alfred Nobel Robinson Faculty Award
Kwame Essien, Assistant Professor of History and Africana Studies
The Alfred Nobel Robinson Faculty Award is given to a faculty member for achieving excellence in teaching or research, or for advancing the interests of the university. Dr. Essien has contributed tremendously to Lehigh's ongoing investment in interdisciplinary scholarship, teaching, and service, particularly collaborative local and international initiatives across several campuses and countries, particularly in Ghana, West Africa.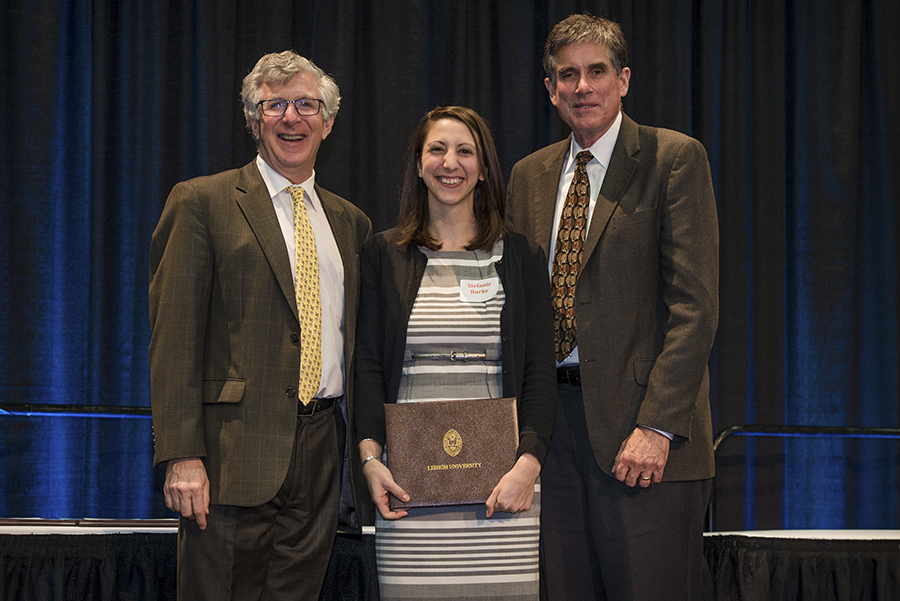 Alfred Nobel Robinson Staff Award
Stefanie Burke, Assistant Dean, Director of First-Year Experience in Student Life
The Alfred Nobel Robinson Staff Award recognizes a staff member's outstanding performance in service to the university and unusual promise of professional achievement. She made great strides to contribute to Lehigh University and to her profession as the regional membership and outreach coordinator for NODA, the association devoted to orientation, transition and retention of undergraduate students. As a young professional, she shows unusual promise of professional achievement.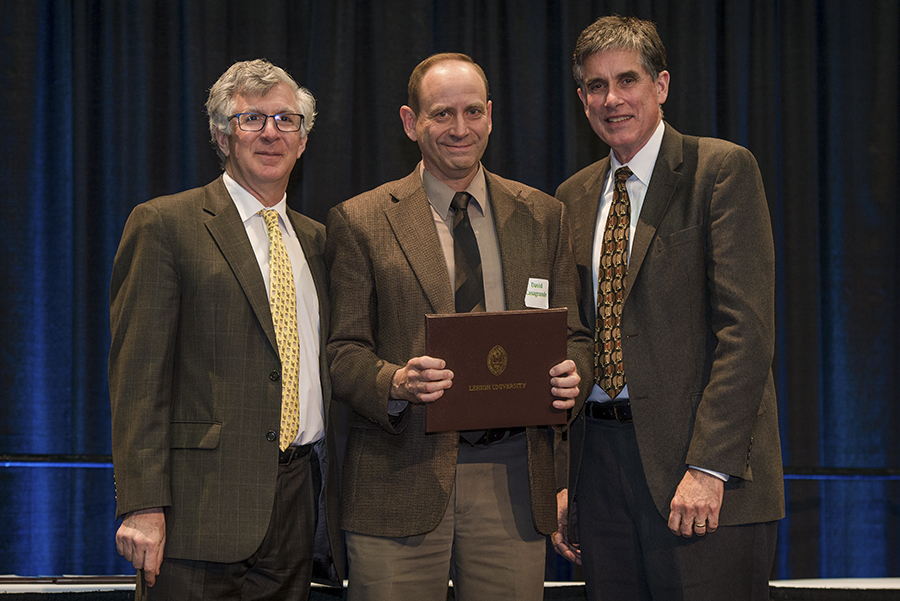 Stabler Award for Excellence in Teaching
David Casagrande, Associate Professor, Sociology and Anthropology
The Stabler Award for Excellence in Teaching goes to a member of the faculty who has demonstrated not only mastery of his or her field and superior ability in communicating it to others, but also an exceptional talent for encouraging students. Dr. Casagrande's courses present real-life issues on climate change, destruction of native cultures, population growth, and food and water scarcity. He challenges students to deeply understand and propose their own solutions.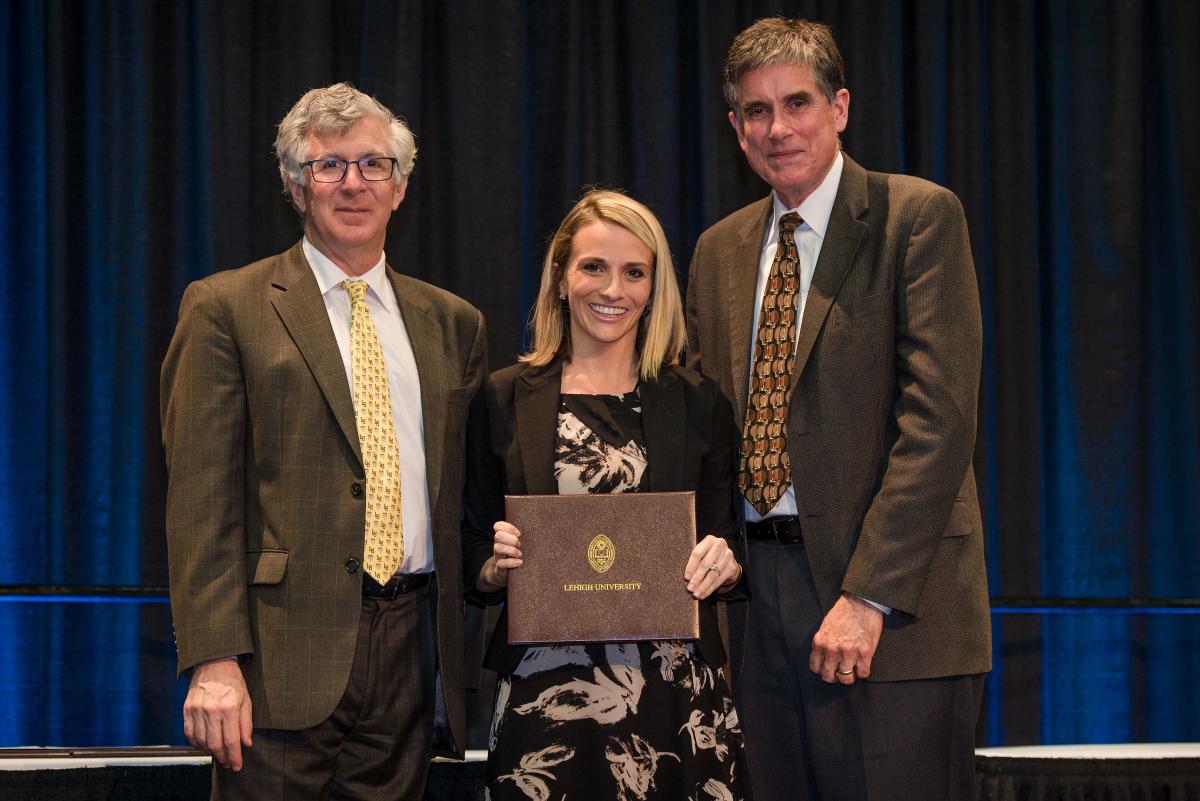 Hillman Nonexempt Staff Award
Morgan Nelson, Coordinator, Marketing Department
The Hillman Nonexempt Staff Award. This is given annually to a staff member for excellence in performance or for advancing the interests of the university. Nelson is an integral part of various initiatives and activities in the department as well as within the university, including initiating the College of Business and Economics Holiday Hope Chest three years ago to gather donations from faculty and staff in the College of Business and Economics for underprivileged school students.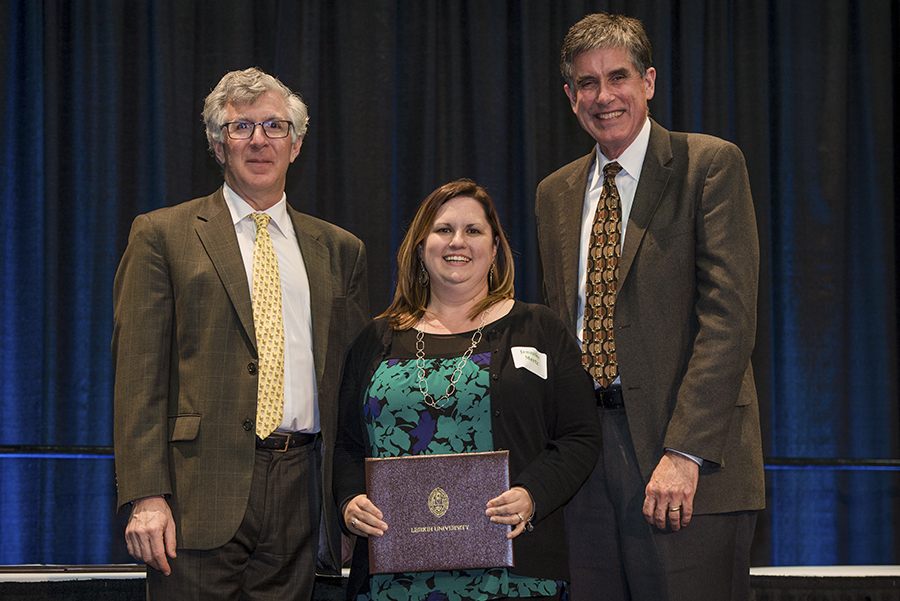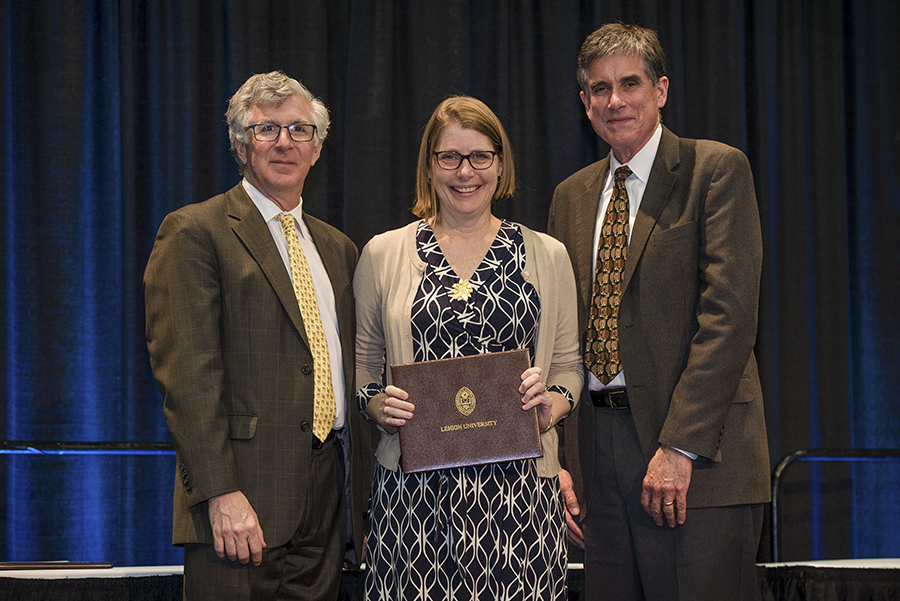 Hillman Exempt Staff Award
Jennifer Mertz (top), Director of Financial Aid
Dr. Kathryn Zimmerman (bottom), Senior Director, Office of Economic Engagement
The Hillman Exempt Staff Award is given for excellence in administrative, teaching, or research work or for advancing the interests of the university. Under Jennifer Mertz's leadership, the office operates with increased accessibility and transparency, more clearly defined policies, and a more robust and generous financial aid program. Kathryn Zimmerman guides faculty through every aspect of a complex yearlong multi-stage grant submission process. She has grown external partnerships, helped faculty advance research, encouraged staff to innovate and think critically, and both directly and indirectly raised millions of dollars in resources for Lehigh.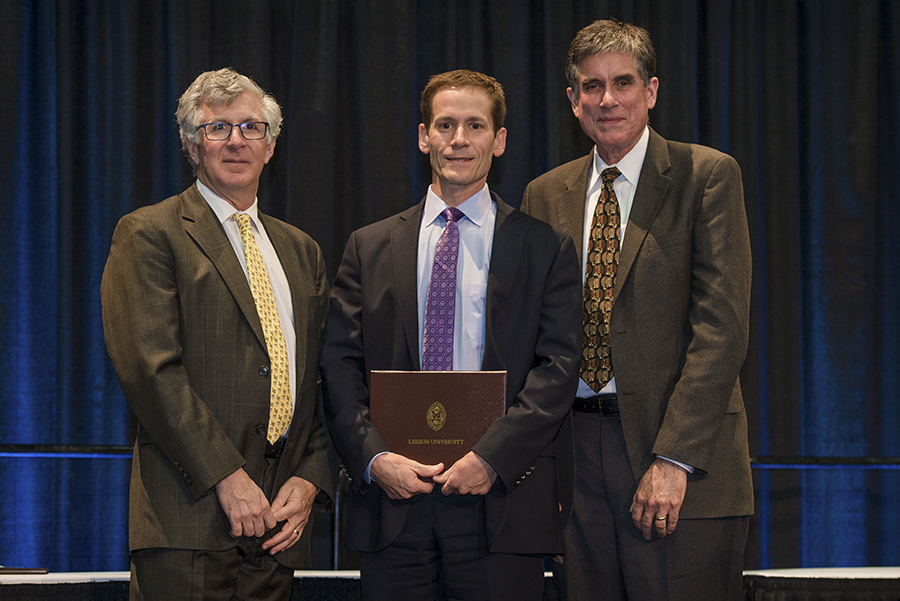 Hillman Award for Excellence in Undergraduate Advising
David Angstadt, Professor of Practice, Mechanical Engineering and Mechanics
Dr. Angstadt serves in the role of advisor to many undergraduate students; in addition, he acts in an unofficial advisory capacity to countless others. He is open, personable, and committed to student success. 
Hillman Award for Excellence in Graduate Advising         
Robert Flowers, Professor of Chemistry and Deputy Provost for Faculty Affairs
Despite Dr. Flowers' numerous responsibilities teaching, chairing, and running his own research projects, he unfailingly supports and guides his students and makes himself available to them. He regularly helps his students see the big picture importance of their efforts and models the highest levels of ethical responsibility.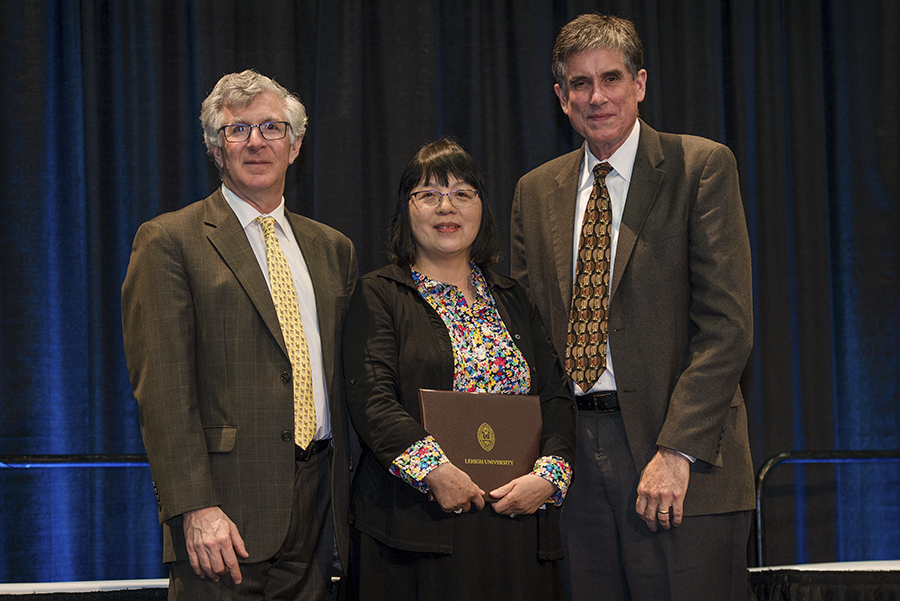 R.R. and E.C. Hillman Faculty Award
Helen Chan, Professor, Materials Science and Engineering
The Hillman Faculty Award is given to a faculty member for achieving excellence in teaching or research, or for advancing the interests of the university. Dr. Chan is a leader in her field of research as reflected in her impressive rate of publications and the impacts of her work.  She is widely published in top journals, and her work has garnered her the honor of being placed on the ISI Web of Sciences "Highly Cited" researcher list. She was recently selected as a distinguished Fulbright Scholar.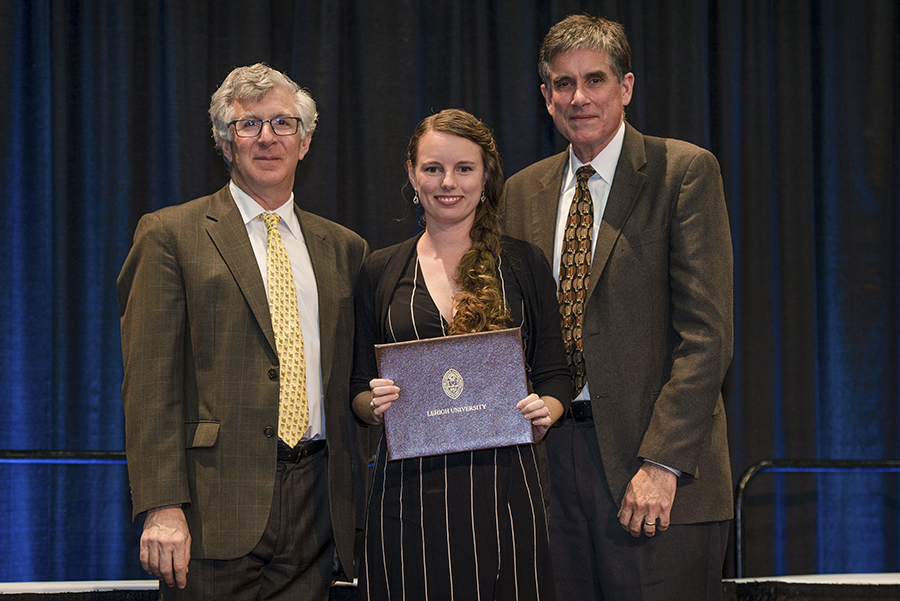 Robert C. and Virginia L. Williamson Award
Kelly Austin, Assistant  Professor, Sociology and Anthropology
The Williamson Award for Social Research, presented this year by Associate Professor and Associate Dean for Research and Graduate Programs Dominic Packer, was established to recognize the highest quality, most innovative, and substantial work of scholarship by a social science faculty member in the College of Arts and Sciences. Dr. Austin's important research in 86 developing countries demonstrated that in nations where women are more empowered economically, there is a lower impact in terms of illness, injury, death and homelessness from climate-related catastrophes.