Congratulations to all of our award recipients this year.
ERAC Distinguished Service Award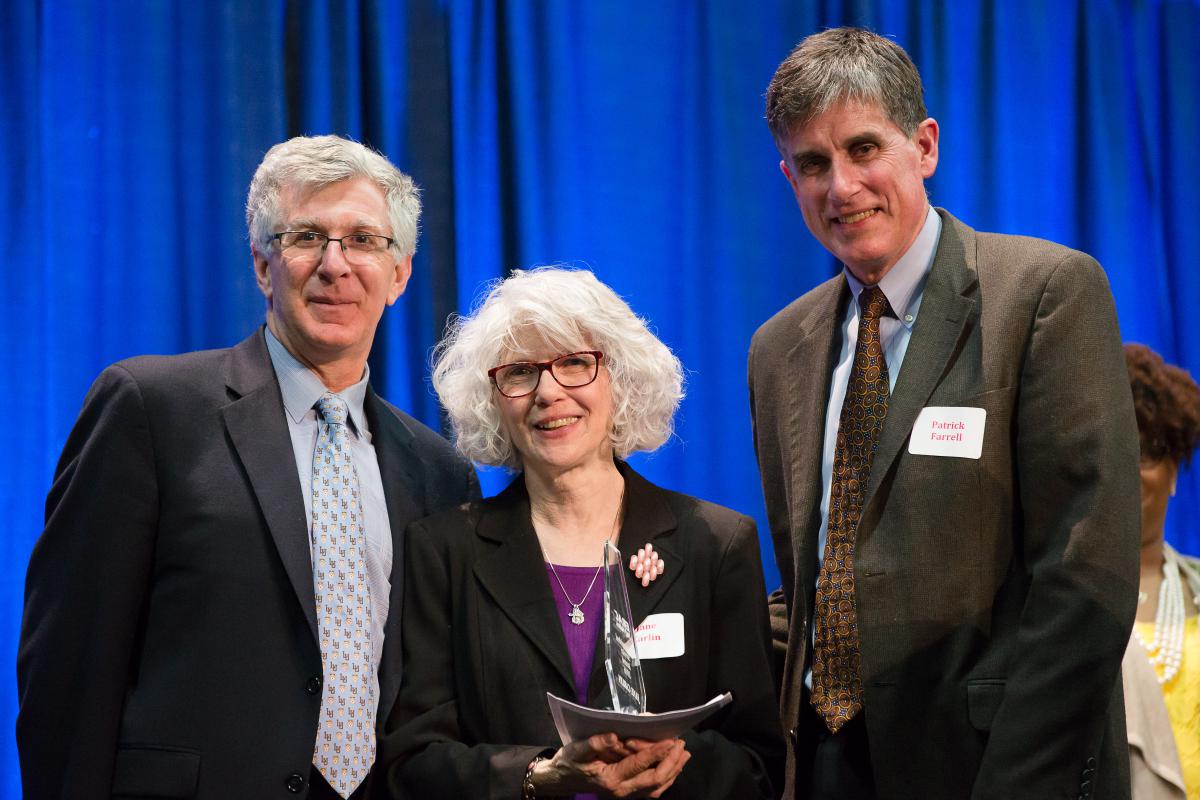 Janie Carlin, Coordinator, Materials Science
Last October, materials science held its 125 year celebration. Janie (with the help of other MSE staff members) was instrumental in the planning and execution of this important event. It was her leadership that made this an unqualified success. Also, during the most recent ABET accreditation visit, Janie was instrumental in organizing documentation on our undergraduate program. Often times she would be the one to cajole and convince tardy faculty members to hand in their contributions. Her nominators add: "Ms. Carlin is a treasure of a coordinator. She is the go-to person for faculty and student alike, and handles problems big and small. The list of tasks she handles efficiently and cheerfully is practically endless."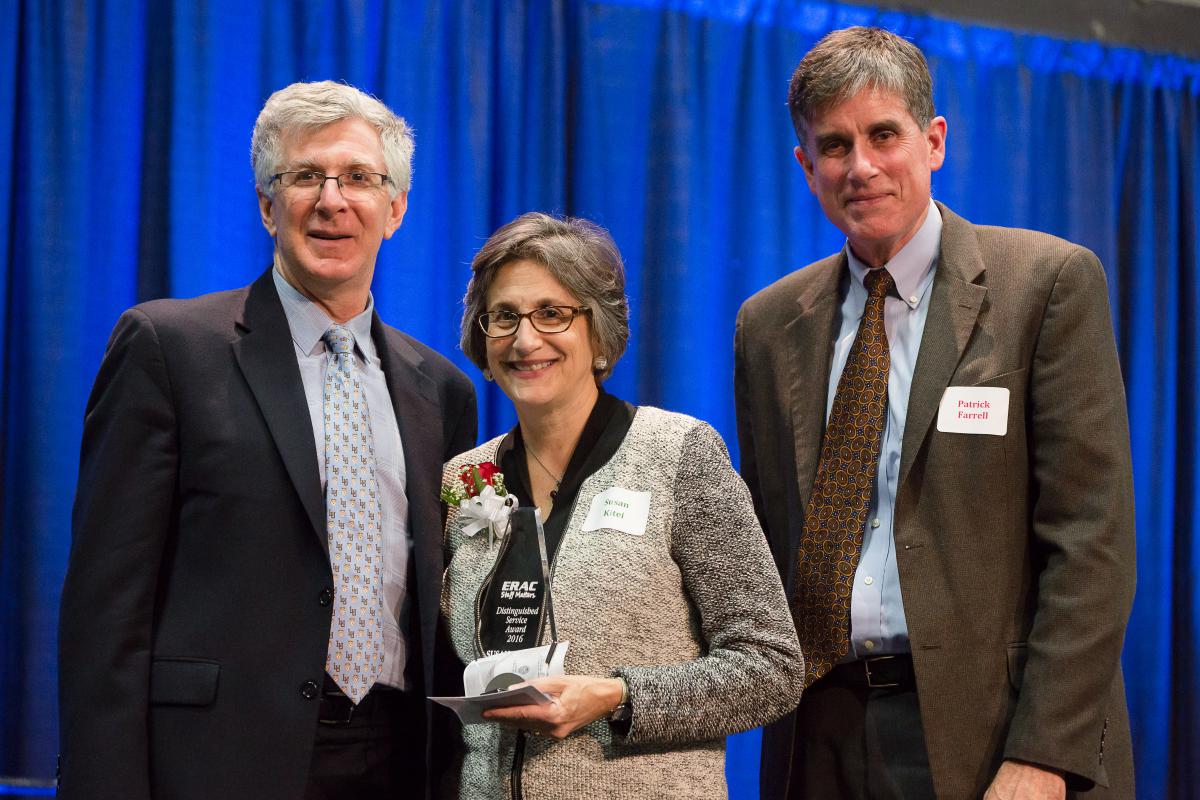 Dr. Susan Kitei, Director, Health and Wellness Center
Susan was the first female director of the Health and Wellness Center back in 1988. Since that time, she has been a true model and inspiration to the staff and many students that have come through the office. Dr. Kitei was working serving as the Director during the meningitis outbreak several years ago. Working around the clock, and with Dr. Kitei's guidance, we were able to preventatively treat everyone at risk on campus and keep the students, parents, and the staff reassured that everything possible was being done to ensure the safety of our campus community. Through the years she has fostered the relationships with St. Luke's Hospital, specialists and the Bethlehem Health Bureau to ensure that we have all of the resources needed to address our students health needs.
The Paul J. Franz Award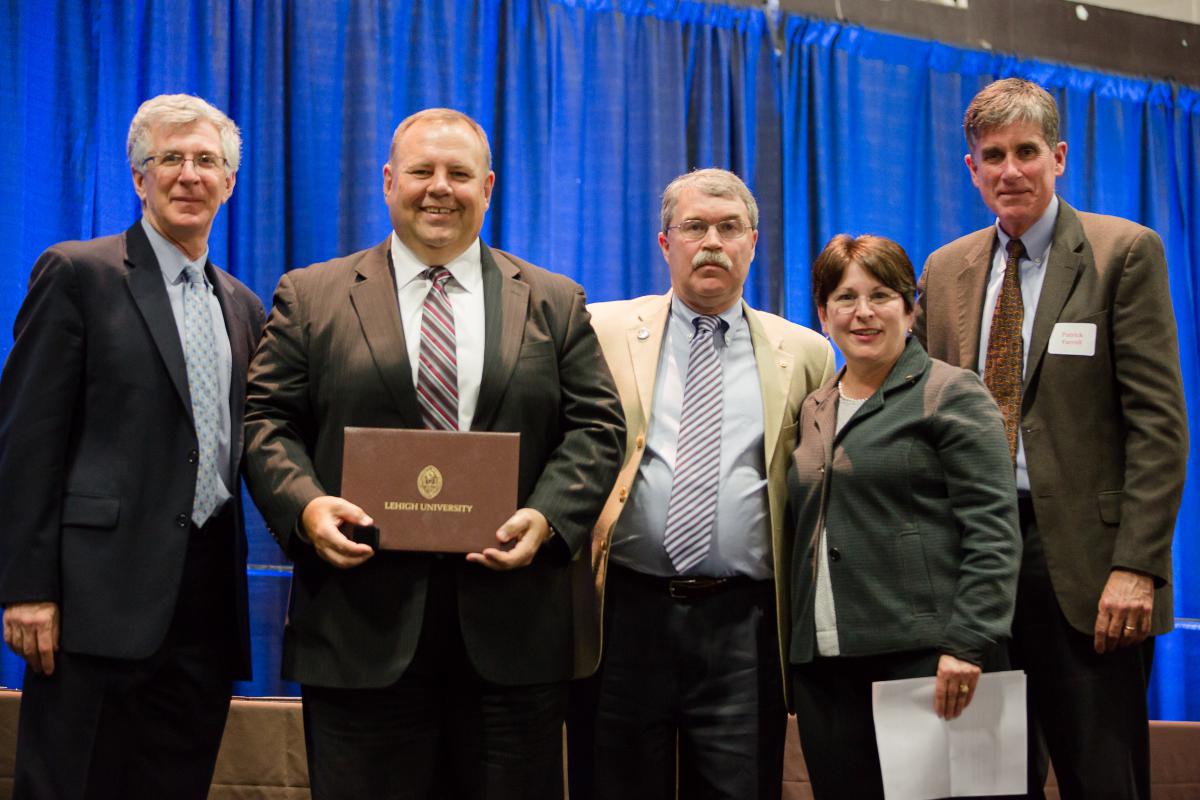 Lawrence "Ozzie" Breiner, Residential Services
Ozzie has served the Lehigh community for over 25 years. One of his nominator's described Ozzie's role at Lehigh as that of a "mayor of a small town, making sure all the constituencies feel welcome, valued, and important." In his position as Director of Residential Services he oversees housing for over 3400 students including residence halls, fraternities, sororities and graduate housing. Whether it requires him to work all hours of the night or on weekends, he gets the job done. Ozzie has always been willing to get involved with the day to day tasks of running a housing operation – this includes moving furniture, doing room inventories, conducting fire inspections, etc. At the same time, he makes work fun.  He is quick to lighten a difficult conversation, lend a helping hand when needed, and brings out the best in those around him.
The Deming Lewis Award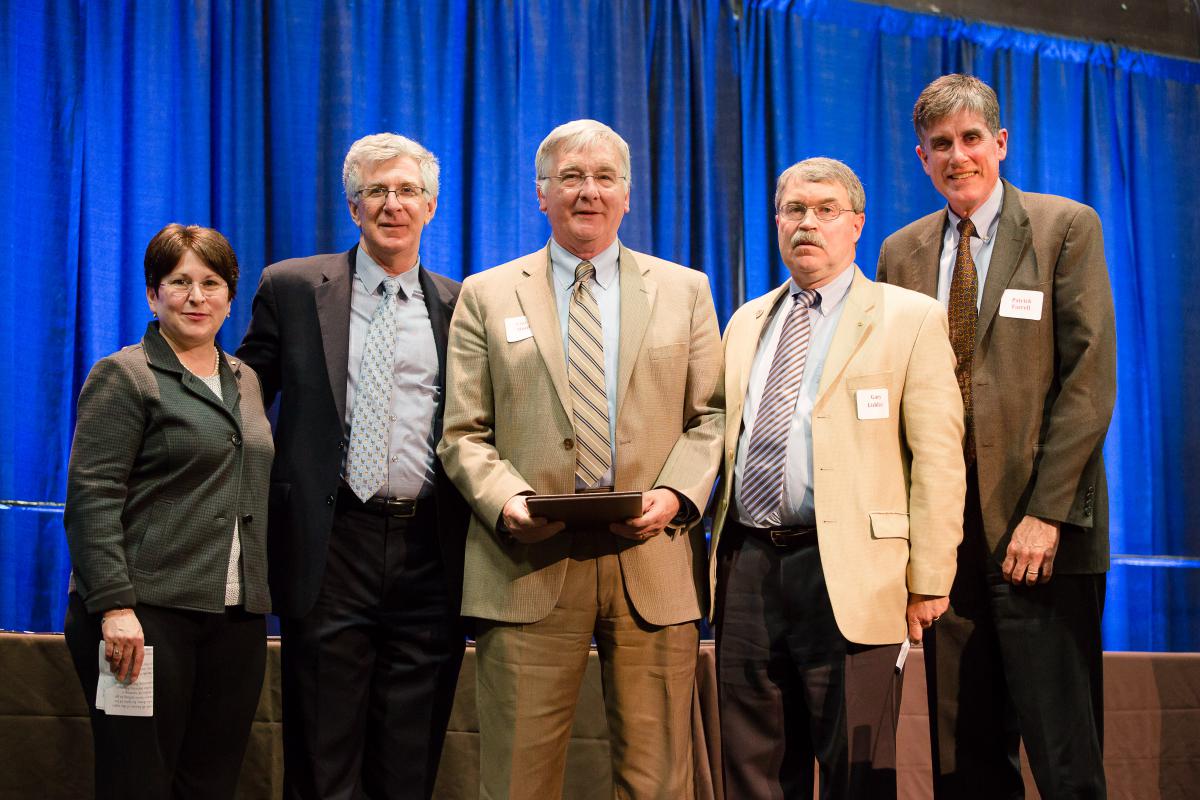 Vince Munley, Deputy Provost for Faculty Affairs
Vince work in close partnership with deans, vice provosts, and other university leaders and serves as liaison between the provost's office and Lehigh's faculty and academic committees. He is an undergraduate alumnus of Lehigh University with a B.A. in economics and a B.S. in electrical engineering.  He earned his doctorate in economics from the State University of New York - Binghamton.  Prior to joining the Lehigh faculty, he served for two years as a staff economist for the President's Council on Wage and Price Stability in Washington, D.C.  Dr. Munley became a member of Lehigh's Economics Department faculty in 1980 and served as department chair from 1993 – 1999.  He served as Lehigh's first Ombudsperson  from 2002 until 2007. He was named the Class of 1961 Professor from 1986 – 1988 and an Iacocca Professor of Business and Economics from 2000 - 2008. His academic research  is directed at the empirical study of public policy issues, in particular topics related to fiscal federalism. The ten year reunion class chose Dr. Munley as the recipient of the Deming Lewis Award for having most influenced their class' educational experience.
The John W. and Barbara R. Woltjen Award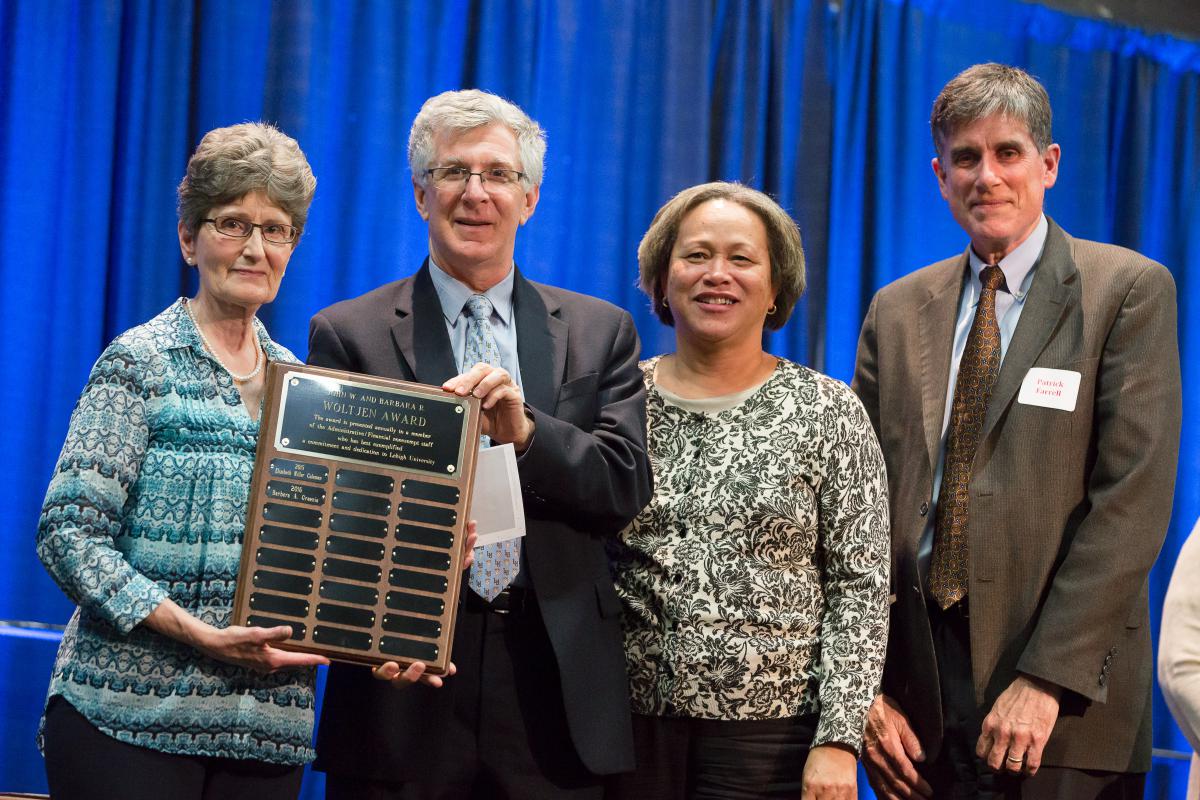 Barbara Greenia, Child Care Center
One of Barb's nominators had this to say about her, "Barb exemplifies a commitment and dedication to Lehigh's smallest community members, the children of Lehigh Child Care Center. Barb has worked in the Child Care Center for over 25 years and treats the children as an extension of her own family, caring and loving each child. With her wealth of knowledge and years of experience, she goes above and beyond offering guidance and advice for parents." Another nomination read "I would not be able to come to work every day and contribute in the ways I do, if it weren't for the exceptional commitment that Ms. Barbie brings to Lehigh every day, year after year."
Carl and Ingeborg Beidleman Research Award in Business & Economics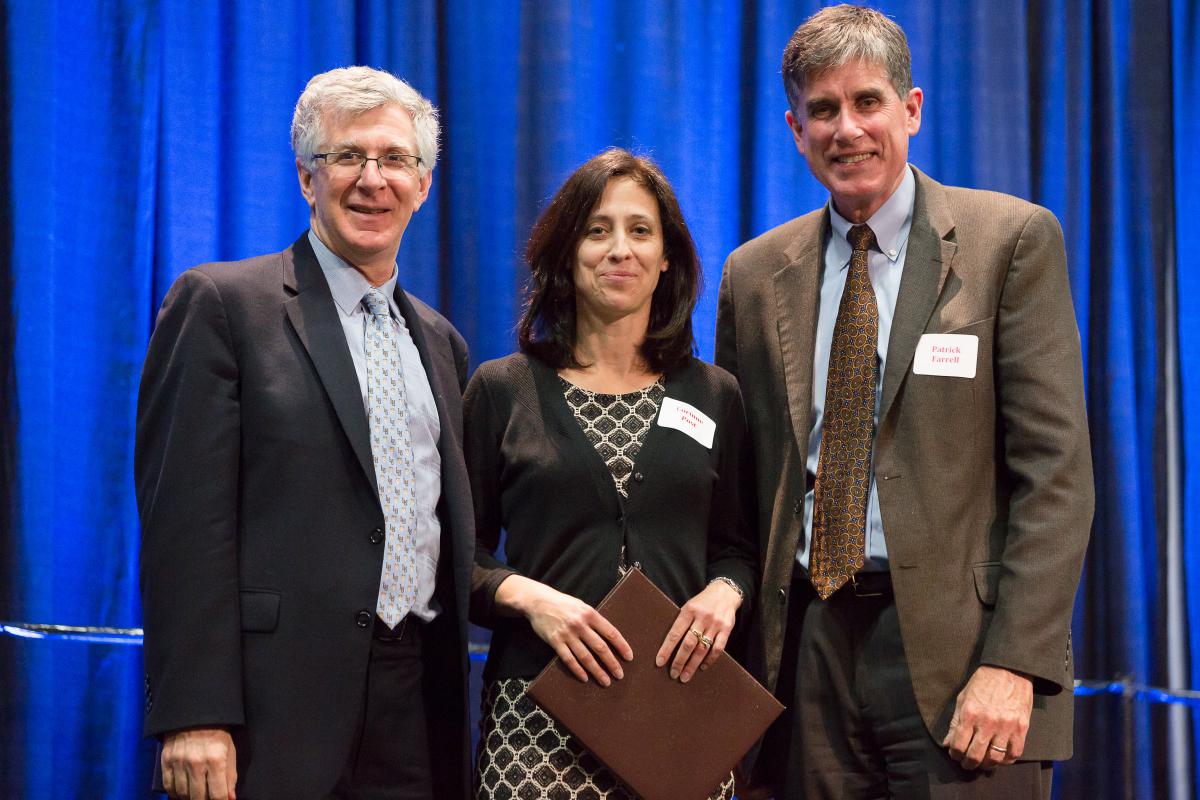 Corinne Post, Associate Professor in Management
Professor Post has been very productive in research. Her research accomplishments include: 25 refereed journal articles 8 refereed conference proceedings, 52 refereed academic presentations in the U.S. and abroad, 4 book chapters, and 1 edited book. Among the 25 articles, 5 of them are in the top journals, an impressive record at her career stage. Furthermore, her research has made important impacts. Based on Google scholar metrics, her papers have received 1043 citations in total. As a result, she has an i10 index = 16 (according to Google Scholar). That is, 16 of her publications are cited 10 times or more. This is a clear indication that her research is not only of high quality but of great importance. Professor Post has grown into an internationally recognized researcher in the area of diversity on boards of directors and firm outcomes. Her research on this topic has garnered over 300 citations.
The Christian R. and Mary F. Lindback Foundation Award
Michael Santoro, Professor in Management
Since joining Lehigh, Professor Santoro has taught in both MBA and undergraduate programs. When he was teaching MBA401, an MBA core course, he received high teaching evaluations and awarded numerous times the "Best MBA Professor." He now teaches the capstone strategic management course (MGT 301) to seniors in the CBE's undergraduate program. He continues to receive consistently superlative student evaluations.  Michael is innovative in teaching. He has students create teams and compete against each other in a simulation game where the student teams are top managers of a start-up company. As top managers of this simulated computer hardware company, students must make and execute all decisions necessary to run this company from start-up to the mature stage of the business cycle. In doing so, students must apply strategic management concepts along with the knowledge gained from their previous core and major courses so they can complete all aspects of the products value chain.
Lehigh Early Career Award for Distinguished Teaching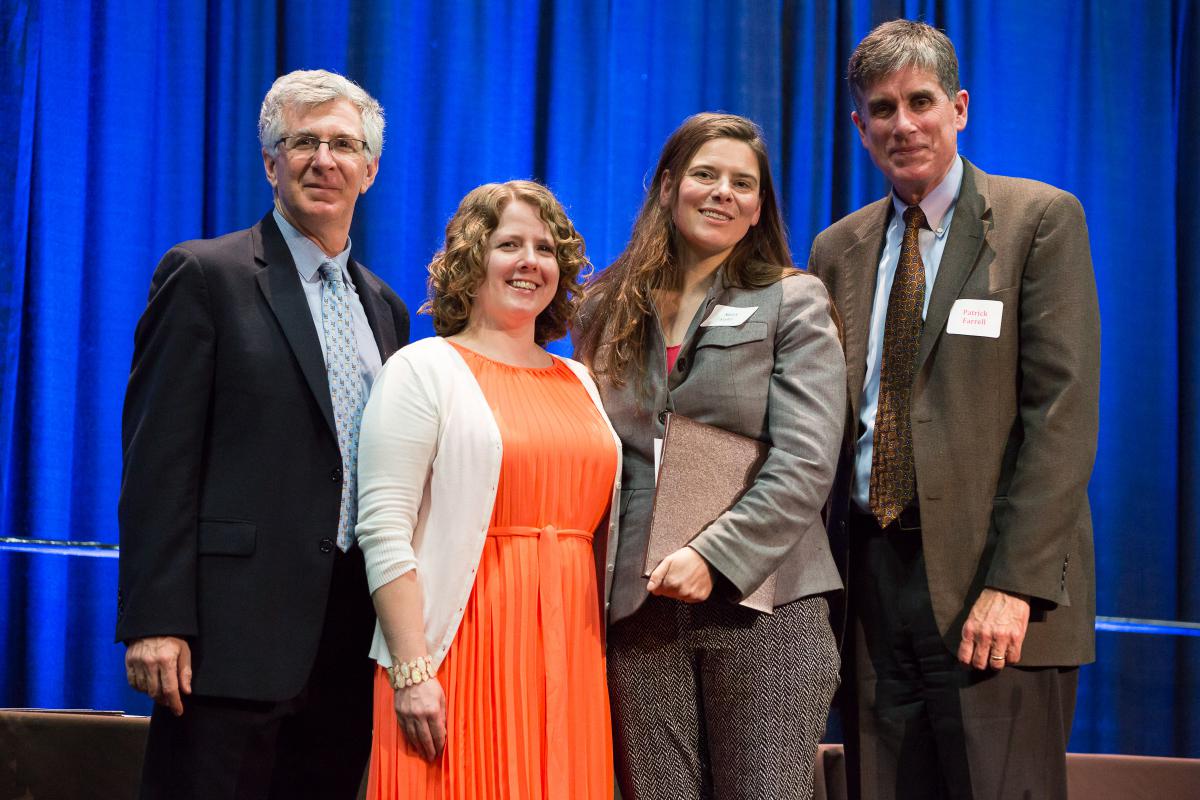 Mary Foltz, Assistant Professor in English
Department colleagues who have observed Professor Foltz's teaching, who have taught her students, or who have offices near hers have known for years that it is the "tremendous time, energy, and thought" that Mary devotes to "her pedagogical enterprises" that secured these unmatched student evaluation scores. Students visit her office "often…to confer about projects…and they stay for extended (and often animated) conversations." Another faculty member describes her commitment of time this way: "she expends a great deal of energy working independently with students on their analytical and writing skills" and assigns "challenging and imaginative writing assignments." From another: She "goes the extra mile, particularly when it comes to working with students on their writing." One department member describes this rightly as a "self-sacrificing high-maintenance pedagogy," that Mary embraced from the moment she arrived at Lehigh.
Jessecae Marsh, Assistant Professor in Psychology
Dr. Marsh has distinguished herself as an excellent teacher and mentor of students. She engages in traditional lecturing and seminar leading, one-on-one mentoring of undergraduate students in a laboratory setting, extensive individual meetings with students during office hours and beyond. She teaches at the graduate level and undergraduate level, in huge lectures of over 200 students to small seminars of 4 or 5. Part of what makes Jessecae such a successful teacher is her recognition of a unique challenge when it comes to teaching psychology – that students have strong preconceptions of how psychological processes work. A student would not enter a chemistry classroom thinking she understood a biochemical reaction just because it happens somewhere in her body. However, the same student may believe that she understands how memory works because she has remembered things before. To overcome this obstacle Jessecae uses the classroom to convey the surprising and non-intuitive side of psychological research.
The Louis and Helen Zirkel Library Staff Award
Lois Black, Special Collections, Linderman Library
Through her many years of leadership, Lois has transformed this division of the library into one of the premier academic special collections libraries in the United States. Working with a small staff, she has set and achieved extraordinarily high standards for the preservation and care of books and documents in the collection, substantially enlarged the collection's holdings. She also has initiated a list of high-impact curatorial and digital projects that highlight books and materials in the collection, targeted not only to the university community but also to the broader public. Most recently, Lois spearheaded a large multi-institution project to digitize and provide public access to medieval and early modern manuscripts collections from the Lehigh library's Special Collections department, the Free Library of Philadelphia, and the University of Pennsylvania. The project has just been funded with a $500,000 grant from the Council on Library and Information Resources, supported by the Andrew W. Mellon Foundation.
Perry A. Zirkel Award for Distinguished Teaching in Education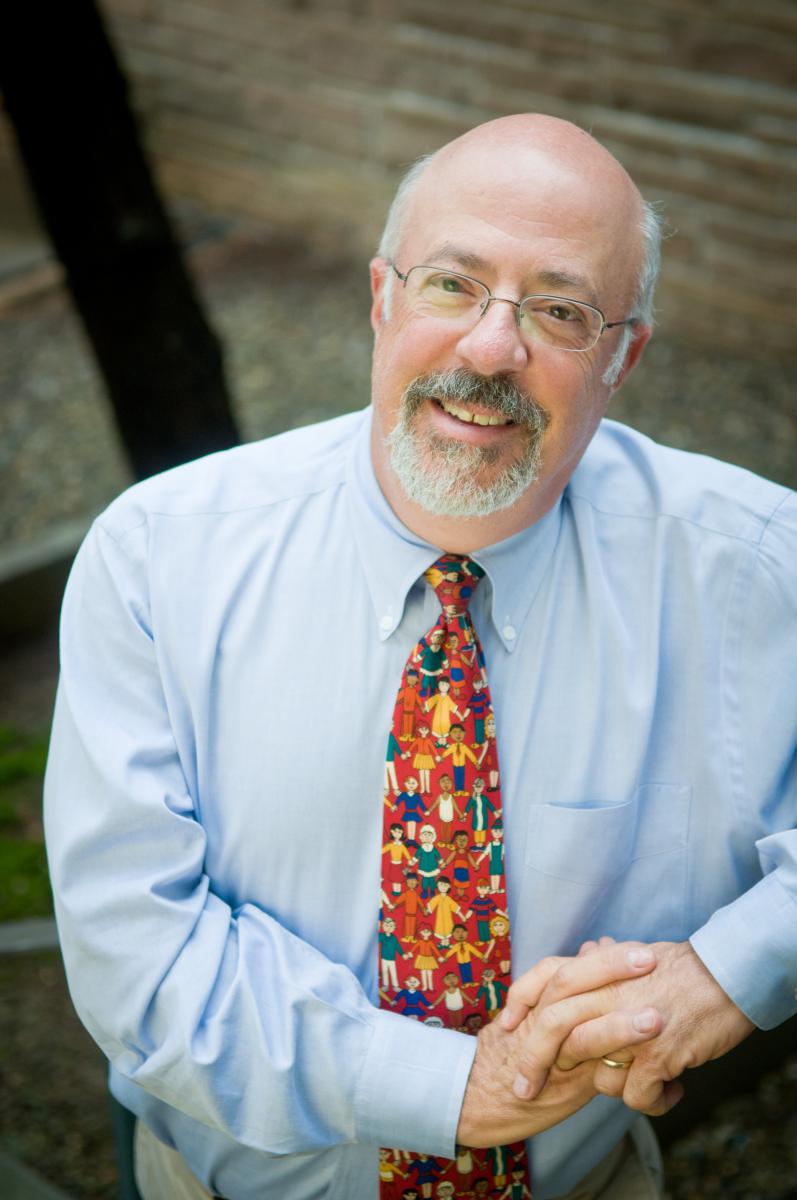 Edward Shapiro, Professor of Education
This year's Zirkel Award was presented posthumously to Professor Ed Shapiro, who passed away in March. Ed's nomination read, "Ed is highly and nationally regarded as a senior scientist and mentor in the field of school psychology. Ed is respected for holding high standards for students' training (classroom or field based). Yet he fully supports students to achieve these standards. In addition to the direct mentoring of EDS and PhD students in our program, Ed's vision for the future of school psychology has led to our program's distinctive training concentrations in Pediatric School Psychology and in Response-to-Intervention. This award was presented to Ed's family at the College of Education Awards Dinner.
Perry and Carol Zirkel Nonexempt Staff Award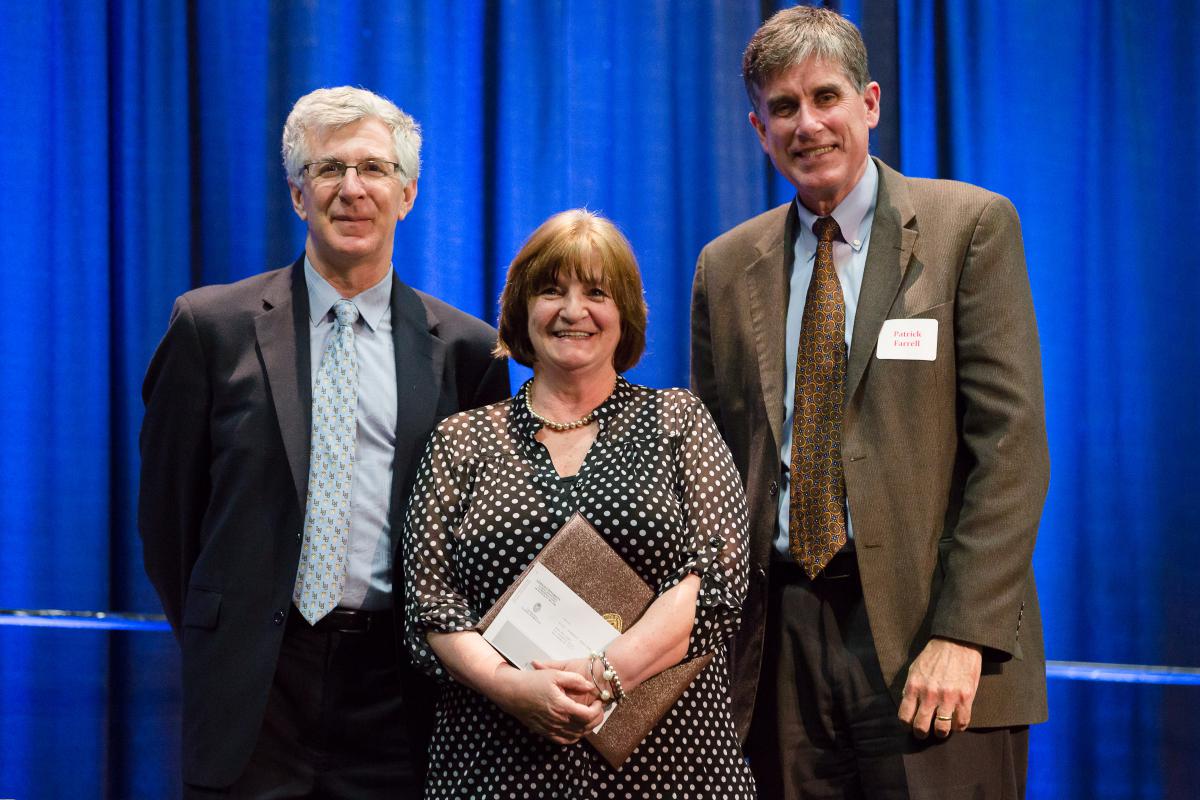 Rene Hollinger, Economics
The economics department has 18 tenured or tenure-track faculty, one professor of practice, 12 teaching assistants, and two graduate assistants. There are over 100 economics majors and about forty graduate students. Despite these seemingly unmanageable numbers, the department office is always a center of efficiency, calm, and respect. It is because Rene is exceptionally hard-working and efficient, she treats students, faculty, and staff very well, and she establishes a wonderful atmosphere in our department's office. Though she is extremely busy, Rene always shows concern. Even when students receive answers they do not like (for example a capacity override will not be granted), Rene manages to make them feel as good as they possibly can about a policy or decision. She does so by showing empathy and explaining the appropriateness or fairness of the rule or decision.
Lehigh University Award for Distinguished Service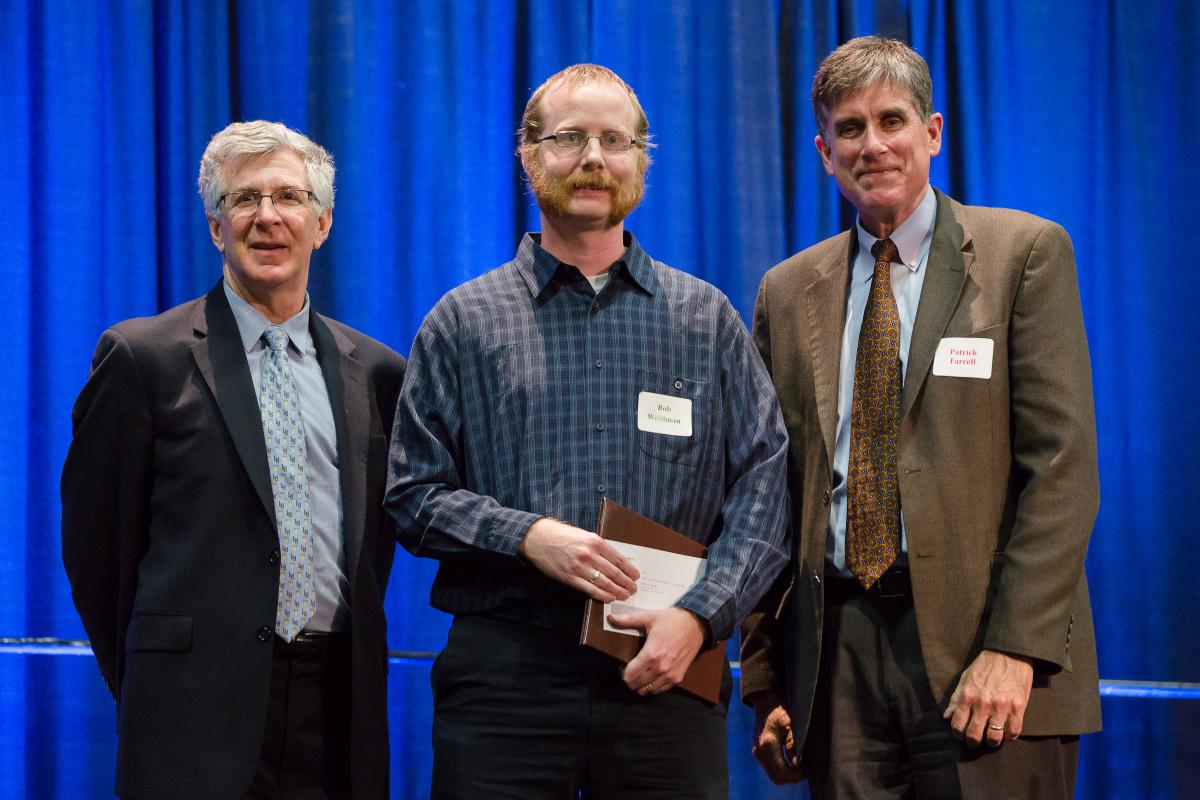 Robert Weidman, LTS Library Technology
Rob contributes to the Lehigh community in many ways. With respect to the emerging field of digital humanities, Rob consults with students and faculty about their proposed projects. He teaches them the technical skills that they need to be successful, and will often provide advice to guide them to an even better project than what they initially had in mind. As a colleague, Rob has been supportive and helpful during the planning, launch, and implementation of Lehigh Preserve, Lehigh's institutional repository. Rob was instrumental in designing the look and feel of FIRE: Forum for International Research in Education, which is the first journal published by the Lehigh Libraries. He has been the key architect for the development of Lehigh Digital Library projects. Over the years, Rob has led many important digital humanities and digital scholarship projects to support teaching and learning at Lehigh, such as Beyond Steel: An Archive of Lehigh Valley Industry and Culture, The Vault at Pfaff's, and History on Trial. Rob has also been working with Lehigh Special Collections, Advancement, and Athletics on managing and preserving Lehigh digital assets.
Eleanor and Joseph F. Libsch Early Career Research Award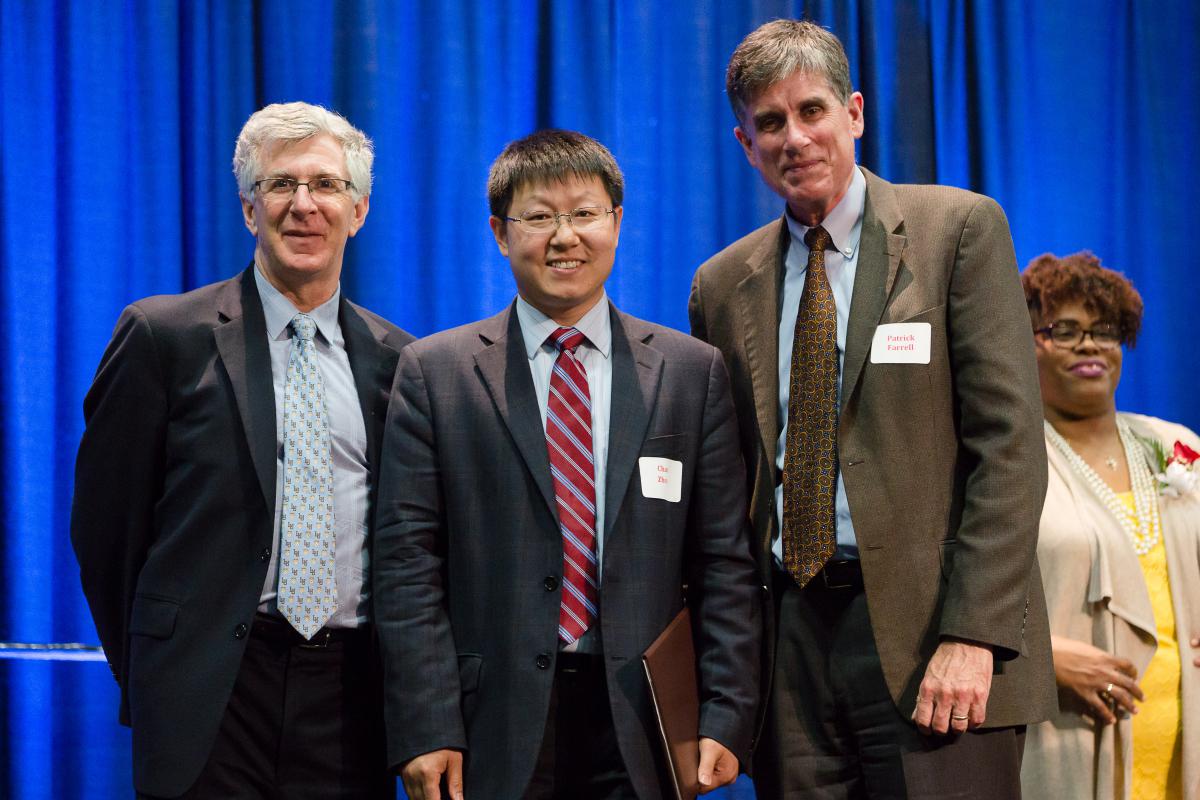 Chao Zhou, Assistant Professor, Electrical and Computer Engineering and Bioengineering
Chao Zhou's research continues to expand the frontiers of the exciting field of optical coherence technology and related optical bioimaging techniques. He has been remarkably successful in exploiting the biomedical applications of his technology, and his research is already bringing great visibility to Lehigh. For example, his recent paper on optogenetic pacing in fruit flies attracted wide attention from the media and has been viewed by thousands of scientists and engineers. His impressive publication record includes over 50 refereed journal publications, 5 book chapters, numerous presentations in respected conferences, and over thirty invited talks. Ten of his papers have been cited by scholars over 100 times each. Dr. Zhou has had remarkable success in securing funding for his research from federal agencies. Last year, he was awarded an NSF grant, two NIH Awards, and a competitive award from the University City Science Center's QED Proof-of-Concept Program. He displays the highest standards in research and scholarship, and has made outstanding contributions to Lehigh's intellectual footprint.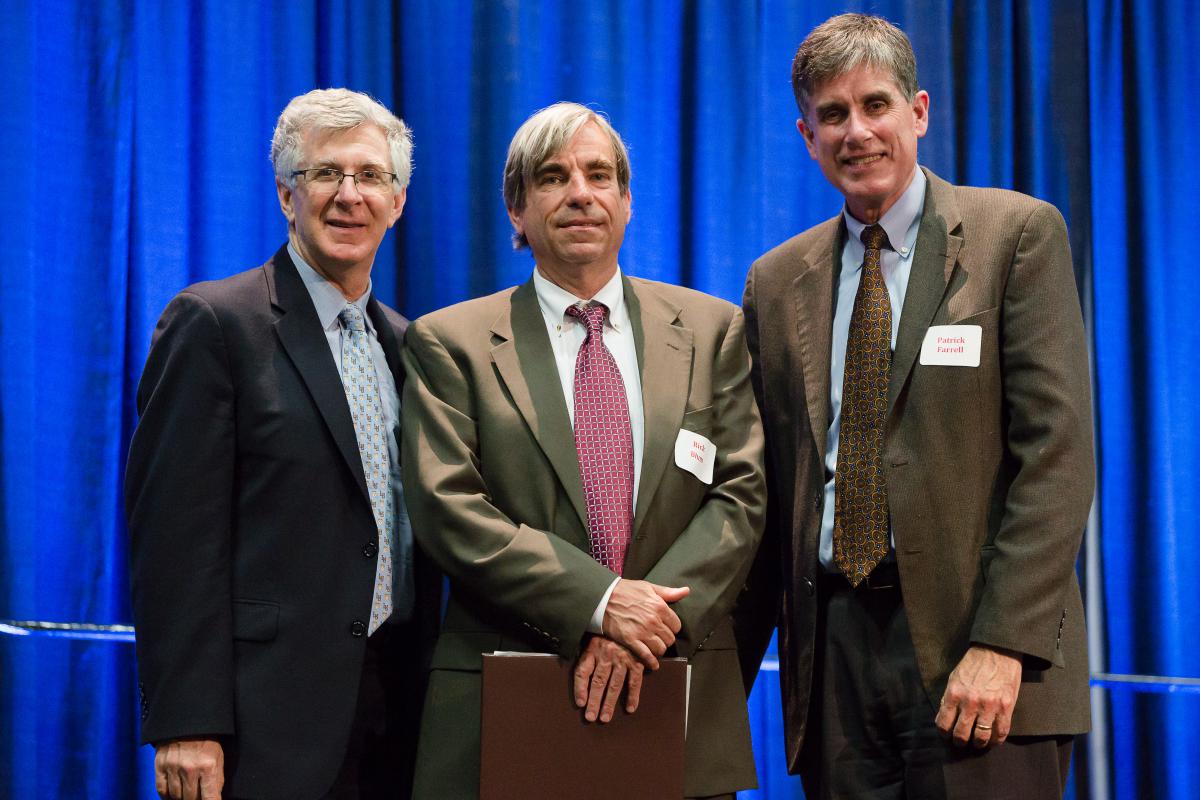 Rick Blum, Robert W. Wiseman Professor, Department of Electrical and Computer Engineering, Director of the Energy Systems Engineering Institute
Since coming to Lehigh, Rick has amassed an impressive and internationally renowned reputation as a distinguished scholar and researcher in the area of signal processing. The main application domains for his expertise have been in wireless communications, radar, sensor networks, and the electric power grid. For his key contributions in these areas, Rick has been presented prestigious awards and recognitions from the Institute of Electrical and Electronics Engineers (IEEE). In terms of numbers alone, Rick's research productivity has been stellar and among Lehigh's strongest, including over 120 refereed journal articles, over 230 refereed conference proceedings, one book, numerous book chapters and a long list of invited presentations. His publications have been cited over 13,000 times and his h-index is 49 according to Google Scholar. His research funding has been impressive and strong throughout the years, and he has graduated over 20 Ph.D. students. Rick's research is regularly supported by the National Science Foundation, Office of Naval Research, Air Force Office of Scientific Research, as well as a number of industrial partners and state agencies.
Alfred Nobel Robinson Faculty Award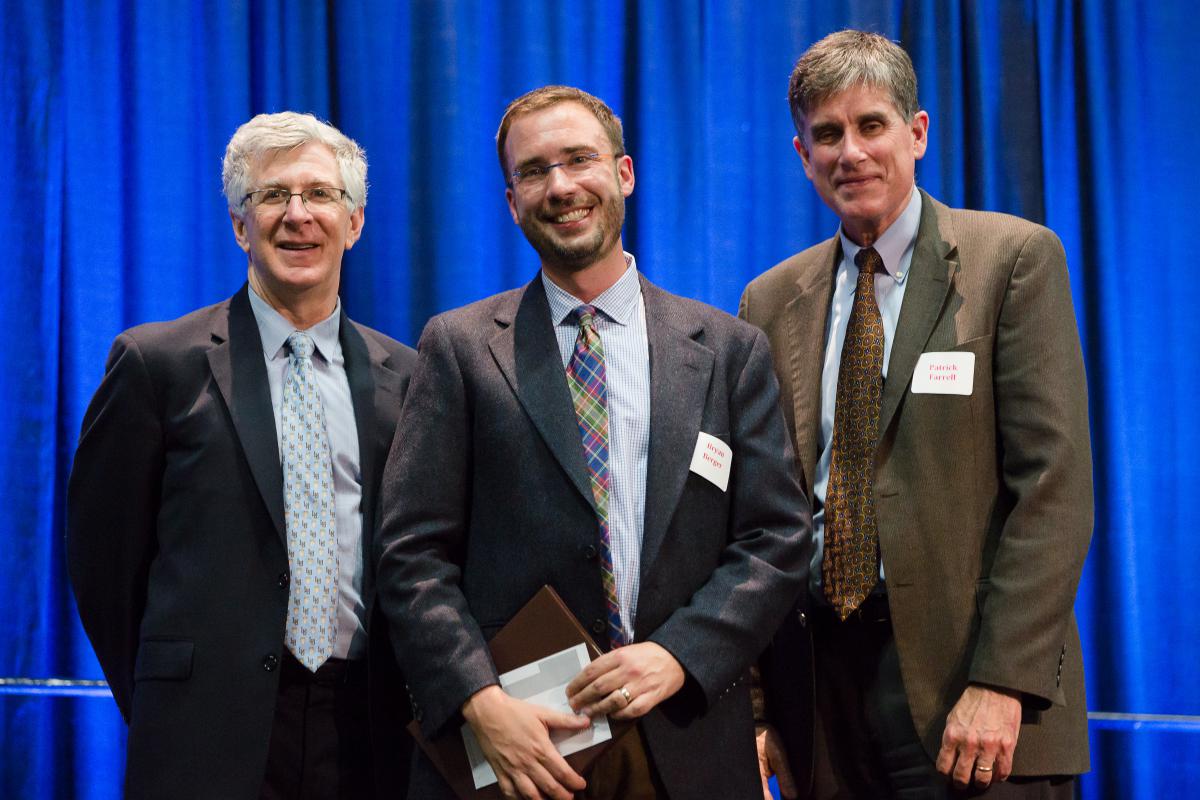 Bryan Berger, Associate Professor, Chemical and Biomolecular Engineering
Dr. Berger has worked well beyond the usual limits of the Chemical and Biomolecular Engineering Department and the Bioengineering program in promoting Lehigh's goals and priorities through vigorous and enthusiastic contributions to a range of cross college initiatives, committees, interdisciplinary faculty searches, etc. Bryan has directly contributed to Bioengineering, Data X, Mountaintop Projects, various cross college faculty searches and supervised students across multiple departments, programs and colleges.  As a search committee member for the DataX interdisciplinary senior faculty position in Quantitative and Systems Biology, Bryan helped draft the scope for the position including the cross-college appointment to establish an interdisciplinary position. As a member of the VP Mountaintop Search Committee, he helped draft the scope and vision statement for the position, as well as defining what the mountaintop experience should represent from a faculty standpoint. Bryan has served as research advisor to over 50 undergraduates during the academic year.
Alfred Nobel Robinson Staff Award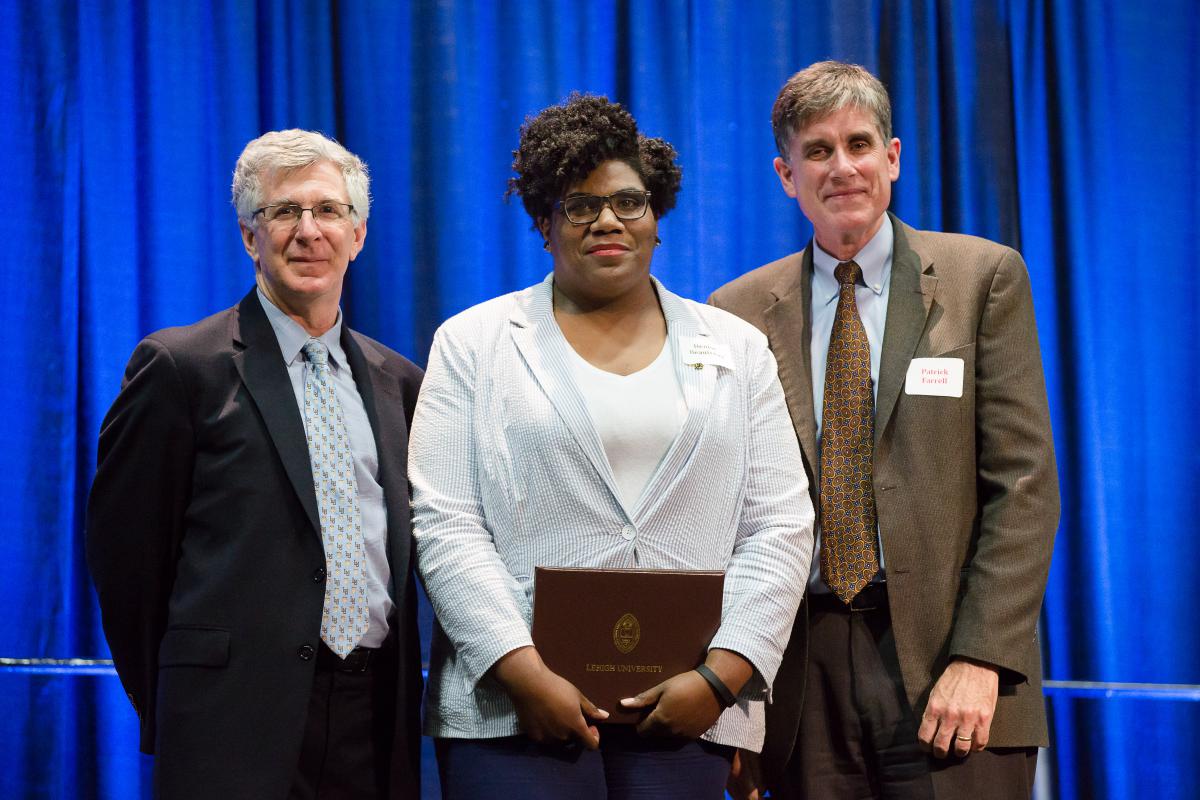 Denise Beautreau, Manager of the General Labs in Chemistry
Denise is an unusual situation, in that her office and all six adjacent lab spaces that she oversees are located in the STEPS building, while all the Chemistry faculty members are in the Mudd building, with a couple in Sinclair. She has bridged this physical gap admirably. One of the most important aspects is her consistency in both describing and implementing course policy for the four general chemistry courses of which she is a part. For each of her courses, she takes complete control of the lab portion of the course, freeing the lecture instructor to focus on that part of the course. She meets with prospective Chemistry graduate students when they visit and aids in TOPPS testing of current and incoming international TAs for the English as a Second Language department. She helped organize the International Friendship Program Thanksgiving Dinner. She currently serves as the faculty advisor to Alpha Chi Sigma, a professional Chemistry co-educational fraternity. She is a stable and consistent part of our program, pushing forward on new things whenever possible.
Stabler Award for Excellence in Teaching
Matthew Veto, Professor of Practice, Journalism and Communication
Some of the comments from Matthew's nominations read "Professor Veto does an excellent job of advising The Brown and White staff. He goes out of his way to ensure that students have the guidance and support that they need, and is clearly both compassionate and very knowledgeable about his field. He often shares examples of his personal experiences working in a newsroom, which is a very useful comparison…He shares our triumphs and disappointments, and celebrates our victories as a news team. His motto for every press night is, "Go forth and journalism!" Matt is a great teacher. He inspires the editors in the paper to want to be better versions of themselves - as editors, writers or just as people. He is always teaching us something new and mentoring us through the paper to become better journalists… Matt is constantly learning with us as we learn with him. He pushes us to come up with new ideas and learns from us in the process."
Hillman Nonexempt Staff Award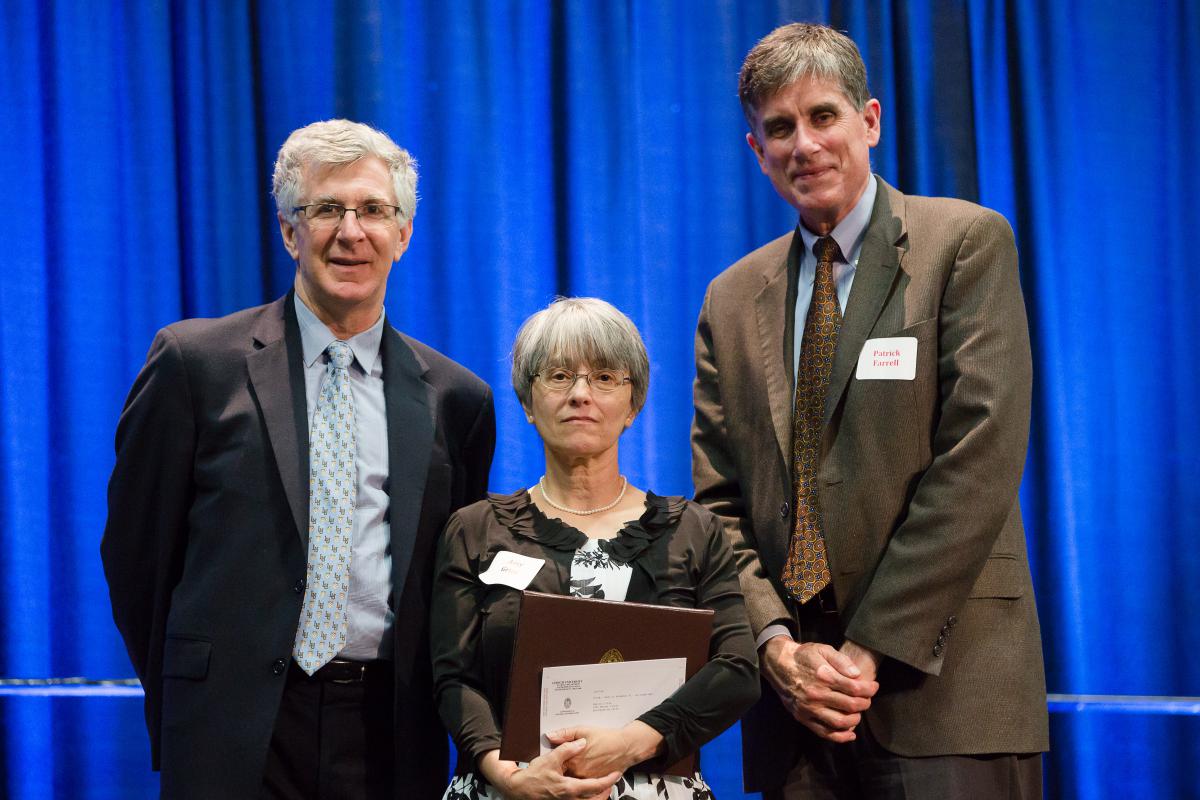 Amy Grim, DOS Student Life
Amy has shown extraordinary enthusiasm for Lehigh's goals and priorities and has worked beyond her direct area/unit on University-wide projects and committees. Amy is one of the founding members of the onboarding program for new administrative nonexempt, called Strong Ongoing Administrative Relationships (SOAR) program. Through the support of Human Resources, the program was created and the pilot program was implemented with great success. She is also a working committee member of the Administrative Staff Resource website, which provides staff members with a reference guide to help obtain information quickly and easily. This guide contains information related to topics such as accounting, events planning, academics and training and development. Amy has been a key member is redesigning a new website using Drupal for both programs as well.
Hillman Exempt Staff Award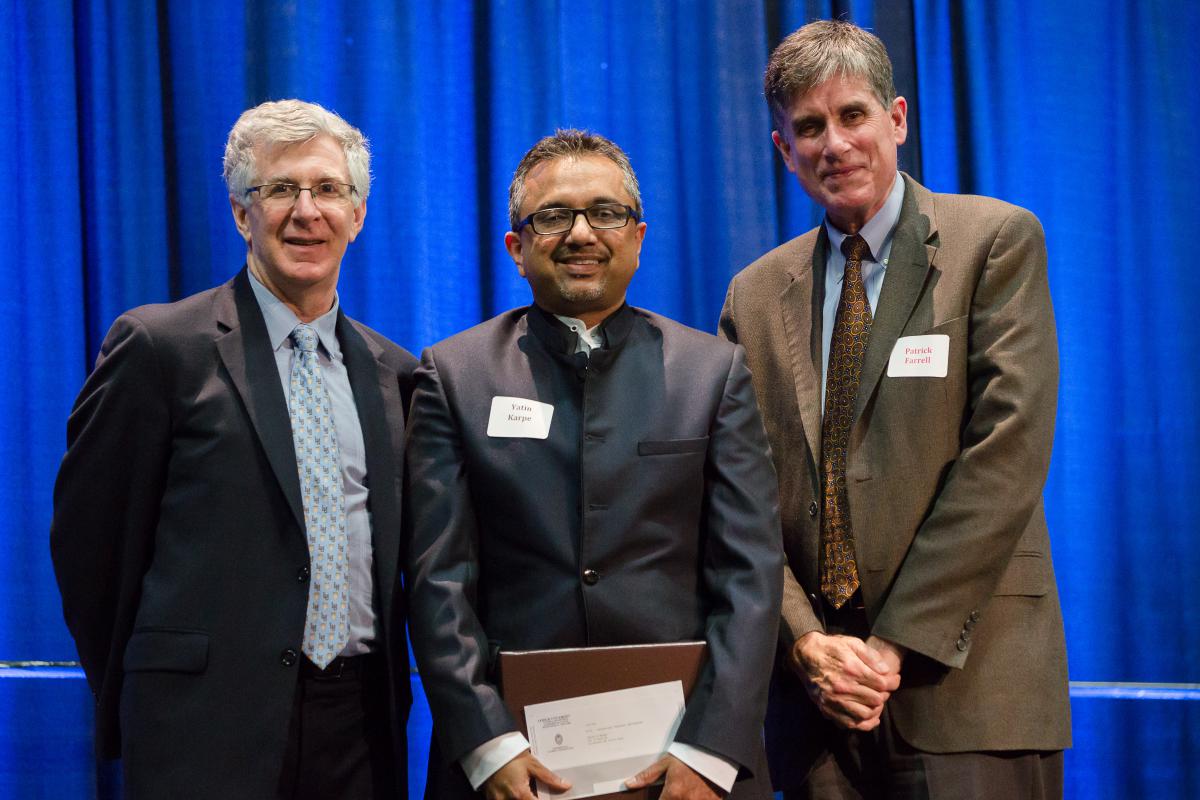 Yatin Karpe, Associate Director of Technology Transfer
Ever since Yatin has become a member of the Lehigh community in 2006, he has made significant contributions to improve the University's perspective and performance in the area of technology transfer, research, and visibility. Due in a large part to Yatin's efforts the university has secured well over one million dollars of funding from external sponsors to support the operations of the OTT and faculty innovators. He has been particularly successful in helping to form teams for the National Science Foundation's I-Corps program that provides funds to faculty innovators to enable the I-Corps team to engage in a rigorous training program for commercialization of university innovations.  His enthusiasm for the job and ability to engage collaborators within the university and the outside business sector has certainly raised Lehigh to new levels in the technology transfer arena.
Hillman Award for Excellence in Undergraduate Advising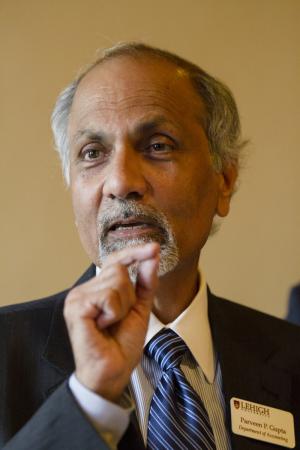 Parveen Gupta, Professor in Accounting
Professor Gupta's advisees note: "There are few faculty members who connect so strongly with students and make such impact on the lives of their students, from the moment they arrive at Lehigh. Dr. Parveen Gupta is one of those faculty members." "As Chair of the Accounting Department, Professor Gupta is a strong leader, mentor, and advisor—not just to his assigned advisees, but to all the students he comes into contact with." "I met Dr. Parveen Gupta for the first time when he was assigned to be my advisor when I declared Accounting as a major as a first-year. His warm smile and demeanor quickly told me that he was a person who cared about others and who truly wanted to help. At our first meeting, he asked about my academic and professional goals and solely focused on what I wanted to get out of my experience in the Accounting major." "Most recently, Professor Gupta has tremendously helped Women in Business with our endeavor in organizing the first Women in Business conference on campus."
Hillman Award for Excellence in Graduate Advising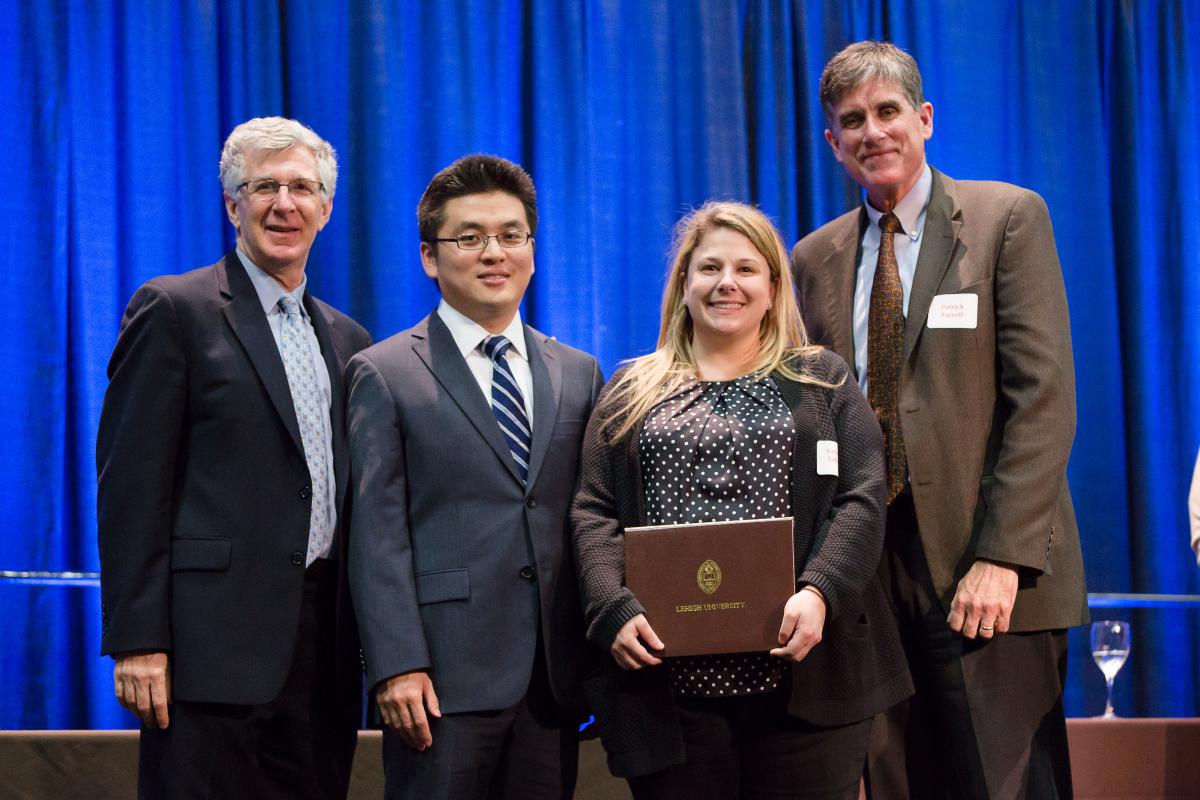 Dan Frangopol, The Fazlur R. Khan Endowed Chair of Structural Engineering and Architecture, Professor of Civil Engineering
(Samantha Sabatino and You Dong accept the award on Dan's behalf.)
Dr. Frangopol's advisees state: "As a professor and researcher, Dr. Frangopol has demonstrated a love of learning and commitment to his students and work." "Dr. Frangopol has an ability to explain a topic in depth and yet simplify it with an interdisciplinary point of view. He helps us find our drive and passion for education and research. I am in awe of Dr. Frangopol, and he is my role model." "Dr. Frangopol is organized, efficient, and has an excellent rapport with students of all levels and backgrounds. His natural compassion is evident through the intense dedication to the student during the research process. As a result, I was able to co-author with Prof. Frangopol ten journal papers that have already been accepted and more than fifteen conference and keynote papers."
Hillman Faculty Award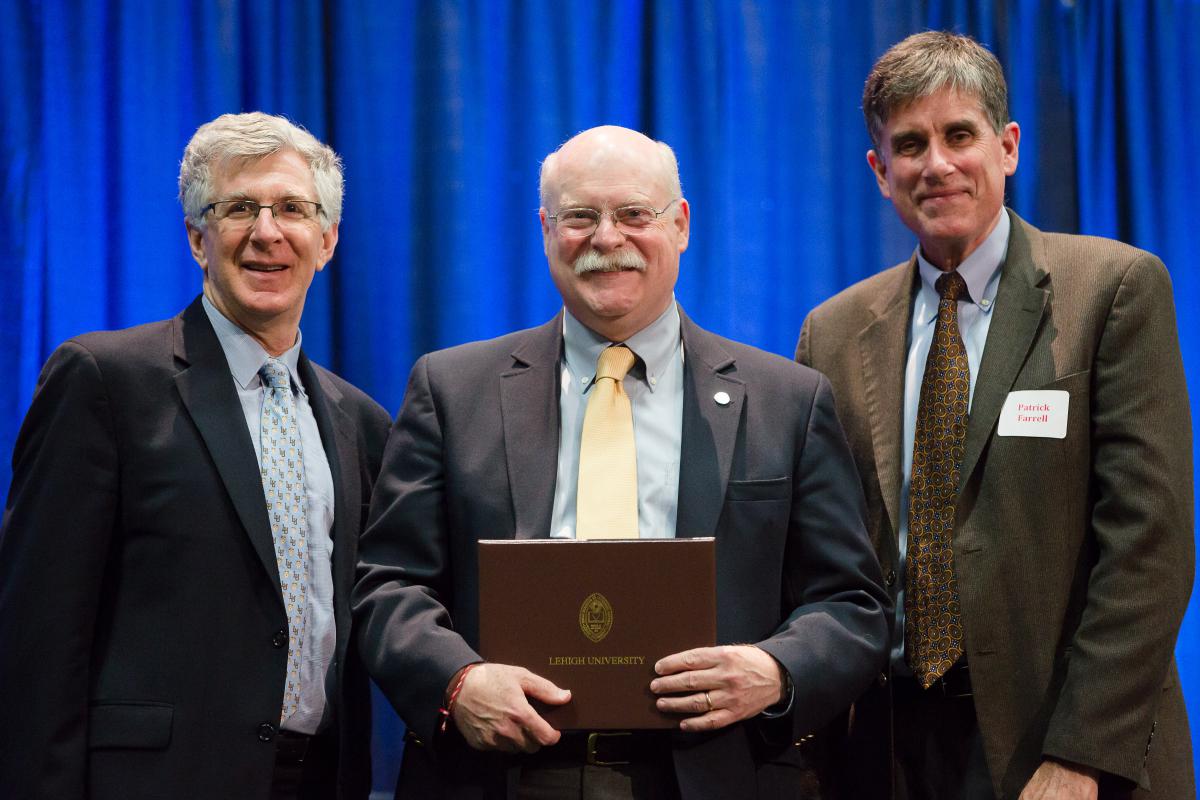 Ward Cates, Associate Dean, College of Education
In his 25 years at Lehigh, Dr. Cates has spent 11 years serving as a program director within the College of Education and another 10 as Associate Dean. His nominators note that "he has helped programs within the College weather the storms of academia, and he has been the single most important person to establishing the college's relationship with the university as a high-functioning, highly independent yet highly collaborative unit. He has shaped and improved our college and the university in countless ways, many of them unobserved and under-appreciated by the people who come into contact with them every day. He is consistently one of the most humane and graceful members of Lehigh family. He knows his foibles and will make fun of himself, setting an example for other senior faculty."
The Robert C. and Virginia L. Williamson Award for Social Research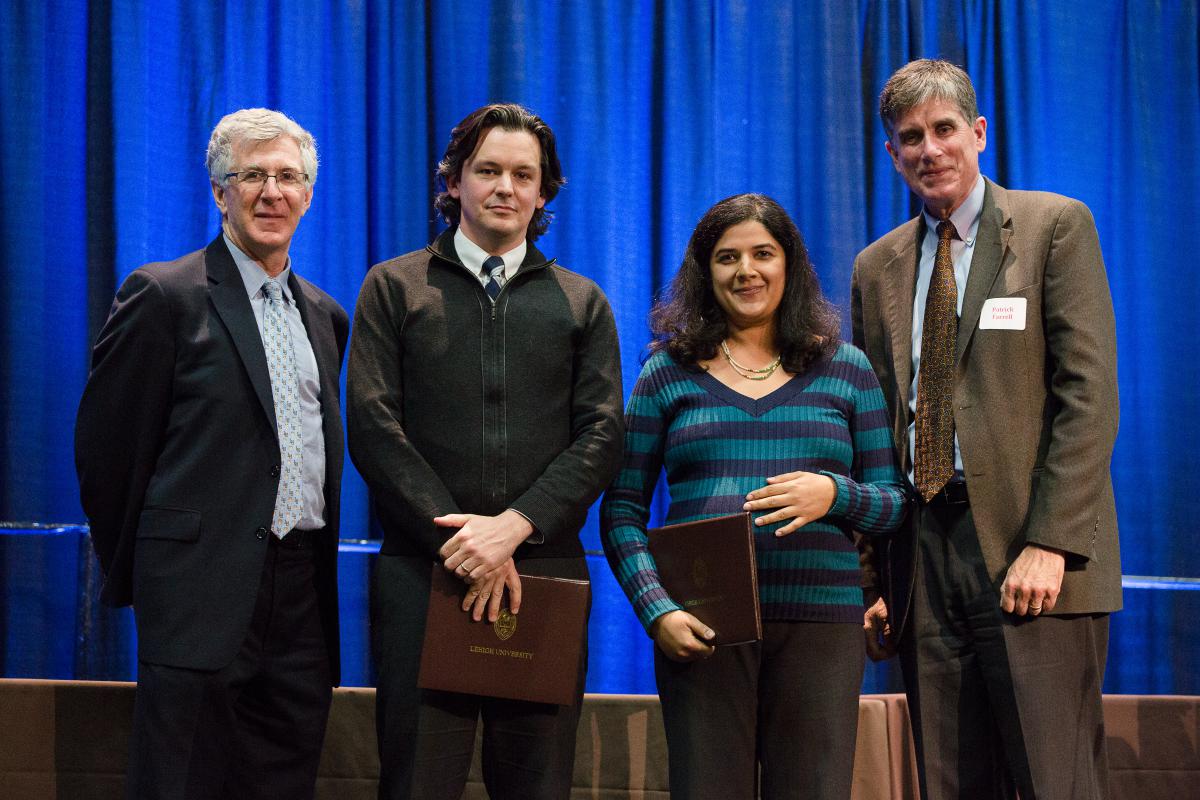 William J. Bulman, Assistant Professor, History
Dr. Bulman's book "Anglican Enlightenment: Orientalism, Religion and Politics in England and its Empire, 1648-1715" was published by Cambridge University Press. It tells the story of how England's fervently Protestant establishment came to defend the modern idea that civil peace is more important than religious unity.  It brings together a range of topics and sources that are seldom if ever discussed in relation to one another.  Reviewers describe it as dazzling in terms of its conceptualization and execution while also being thoroughly rooted in serious archival scholarship. They comment that Bulman's book is something that will command attention far beyond the world of early modern British historians.
Nandini Deo, Associate Professor, Political Science
Dr. Deo's book, "Mobilizing Religion and Gender in India: The Role of Activism" was published by Routledge press in 2015. Her thoroughly-researched book takes the form of a historical analysis of the rise and fall of Hindutva and the role of feminist politics in India.  It challenges us to find post secular ways of studying women and gender, and religion and politics, and begins to show us the path to do so. Reviewers describe its contributions as both theoretically important and politically timely, creating a book that is significant both for scholars and activists alike. They comment that Deo's book will occupy a central place in the literature sections of dissertations and book proposals in political science, comparative politics, South Asian studies, women's and gender studies, social movement studies, and religious studies for some time to come.